Swiftly becoming the butt of the joke, it feels like everyone and their mother has launched a podcast these days, each with comically niche topics being dissected through the medium of sound. Wondering how to tend to your garden? There's a podcast for that. Looking to scrutinise every scene of Sex And The City? Easy. Keen to unearth the mysteries of a decades-old investigation? You've got endless options.
The only problem, as ever, is narrowing down what to listen to from the countless, excellent Irish series out there – and there are some truly great podcasts worthy of your attention right now. Here, we narrowed down the list, so you can spend your time listening in lieu of browsing.
1. The Nobody Zone
An eight-part series set in a forgotten London underworld, where a homeless Irishman kills multiple times without detection, unseen in a world where nobody seems to care. An essential true-crime series from RTÉ and Third Ear in Denmark.
2. My Therapist Ghosted Me
The runaway podcast hit of the year, comic Joanne McNally and presenter Vogue Williams' weekly show immensely details womanhood, mortification and harbingers of the Celtic Tiger in equal measure. Personal, horrifying anecdotes from listeners are highly encouraged.
Leon Diop, Femi Bankole, Amanda Ade and Boni Odoemene speak about the Black Irish experience in powerful detail, inviting special guests such as Feli Speaks, Fine Gael councillor Yemi Adenuga and Emma Dabiri to share their life stories of identity, resentment and joy. Come for the introduction to incredible underground music, and stay for the discussion on what exactly encapsulates systemic racism.
4. The Tommy, Hector & Laurita Podcast
With each episode named as a portmanteau of an Irish town and international placename, Tommy Tiernan, Hector O'hEochagáin and Laurita Blewitt's podcast iteration brings forth a charming look into Irish culture and the idiosyncrasies of a life lived in Ireland. Pure, unbridled storytelling lives here.
Cheers for the weekend! 🥃 pic.twitter.com/GJnH2aXGwE

— Tommy, Hector & Laurita Podcast (@tommyhectorshow) June 11, 2022
5. What Did You Eat This Week?
Headed up by food obsessive and Currabinny co-founder James Kavanagh, What Did You Eat This Week? sees Kavanagh question guests about their loves and loathes within the realm of food. Food of all kind is welcomed here, he assures –– from Monster Munch to Chapter One –– with controversial topics like coddle and walking-while-eating up for debate.
6. My Pod On Paper
It's that time of year again. Orlaith Condon, now London-based, has reinvigorated her hugely successful Love Island podcast for the third year running. In it, she discusses the general implications of live romance as well as the nightly goings-on around the villa.
7. Changes
Homegrown DJ Annie Macmanus (Annie Mac) chats to people of note all on the topic of change. Each guest (Róisín Murphy, Roddy Doyle, Mel C et al) talks about the biggest changes they have overcome in childhood and adulthood, and how they affect change. The podcast explores how change punctuates our lives, and how it can totally derail us, later defining who we are.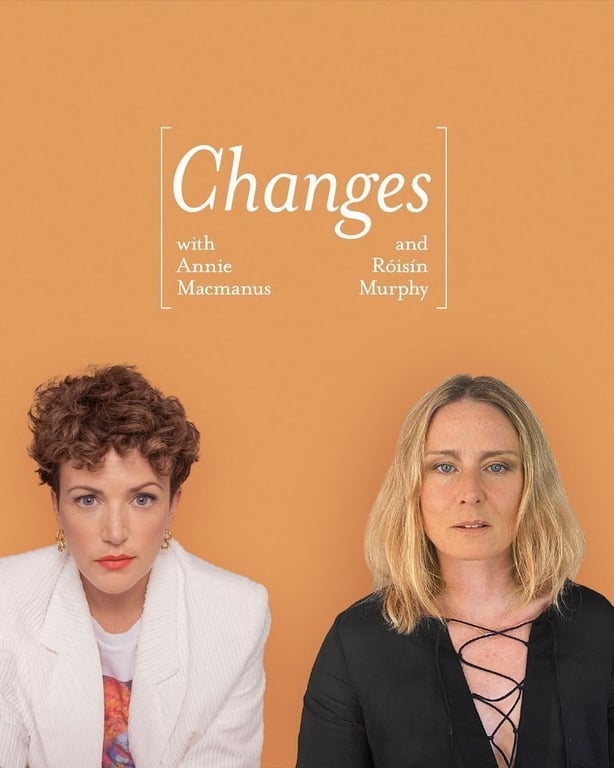 8. Tony Cantwell's Hit Show
Named as such because, when said quickly, it sounds profanity-adjacent, Tony Cantwell's podcast details the ramblings of a demented mind. Part-comic, part-performer, Cantwell covers topics from The Late Late Toy Show to which Disney cartoon character is the best looking. I couldn't recommend it more.
9. The Blindboy Podcast
No blurb would do this justice, but Blindboy (of Rubberbandits Fame)'s podcast is as impressive as it is thought-provoking, compiled of containing short fiction, interviews and comedy. The whole thing is also produced without any sort of sponsor –– which begins to convey the strength of the listenership, and for good reason.
10. Conversations On The Margins
Relatively new to the podcast game yet deeply impactful, Senator Lynn Ruane brings you inside the Irish prison system to hear from the men whose lives have been framed by crime. This limited series podcast brings you meaningful conversations and discussions about life, family, art, music and more, from inside prison walls.
One thing that keeps coming up in @SenLynnRuane 's conversations is the importance of hugs. Chapter 8 with @sjMcCreery out now pic.twitter.com/FczSitUvET

— Conversations On The Margins (@onthemarginspod) May 13, 2022