Root and Branch is a new series of documentaries for RTÉ lyric fm's Lyric Feature which look at Irish trees from a variety of angles. Below, ecologist and presenter Anja Murray introduces the series - listen to Root and Branch above.
---
This series came about as both a celebration and a call to action in support of Ireland's native trees. It explores the personality of each tree species and its strategy in life– from pioneering birch to resilient holly, as well as the colourful supporting cast of insects, fungi, birds and mammals that each tree both supports and needs. The stories shared in this series span folklore, ecology and music.
I had the idea for the series after several thought-provoking conversations with a friend of many years, Brían Mac Gloinn, a folk musician who is one half of Ye Vagabonds. I'm an ecologist and have been working with trees for decades, from research to policy and advocacy. Being involved in television and radio broadcasting too, the idea of making a radio series together with Brían was too obvious to ignore! We discussed how to blend biology, natural history, folk tales, and music and the concept of Root & Branch was born.
Eoin O Kelly of RTÉ lyric FM was enthusiastic about the idea too, and we managed to secure funding from the BAI 'Sound and Vision' scheme to make the series. Shortly after, Brian and I set off 'on tour' around the county to interview a host of characters about their specialist subject. Starting in County Cavan, we visited bat expert Tina Aughney at dusk on a summer evening to tune in to the sounds that bats make when hunting though Ireland's ash lined hedgerows.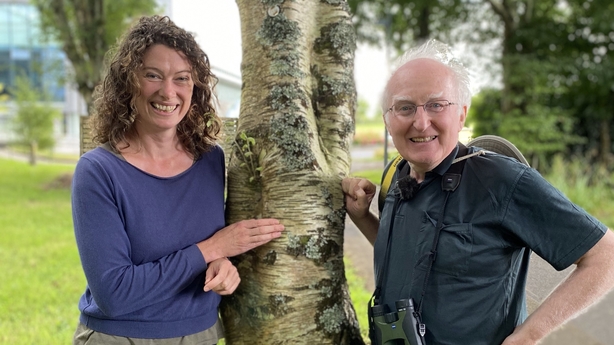 We travelled west to Loch na Fooey on the Mayo Galway border, we met with master basket maker Joe Hogan to quiz him about the history of basket making in Ireland and how he manages his willow beds to harvest willow wands for baskets year after year. We hiked into a wild ancient oak rainforest in the uplands of Connemara, before stopping by the Brian Ború oak in County Clare and visiting the tree nursery in the Irish Seed Savers Association where saplings from this mighty Oak are being grown for gifting to community groups all over the country.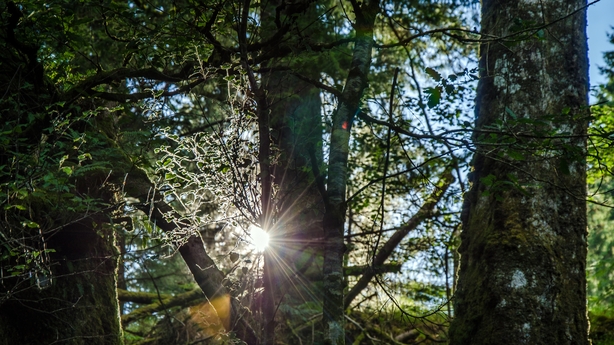 A few weeks later, in Dublin, we visited the centre for experimental archaeology in Bellfield to see how the team there were building an early medieval homestead almost entirely out of hazel rods, before going to the city centre to see birch trees planted as a 'pocket forest' in a skip off Thomas Street! Each interview was a genuine journey of discovery, and we developed our approach as we went. Based on the trees we featured and the people we interrogated for their knowledge, Brían composed a song for each tree, so each episode features a newly written and performed song by his good self. Field recordings of nature made along the journey have also been used as the basis to create an original score for each episode. Additional musicians performing in the series include Matthew Jacobson, Alannah Thornburgh, Jesse Smith, Niamh Bury and Brían's brother Diarmuid.
Brían and I, along with RTÉ lyric fm, with the support of the BAI, are proud to present this special new series, rediscovering the wide potential offered by our native trees and celebrating their place in Irish culture. In it, we are inviting you to share in a world of wonder, from bees and moths and mycorrhizal fungi through to history, folklore, and music.
The first episode of the Root and Branch series 'Birch', presented by Anja Murray and Brían Mac Gloinn, will be broadcast on the Lyric Feature at 6 pm on RTÉ lyric fm on Sunday 19th of June. The entire 6-episode series will be broadcast in the Autumn when the Lyric Feature returns after a Summer break. Listen to more from The Lyric Feature here.