We're delighted to present an extract from Her Last Words, the debut thriller by E.V. Kelly.
It's a crisp spring morning when Cass drops her husband, a respected lecturer, to the beach for his medically prescribed swim. While waiting for him, something catches her eye. A young woman runs towards her husband and embraces him - until he holds his hand over her face and she falls down on the stones, dead.
In the backseat of the car, their seven-year-old son sits quietly. When her husband returns, he says nothing. Neither does Cass. Afraid to speak up in the immediate aftermath, Cass embarks on a solitary quest to unravel what has taken place...
---
Tuesday
Cassandra
It's a cold, crisp April morning, not long after sunrise. We are parked above the beach, looking out across the expansive bay with its cushioning arms either end. Dalkey Island to the left and Bray Head to the right, holding the deep blue in front of us. This is our version of the Amalfi coast, and it's every bit as stunning on a good day. In the distance, Sorrento Terrace brightens and winks at us, welcoming the day. A smattering of slate grey and pink-tinged cloud interrupts the sky.
Ted climbs into the front seat beside me and he looks out through his yellow binoculars. Ten steps below us and off down at the shore, Jeff prepares for his daily ritual swim, folding his clothes and leaving them on top of his shoes. Red swim shorts today. He hobbles to the water's edge, crunching through damp cold stones and he keeps going, straight in, as if he doesn't feel the sting of it. He walks out to his midriff, makes a triangle with his arms and dives under. Jeff's the only swimmer. It's too early even for the dog walkers. He emerges, shaking his head to remove the hair from his eyes, droplets spraying in a halo around him. He cuts a strong front crawl and then swivels, stops for a breath and takes off again on his back. On the days that I wait, it's this bit that I like to watch most of all. His face up to the sky and his arms shooting straight up out of the water, then pivoting back behind him. He stops to float. The relief he must feel. His bad leg buoyant, supported by the sea. Right now he looks just the same as anyone else. What does he think about as he lies back looking up at the clouds? I like to guess. Today I decide that he's thinking about how we will celebrate the third edition of his Critical Introduction to Film Theory. He's disappointed not to have found a publisher for his latest book and doesn't feel like making a fuss about a revised edition of a much older book coming out. I told him we're doing it anyway. It's a super achievement to have written this seminal text. Important for Ted too, I argued, to see us celebrating this. Role modelling. A lesson in resilience and not succumbing to disappointment. That's what turned it for him. Anything for Ted.
A burst of hailstones pummels off the windscreen and for a moment Jeff is obliterated.
'Can I get out? I want to feel them, Mum.' Ted has the door open and is out before I can answer. He stands beside the car, arms outstretched like a scarecrow, laughing as the hail hits him, stinging his face. I turn the key in the ignition and set the wipers to work. As they clear the screen, I see Jeff swimming towards the shore. Ted jumps back in behind me. I turn to look at him. His thick, wavy hair is sodden, darkening the blond to a dull brown. His navy puffer jacket glistens with the wet.
'They were huge,' he says, his eyes gleaming with delight.
'You're very brave. There's no way I would've got out in that.'
I turn back and watch Jeff hobble out of the sea to his pile of clothes and his stick. He's cut the swim short. I watch as he pulls his black towel around him. He stands there, looking out across the bay and as he does, I have that thought again. If it wasn't for the stick, he'd pass for a fit man, not yet forty. He snaps his head suddenly to the right and turns to look down the beach. He raises his stick up. The windscreen begins to fog. I open my window a little to let it clear.
'Wrap the picnic rug around you to dry off and warm up', I say to Ted, and I turn to look at him putting the red tartan rug around his head first and then wrapping it around the rest of himself.
'Snug as a bug in a rug,' I say to him and he giggles. I pick up his binoculars from the seat beside me and use them to look back down at Jeff. He has turned to face the length of the beach, towards Bray Head. He's dropped his towel and he's no longer getting dressed. He seems to be shivering. I look to my right to see what has stopped him in his tracks. A girl runs towards him, removing her white shirt, throwing it off. I look back at Jeff. He doesn't move. He knows her.
'Can I get in the front again, Mum?'
'No, sweetheart. Have a little lie down there, you seem tired,' I say as I watch her speed up, her turquoise skirt flapping in the wind. When she reaches Jeff, she leaps up on him. He doesn't falter. He lets go of his stick.
'Please, Mum'. I flick my head to check. He's lying down.
'No. Stay where you are, good boy'. I put the binoculars back up and look down at the beach. The girl's legs are wrapped around Jeff's waist, her arms around his neck, skin to skin. Her head tilts backwards and her long, curly hair dances in the wind. She's laughing.
'But I love sitting in the front waiting for Dad.'
'I know. But today why don't we surprise him instead. You hide there. Down on the floor would be even better. Then when he gets back you can jump up and give him a big fright.'
Jeff puts his hands on her tiny waist and his head moves from side to side.
'Yeuch,' Ted calls out. He must be sitting up now, watching too. My mouth goes dry. There's nothing I can do.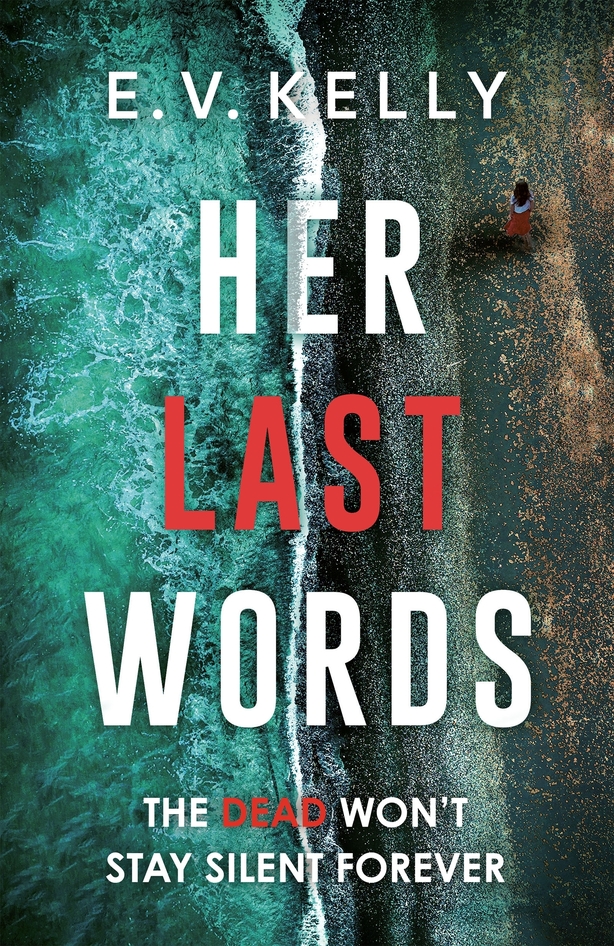 Her Last Words by E.V. Kelly is published by Quercus