Co-director and producer Declan McGrath introduces his award-winning documentary Young Plato, co-directed with Neasa Ní Chianáin, which receives its Irish TV premiere on RTÉ One on Thursday, June 9th - watch Young Plato now, via RTÉ Player.
---
Young Plato is a documentary about the charismatic head teacher, Kevin McArevey, of Holy Cross Boys in north Belfast's Ardoyne district. It shows how by teaching philosophy to the 4-11 year old boys who attend his school, Kevin gets them to learn how to listen to others and how to be respectful of different opinions. It also equips potentially vulnerable youngsters with the means to develop mental resilience and thereby cope better with the trials of life.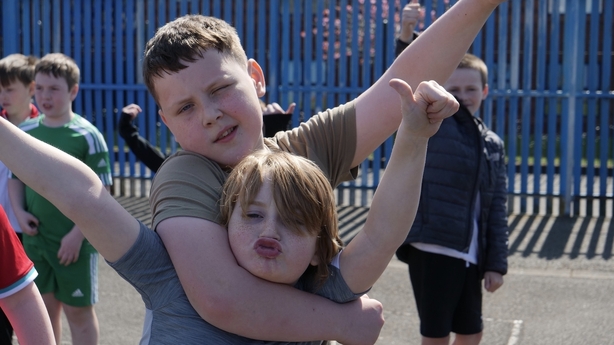 The idea for Young Plato sprung from a chat with a good friend, and former pupil of Holy Cross Boys, Colm Dore, who said that I would enjoy visiting the school. He described how I would see boys, aged 4 to 11, chatting naturally about Socrates, Plato and Aristotle in broad Belfast accents. Moreover, the person behind this initiative was a charismatic headmaster who looked more like a bouncer than a teacher (indeed he had been a security guard before working in education). Furthermore, it would be fun.
Headmaster Kevin McArevey may be responsible for a hugely successful school in a challenging area and responsible for around 400 pupils and 60 staff but he is never far from breaking a beaming smile or cracking a joke. Colm also mentioned that if I visited, I would be offered numourous cups of tea and tasty cream buns of the type we enjoyed in school. It was all too much to resist.
Watch: Kevin McArevey on being headmaster in a post-conflict Belfast school
On my first visit, I discovered that everything Colm had described was true. However what struck me most was not just how these young boys could talk about ancient philosophers with ease, but also how articulate and confident they were in expressing themselves in general. The absence of that kind of confidence in your own ability to communicate can be an impediment in life and it is much more difficult to achieve when you come from an area like Ardoyne. This self-confidence, along with everything else that was happening in Holy Cross Boys, seemed revolutionary and worthy of a documentary. Luckily Kevin, along with the rest of the staff and parents of the boys, agreed to let myself and co-director Neasa Ní Chianáin spend time in the school to film and observe their inspiring work.
If we have done our job as observational filmmakers, the film will let you share in experiencing the reality that we witnessed within the school. You may even shed a tear.
The resulting documentary, prior to it's screening on RTÉ television and player, has already enjoyed a limited feature release in Ireland and Britain, along with festival screenings in Europe and America. I have found it intriguing to observe how audiences, many with little knowledge of Ireland, never-mind of Belfast, respond to characters and to a world that we spent over two years working to portray as truthfully as possible.
We need your consent to load this YouTube contentWe use YouTube to manage extra content that can set cookies on your device and collect data about your activity. Please review their details and accept them to load the content.Manage Preferences
Watch: Young Plato wins the George Morrison Feature Documentary award at the 2022 IFTAs
The response that took me aback at first was from viewers who commented how much they cried watching the film. I wanted Young Plato to be a joyful story of hope and redemption. I remembered, however, that hope and redemption have to be earned. They only have currency, whether in our own daily lives or as members of an audience, once we have journeyed 'the valley of tears.' The inhabitants of Ardoyne have certainly walked that route. And so, if we have succeeded in communicating the reality of the history of Ardoyne and the challenges that these young boys and their community face, perhaps there should be tears.
I grew up in north Belfast. It was a happy childhood. However, because you accept the world that you grow up in as the way that everything simply is, I didn't realize as a youngster what was out of kilter with the area. It was, and mostly still is, a patchwork quilt of sectarian division. Small districts of nationalist housing rub cheek by jowl with streets of unionist dwellings. Sometimes the divisions are marked by 'peace walls'. These are structures built to keep people apart in order to keep people at peace. From a young age, locals learn what streets and districts do not belong to 'them' but to the 'other' tribe. The later are perceived as dangerous and alien.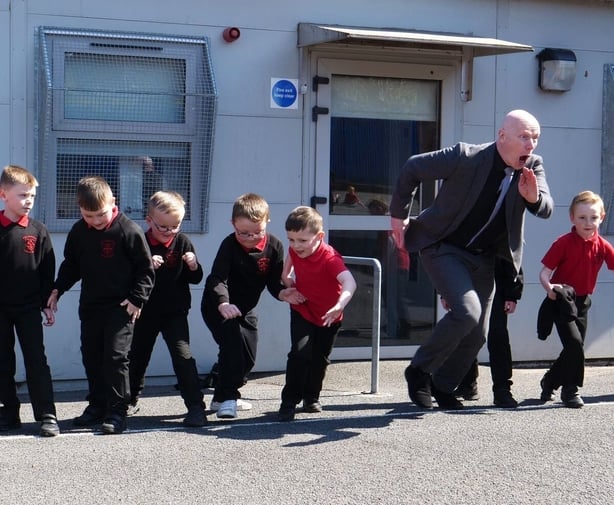 North Belfast suffered the worst rate of sectarian murders during what we euphemistically call 'The Troubles. That conflict inevitably heightened the sense of clannishness within the individual districts. Those 'Troubles' are officially over. Yet, since the ceasefire, low-level paramilitary activity has continued in the area. Paramilitaries continue to recruit there. In the last couple of decades, North Belfast has also suffered from a relatively high rate of suicide, particularly among young males and particularly in Ardoyne. In the early 2000s, it was being referred to in some parts of the media as 'the suicide capital of Europe.'
I often thought that I would like to do something to address these problems of conflict, endemic division and poor mental health. However, that thought never transformed into any meaningful action. What I am most proud about with Young Plato is, that by working on it, I at least got a chance to use my particular skillset as a filmmaker to portray, and so honour, some of those people who do actively do something.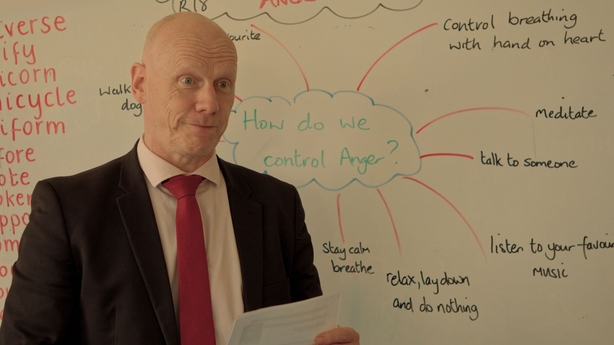 If we have done our job as observational filmmakers, the film will let you share in experiencing the reality that we witnessed within the school. You may even shed a tear. I believe you will come away with hope in the possibility of change in the future. I certainly did. Politicians and leaders may make big statements about how society can improve, but it is small actions and individual efforts that can slowly transform our divided and often difficult world. All we have done is to record the work of Kevin and his colleagues.
Again, to have given their good work some recognition was worthwhile. If it inspires others to do something similar, even better.
Young Plato, RTÉ One, Thursday June 9th at 10.15 pm