An unforgettable meeting in Lismore, as a child, with the late, great Dervla Murphy - for Sunday Miscellany on RTÉ Radio 1, listen to A Different Kind of Beauty by Pádraig Ó Macháin above...
---
"I met her at 'Clairvaux' when I was about eleven years old. That was the name of her house, a pebble-dashed bungalow at the eastern edge of the town of Lismore.
Behind the house the townland of Ballynelligan sloped down to the banks of the Blackwater, and beyond that the land rose again towards the foothills of the Knockmealdown Mountains, leaving in its wake townlands with magical names like Monatarriv, Monalour, and Monaman. She later wrote that: 'the Blackwater River was among the chief and best-loved companions of my youth'.
Her father had built the bungalow, partly designed by her mother, in 1957. Following her mother's death she converted her mother's bedroom to a study where she wrote her books. It was there that Dervla Murphy entertained a schoolboy looking for material for his Christmas project.
How the interview was arranged I cannot recall. She used to bring her daughter's pony to our forge to be shod, and maybe it was done like that: I don't remember.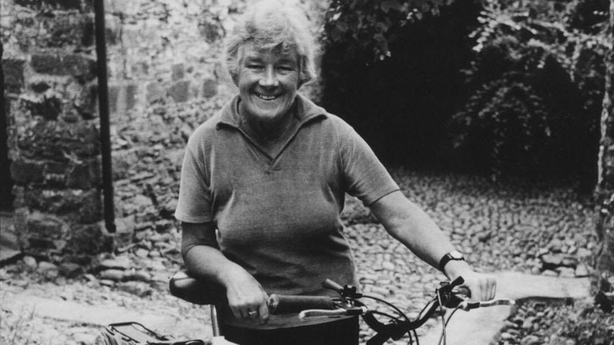 We had another connection in that my aunt Ann had been an assistant librarian under Dervla's father, Fergus Murphy, who, until his death in 1961, served as Waterford County Librarian, based in the Carnegie Library on Gallows Hill in Lismore. My aunt always spoke of him with deep respect.
It was only years later, when I read her autobiographical Wheels within wheels, that I realized that we had something else in common arising from our shared library connections. Dervla describes her youthful reading as follows:
As the librarian's daughter I did have one priceless perk. When public library books become too battered and disgusting for rebinding or recirculation they are 'Withdrawn From Circulation', stamped to that effect and dispatched either to fever hospitals or to the pulpers. And among those revolting heaps of 'Withdrawn' books . . . I was free to wander and take my pick and carry the noisome volumes by the armful to be mine forever.
I still smile when I read that passage as so many of the books that surrounded my own childhood also bore that fateful sentence, stamped on more than one page, declaring that they had been 'Withdrawn from circulation'. These books ranged from cowboy and detective novels to books on crafts and trades, and everything in between..."
Also for Sunday Miscellany, listen to RTÉ former Foreign Editor Margaret Ward's piece about Dervla Murphy here, Dervla was an inspiration to her when she began reporting from Afghanistan, Cuba, Libya and many other war-torn places; and you can also listen back to our special programme to celebrate Dervla Murphy's 90th birthday last November.