Theatre and opera director Tom Creed introduces his latest production with Irish National Opera, Donizetti's magnificent lyrical opera Maria Stuarda, starring renowned mezzo-soprano Tara Erraught and soprano Anna Devin, and on tour nationwide this June.
---
Maria Stuarda is speculative fiction, imagining an eventful and explosive meeting between Mary, Queen of Scots, and Queen Elizabeth I of England, that never took place. Since the beginning of drama, writers have adjusted history to their own ends, for maximum effect, and to resonate with their own times. Gaetano Donizetti's 1837 opera takes this approach, as did the German playwright Friedrich Schiller, whose 1800 play Mary Stuart formed the basis for Donizetti's treatment of the story.
Some facts are known, but even among the facts, there is speculation. We know that Mary ascended to the Scottish throne aged six days, on the death of her father James V in 1548. She spent her childhood and teenage years in France, betrothed and then married to the Dauphin, future king of France, becoming queen consort for a short period in 1559 until his untimely death in 1560, at which time she returned to Scotland and landed into the middle of a conflict between her own Catholic community and the rapidly expanding Protestant ascendancy. She married her half-cousin Henry Stuart, Lord Darnley, in 1565, and had a son, James, in 1566.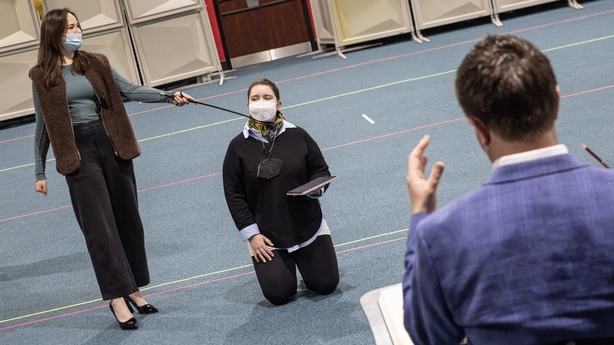 In 1567, Darnley's castle was blown up, he was found murdered in the garden, and the chief suspect, the Earl of Bothwell, quickly became Mary's third husband. Following an uprising against the couple, Mary abdicated the throne in favour of her one-year-old son and fled to England to seek protection from her cousin, Queen Elizabeth I, but she was imprisoned and spent the next 18 years being moved around various castles, in the care of George Talbot, Earl of Shrewsbury, under a kind of house arrest. A collection of letters and love poems addressed to Bothwell were allegedly found in a casket and formed the basis of the accusations against her.
We need your consent to load this YouTube contentWe use YouTube to manage extra content that can set cookies on your device and collect data about your activity. Please review their details and accept them to load the content.Manage Preferences
Watch: INO's Maria Stuarda - meet the artists
Like her 20th-century namesake, Elizabeth I became queen aged 25, and was widely respected in England throughout her long reign. She never married, but there were long-running rumours about her will-they-won't-they relationship with her so-called favourite, Robert Dudley, Earl of Leicester. At one point, she proposed that Leicester would marry Mary, to improve relations between England and Scotland, and that all three would live together at Elizabeth's court, but this never came to pass. When, after 18 years, Leicester finally married someone else, she was ostracised from Elizabeth's court.
In 1586, Mary was implicated in the infamous Babington Plot, in which she appeared to approve of plans to assassinate Elizabeth and replace her on the throne with Mary. This was the last straw, and rapidly led to Mary's conviction and execution. These events form the backdrop to the opera, as different factions at Elizabeth's court compete to secure Mary's freedom or death.
We look at the present through the past, and the past through the present.
What's the truth in all this? In reality, historians are divided about Mary's knowledge and implication in the casket letters and the Babington plot. We'll never truly know the intimate details of Elizabeth's relationship with Leicester. But what we do know is that Donizetti, and
Schiller before him, was able to create a thrilling and urgent meditation on power, pride and politics by filling in the gaps.
Crucially, Donizetti developed the relationship between Elizabeth and Leicester into a full-blown love triangle in which Leicester's infatuation with both women is a key driver of the plot. And, most importantly of all, the famous confrontation between the two queens, and the consequences that ensue, are an invention for dramatic effect. How could we tell the story of their rivalry more effectively than having them meet on stage?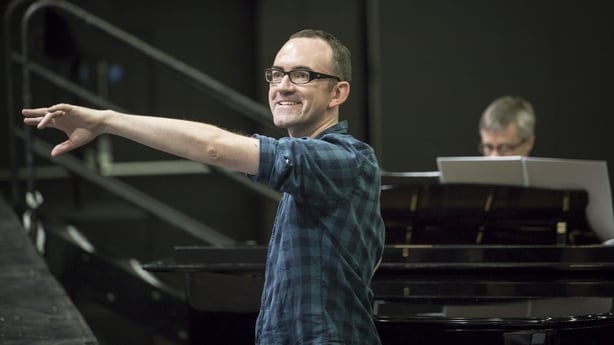 All this gives licence to a new production of the opera to continue to speculate. What if the events depicted were unfolding now rather than four centuries ago? How might it be to map the current state of affairs between England and Scotland onto historical events? What might we learn from larger imperial states encroaching on their smaller neighbours in the world today, where geopolitics are clouded by emotional whims?
We look at the present through the past, and the past through the present. We use images from around us to gain an understanding of things that happened, and continue to play out. We do it all in a whirlwind of music and drama whipped up almost two hundred years ago, with some of the most thrilling Irish artists of our times.
Irish National Opera's Maria Stuarda premieres at the Gaiety Theatre, Dublin from June 5th - 11th, before touring to Cork, Wexford and Limerick - find out more here.