We're delighted to present an extract from The Houseshare, the new novel by Fiona O'Brien.
Number 24 Ulysses Crescent is an elegant three storey mansion overlooking the beautiful Dublin Bay. Converted into luxurious seaview apartments, it's now home to a close-knit group of tenants…
The Houseshare is a summer tale of romance, friendship - and how some secrets can never stay hidden...
---
Morah thought of the house as her own. And in a way it was. It was her home, certainly – the only happy one she had ever known. That alone made it precious to her. And if caring for somewhere tenderly, tending to every nook and cranny with studious affection, knowing every curve and groove of the place like the surface of her own skin counted for anything at all – then surely each attentive stroke and loving caress she had bestowed on it over the years had made it hers. After all, she reasoned – you didn't have to own something for it to belong to you.
Morah had read somewhere that houses were affected by the people who passed through them, the lives that unfolded beneath their roofs, the stories they contained – which made her all the more vigilant in her duties as caretaker. Today a new tenant was moving in to number 24 Ulysses Crescent, bringing the number in the house back up to six, so Morah was doubly eager that her meticulous care of the shared areas was visible for all to see. She plumped and stroked cushions as if they were beloved pets, threw open windows as if greeting a long-lost friend, and had dusted and hoovered within an inch of her life. Now the house was even more pristine than usual. She had surpassed herself – Morah was her own harshest critic in this respect – its beautiful Georgian proportions reflected in the light that streamed through generous and symmetrical windows.
Even though it was Doctor Ed (who owned the house) who had helped her, had supported her in her time of need, it was the house itself – Morah felt deep down – which had truly helped her to recover. So much so, that everything that had gone before often seemed to her like the memory of a rather dark, disturbing film she had been forced to watch – and had long since consigned to a closed recess of her mind marked do not revisit.
The people who shared the house were important too, and with the arrival of this latest tenant, all six flats would be occupied. There was Mike, the sculptor, on the ground floor in flat 1, and opposite him, in flat 2, was Nessa, who ran the local vegan café and had a talent for reading the tarot cards. On the first floor, the new woman would be in flat 3, opposite Stella, the estate agent, in flat 4, who was the ex-wife of Bruce on the second floor. Bruce (who dealt in commercial real estate) was in flat 5. Morah didn't altogether approve of this post-marital modern living arrangement, but who was she to comment? And finally, on the top floor was Morah's own little studio flat which came with her job as caretaker.
In the basement, during work hours, Rory the personal trainer ran his small gym. Although he didn't reside full time in the house, he was considered as much a member of the collective family as any of the others. The tenants in general certainly didn't escape Morah's discreet but watchful supervision. It wasn't that she vetted them, as such. But she felt confident that should she need to voice a reservation about any of them, Doctor Ed would listen to her and take her advice into serious consideration.
As it was, they were a happy lot who had passed through the house since she had come to live here almost ten years ago – young, most of them, apart from herself and Doctor Ed, who lived in his small flat in the garden, even though number 24 had formerly been his family home. But he had been a widower for the last twelve years, and now at seventy-eight, the tenants in the house had become his substitute family.
The newest tenant was due to arrive any minute. And for once Morah knew nothing about her – it had all happened very quickly. Doctor Ed had met this woman – a widow – at a gathering, and when she'd heard he owned a house in flats on Ulysses Crescent, and that one was currently vacant, she had begged to be shown it, and had fallen in love with flat 3 at first sight. And why wouldn't she? Morah reasoned. All six of the flats were beautiful in their own way. She would have liked to meet this woman first, to size her up – but Morah had been down the country on a few days off at the time when the flat had been shown. From the corner of her eye now, she noticed an elegant dark green van pulling up outside, G.A. Stevens and Son Removals was written on the side – and at that moment the doorbell sounded, making her jump. Morah took a quick look in the mirror, straightened her white overall, and patted her hair, fixed a pleasant but business-like expression on her face, and went to answer the door.
'Hello!' the glamorous older woman said brightly, as she rushed past Morah. 'I'm moving into flat 3 today!' She waved at Morah as she started up the stairs. 'The guys are right outside with my furniture – must dash! I'm Evelyn, by the way.' She looked back briefly. 'Evelyn Malone.'
She hadn't even waited for Morah to introduce herself. And why would she? Women like Evelyn Malone didn't stop for the little people. She was acting as if she owned the place already. She had dismissed Morah without so much as a second glance before she barged past her. Which was just as well, really. Because if she had paused to interact with her for just a moment, she might have noticed Morah's face paling. She might have thought the sharp intake of breath, as Morah gasped, rather odd. She might even have noticed the flare of recognition in Morah's eyes, as they widened in horror.
Because although Evelyn clearly didn't recognise Morah, Morah knew exactly who Evelyn Malone was. She just never, in her wildest nightmares, thought she would have to share a house with her.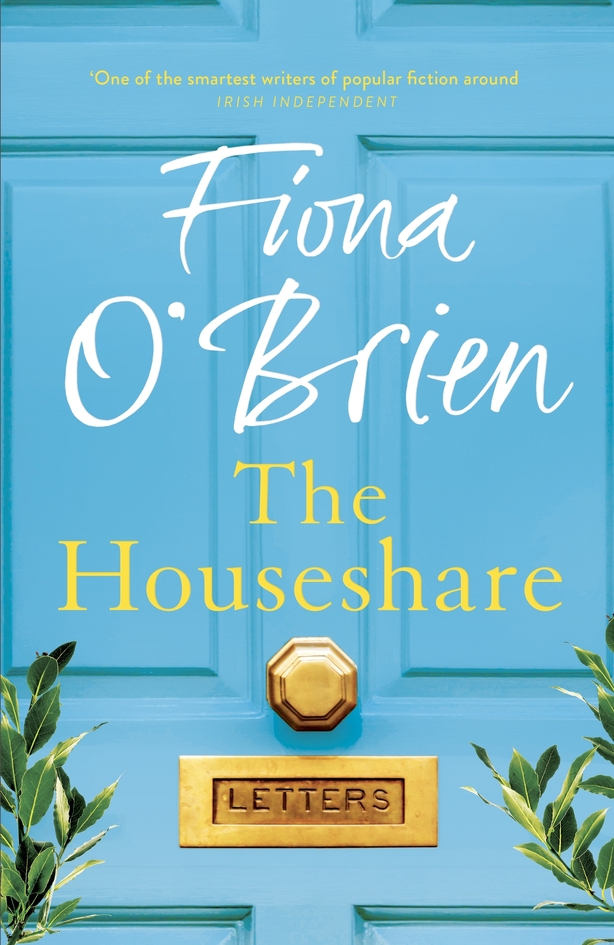 The Houseshare by Fiona O'Brien is published by Hachette Ireland