As Leonard Cohen once sang, 'There is a crack, a crack in everything. That's how the light gets in'. In Catherine Prasifka's confident debut, it's also how the author illuminate the paradoxes of being a young person online.
Freshly graduated from college with a politics degree, Sophie is a Gen Zer who is chronically online. At a farewell party for friends leaving Dublin, she yo-yos from crisp bowl to kitchen until a crack appears in the sky.
The crack, a purple streak of light purportedly in the Earth's atmosphere, is Prasifka's device for earth-shattering change, something her characters must watch but ultimately have no control over – a metaphor for post-college life, the Covid-19 pandemic or climate change that pulls from Prasifka's MLitt in fantasy literature.
Over the course of the novel, scientists, television pundits and Sophie's fellow students try to put some logic on the crack, while a billionaire – no guesses who – suggests driving a car through the crack. In the end the reader doesn't get many answers on the cosmic event.
It's also the catalyst for much of the panicked soul-searching done by Sophie. She is one of the cohort burdened with the pressure to self-diagnose. In a job interview she's asked how it's affecting her generation, to which she thinks, 'No one has any clue about hoe anything is affecting my generation'.
Despite aiming the lens at young people who live their lives largely online, one aspect of this that seems vaguely unrealistic is her friends' shock at her online presence. Shortly after the crack appears, Grace responds to Sophie's Twitter-fuelled dissection of it with an aghast, "God you're so online".
It's mostly through online interactions that we come to understand our narrator. She muses: "Sometimes it feels like my body will scream if it doesn't have three separate screens in front of it, not even to watch and enjoy any of them, but to use each one as a distraction from the others, and to drown out any independent thoughts I could have about anything."
The author choses an interesting way to not only include social media in the novel, but to flesh out her narrator. Direct quotes only come from secondary characters, while Sophie's dialogue is merged into her internal dialogue, with responses from other characters the only way to distinguish a thought from a statement.
Dialogue between Sophie and her two love interests, the roguish Finn and seemingly gentle Rory, plays out in text messages and Twitter DMs. While she revels in the in-person interactions with Finn, Sophie strives to keep her relationship with Rory online, saying: "I feel closer to him in cyberspace than I do in real life. I feel closer to myself in cyberspace as well."
Prasifka gathers many of the ills of living in Dublin – and Ireland, by extension – in her arching portrayal of a young Irish life, chief among them the housing crisis, climate change and the fledgling openness of a post-8th amendment society.
Sophie recalls holding her friend Grace's hand on the airplane home after an abortion, and compulsively looks up houses for sale she believes she'll never afford. It's an uncanny portrait of how it must feel to be 22 years old and freshly out in the world, with not even the Earth's atmosphere in one piece to keep you grounded.
However, many of the interactions between characters on these subjects feel rehearsed and flat. Of course, this is part of the point – these are characters who have reiterated their complaints to each other time and again. What sometimes hinders these moments is a too-fleeting glance at the topics at hand, so that they feel like the Cliff's Notes version of night-out banter.
As Sophie's life continues to become more chaotic, in sharp contrast to that of her sister Hannah and Grace, the metaphor of the crack starts to feel tired and heavy-handed. "I'm torn in two, cracked and fragile", Sophie says at one point, even though by then the crack has stopped trending on Twitter.
Overall, it's a decidedly left-of-centre take on the emerging genre of Irish novels that focus on young people who are lost and striving for meaning in a country that seems to have turned its back on them. Of course, the genre was solidified by Prasifka's sister-in-law, Sally Rooney, but in her dissection of Gen Z life in Ireland, the author has opened up a new avenue for introspection.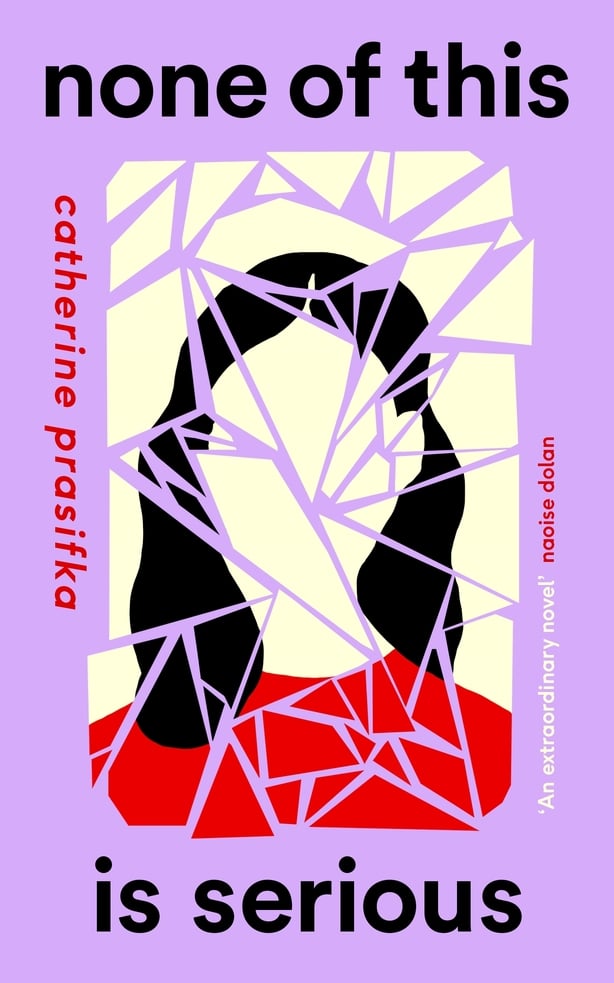 None of This is Serious is published by Canongate