Remembering the Coffee Inn, the Unicorn and other great Italian restaurants of Dublin... For Sunday Miscellany, listen to A Taste of Italy by Jonathan White above...
---
In the culinary Tower of Babel that is modern Ireland, where every city and town can boast a wide variety of cuisines for the discerning diner, it's easy to forget that it wasn't so very long ago that we were a wasteland for anyone in search of "foreign food". While those of a certain age have heard tales of the legendary Jammets, The Russell and Hibernian Hotels, beacons of haute cuisine in decades past, the truth is that 20th century Ireland was very slow to adopt worldly tastes. A recent anniversary dinner with my wife at an excellent, new Italian restaurant reminded me that some of the first to break down those barriers came from Italy.
Now in this case, I'm not talking about the many industrious immigrants who came mainly from the province of Frosinone. Families like the Caffolas, the Borzas, the Macaris who came early in the last century and established chippers and ice cream parlours that revolutionised Irish eating habits. I'm talking about those brave pioneers who first offered at least a version of Italian cuisine to Irish palates.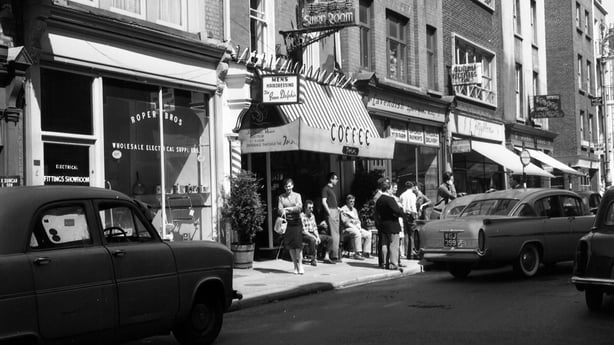 Depending on when you came of restaurant age, that might mean Ostinelli's of Hawkins Street in the Forties and Fifties. Beside the Theatre Royal and the Regal Rooms Cinema, a prime location when the queues weren't actually blocking your entrance. Sadly, like those palaces of entertainment, Ostinelli's fell to the wrecking ball that cleared the way for that loathsome office-block, Hawkins House.
If you came to Dublin in the Sixties or later, your first taste of Italy might have been at that unique institution, The Coffee Inn in South Anne Street. Remembered for spaghetti in a thick tomato sauce and frothy coffee (the cappuccino had not yet landed), it was also notable for a relaxed attitude to students and artists who found hours of shelter there for the price of a single cup. It also hosted early meetings of the Irish Women's Liberation Movement.
By the Seventies, you were almost spoiled for choice in your quest for pasta and veal dishes – Nico's of Dame Street, Quo Vadis and Le Caprice in Andrew's Street, and Bernardo's in Lincoln Place – a favourite of President Mary Robinson and her husband, Nick, from their student days right up to the night of her election. Slightly more upmarket was the Kapriol in Camden Street, presided over by Giuseppe Peruzzi, moonlighting from his day job as Outside Broadcast Supervisor in RTÉ. The restaurant was very popular with cognoscenti of real Italian food, and during the Gaiety seasons of the Dublin Grand Opera Society, it was impossible to get a table before or after the performance...
Listen to more from Sunday Miscellany here.