On Ukraine, memory, loss and home, and a short film by Bara Palcik - for Sunday Miscellany on RTÉ Radio 1, listen to Hiding in the Grain by Sharon Hogan above.
---
It is hard to watch Hiding in the Grain, a short autobiographical film made by the Czech filmmaker and recent NCAD graduate, Bara Palcik, without being reminded of all that is unfolding in Ukraine today. Watching her film, I thought of the stunned faces of Ukrainian children, walking through the night towards unfamiliar borders, arriving in unknown countries, holding mothers close while fathers dissolve into the darkness of war, and I wondered: how will those small children make peace with such events? How will they be in years to come, when this time of upheaval and uncertainty has been absorbed into their deepest sense of themselves and the world?
Palcik, who now lives in Ireland, was born in the former Communist Czechoslovakia, a homeland which changed its name three times, split into two halves, then separated completely, before she was eleven years old. Inspired by the autobiographical filmmaker Mark Lecky's use of images culled from the internet, Palcik wondered if watching footage of Czechoslovakia in the 1980s and 90s might help her to understand more clearly her own persisting sense of loss, and what in her earliest experiences still influences the adult she is today.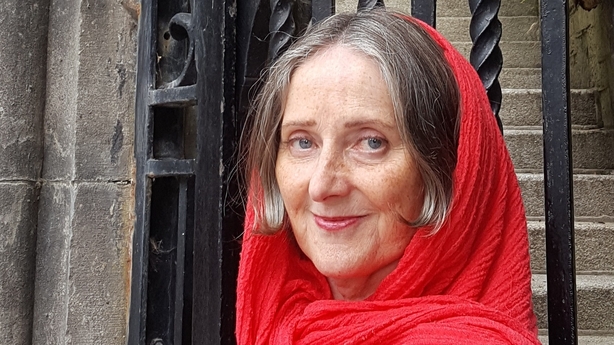 Her short film, shown recently at this year's NCAD's graduate show, opens with a sepia-toned view through the window of a train moving away from a Czech city. "I lived there," she says, and asks, "Have you ever felt a peculiar emotion going through your…body while travelling from the place you called home?"
This "emotion" was one she knew well: not belonging.
"Belonging" was something she sensed others felt, but she did not.
A stream of found images then evoke her earliest memories: sunlight flickers through netting on a hammock, an old wooden cuckoo-clock tick-tock-ticks.
And then: a core memory. 1986. Chernobyl. Its explosion mirrored in the iris of her own eye, she remembers sitting in the kitchen the morning after the disaster; her mother telling her and her sister that they could die; the television warning that the poison that could kill them had neither smell nor colour, but sometimes had the scratch-and-crackle voice of a radiation counter. On that day, she knew what she calls her "very first fear." From that day, she knew that her mother could die. Every time her mother was late, she thought, "This is it." She was four.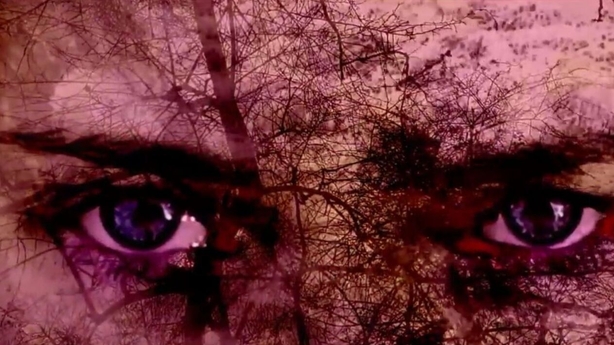 The found footage that revived that memory opens out into grainy images: children playing with gas masks ("…it felt like a game," her voice whispers. "I was six."), distant echoes of Czech words, shadowy laughter hovering, somehow, on the edge of sorrow; her own footage of friends dancing, playing pool, intimacy and farewell shimmering in the dim light even as they laugh and flirt with each other. In the act of filming, in the moment of trying to catch and hold them all together, there is a sense of loss. "Gone," Palcik's voice says as the images fade.
Her later footage in Ireland is lusher and more fertile, but Palcik remains preoccupied with what is "gone." Her lens explores the interior of an old stone cottage overgrown with Nature and time, searching for hints of what she calls "the invisible yet so present past." "Who lived here?" she asks, "What was their story?" "Gone," her own voice answers.
Yet, of Ireland, she finally feels able to say, "This is it. Homeland." Somehow, in revisiting her earliest losses, in "touching the memories" as she puts it, something has settled in her and opened a capacity to realise a sense of home. Her film closes as it opened, looking through the window of a train travelling from city into countryside and beyond; but now, instead of feeling that something is being left behind, Palcik seems to be taking her memories with her as she travels out into the world.
The closing words of the film are of another reclaimed memory, of playing hide and seek in her grandmother's garden. She has slipped into the garage where a large barrel of chicken seed is stored. She climbs into the barrel, sinks into the warmth of the grain, feels it gather around her, fragrant, comforting, and she remembers the feeling that everything was all right: that she and the whole world were safe and held in that barrel.
"I am five," her voice says. "It's summer. At my granny's garden. Covered in the seed in the barrel… I'm home. Hiding in the grain."
I think of those bewildered children crossing the Ukraine border into countries they barely know the names of, and hope that they, like Palcik, carry a memory deep in their being of a moment in a granny's garden, a memory so redolent with warmth and safety that it can be called up to challenge whatever today's traumas leave behind. I hope that some day, today's experiences of fear and loss may be eased by the warmth of even deeper experiences of love.
Listen to more from Sunday Miscellany here.