'Portia Coughlan challenges ideals of motherhood which have been engrained in the Irish Constitution since 1937...' As Marina Carr's masterpiece Portia Coughlan returns to the Abbey stage in a new revival starring Denise Gough, academic and author Melissa Sihra revisits a key work of modern Irish theatre.
'I will have a chance to enter the world and stay in it' says Portia in the closing moments of the major revival of Marina Carr's Portia Coughlan currently running at the Abbey Theatre. First performed on the Peacock stage 26 years ago, the play opens on the morning of Portia's 30th birthday as she stands alone drinking brandy at 10am listening to the ghost of her twin brother Gabriel who drowned 15 years earlier. Portia is married to Raphael Coughlan with three young sons and appears to have it all, 'married to one of the richest men in the county, beautiful house, beautiful clothes, beautiful everything.' Interwoven with the loss of her twin is Portia's increasing lack of fulfilment as a wife and mother. Like Nora in Ibsen's A Doll's House, Portia has never achieved her potential and is suffocating within the home.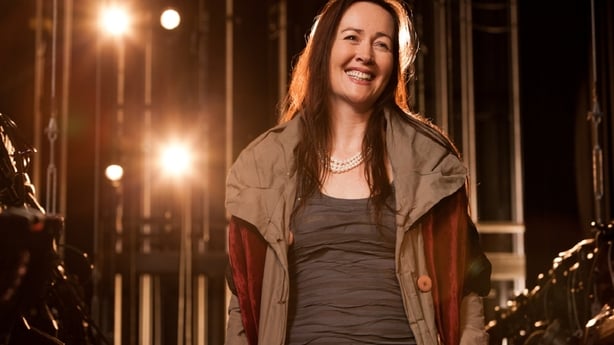 Set in remote County Offaly like Carr's other plays from the 1990s, Portia seeks solace and renewal in the natural world where the liberating energy of the Belmont River contrasts with her feelings of entrapment; 'sometimes I can't breathe no more. All them wooden doors and floors. The house creakin' like a coffin.' Portia's quest for a more fully realised life beyond banal parameters of domesticity is a common thread in Carr's Midlands plays, where the female characters seek self-empowerment. While death features strongly in Carr's plays from this period, it is the lack of fulfilment in life which is the greatest loss. In this outstanding revival, directed by Caroline Byrne, Portia is played with mesmeric depth by Denise Gough alongside a stunning ensemble of actors including Barbara Brennan, Derbhle Crotty, Liam Carney and Marty Rea.
Seeing this play for the first time nearly 30 years ago was a profound experience for me.
Set in the Midlands village of Belmont, Portia Coughlan reverberates with Carr's rural childhood of river and bog. Poised between a midland of personal memory and literary allusion, the play charts Portia's search for authenticity and a sense of purpose. Like Carr's The Mai (Peacock 1994) and By the Bog of Cats (Abbey 1998), women's identification with cycles of nature and richly evoked landscapes challenges the patriarchal status quo, reflecting the emotional terrain of the female protagonists. The natural world offers Portia channels of meaning, memory and identity which are unavailable in the quotidian. Mirroring the geography of Offaly, Portia is emotionally landlocked, but achieves a sense of freedom in the ever-flowing Belmont River, the cycles of the seasons and flight of the swallows.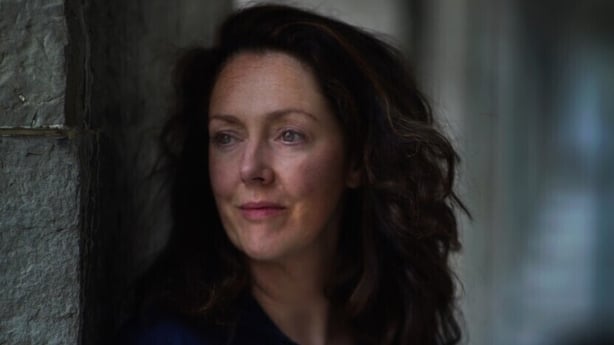 Seeing this play for the first time nearly 30 years ago was a profound experience for me. It was the first time that I felt a visceral connection with the Irish stage. In 1996 Portia Coughlan challenged expectations of idealised femininity as synonymous with motherhood and reductive symbols of woman-as-nation. Irish plays up until then were, for the most part, male-authored focusing on a legacy of historical conflict, postcolonial processes of language and memory embodied in a proliferation of fathers and sons and male pairings. Land was defined in terms of male ownership through the lens of nation and a struggle for independence, reflecting patriarchal identity. With Portia Coughlan, and The Mai before it, storytelling and the transformative power of language began to be rooted in origin-myths of women's self-expression. Portia is connected the landscape on an intuitive level and reclaims the outdoors as a site of female-centric history and culture. Portia is articulate and self-reflective, with a finer sensibility and intuitive intelligence than those around her. She wades through the river, a seanchai recounting the local myth of a woman who was impaled on a stake and left to die: 'She wasn't evil! Just different, is all'.
Revivals are important; they ensure that key plays, especially by women, do not fall into obscurity as well as shining a light on contemporary contexts.
Written in the National Maternity Hospital, where Carr was Writer-in-Residence, Portia Coughlan challenges ideals of motherhood which have been engrained in the Irish Constitution since 1937. Portia is a woman pushed to the brink, tired of being policed, of being 'watched from behind hedges and ditches and sconces'. A character of contradiction and vulnerability, she is drowning under the expectations of her father, her husband and family, where her only sense of renewal can be achieved in the rush of the ever-flowing river.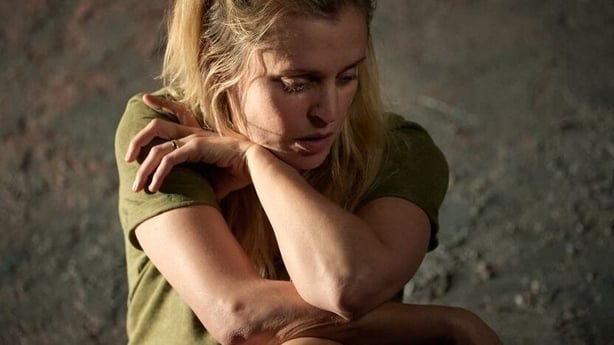 Revivals are important; they ensure that key plays, especially by women, do not fall into obscurity as well as shining a light on contemporary contexts. In 1996 divorce had only just been legalised and women were forging a space to breathe, fighting for bodily autonomy. Although the world is vastly different now, women remain vulnerable within the home as well as jogging in broad daylight or trying to get home at night. While this is one woman's story, Portia's anger resounds loudly on a social level where shocking realities of domestic violence and levels of abuse are endured and internalised by women on a daily basis in our pervasive climate of misogyny and sexism. Carr's refusal to romanticise the realities of women's lives in the 1990s opens up a dialogue which remains relevant in terms of contesting the systemic marginalisation of women in Irish society. While it might seem more palatable to pass over the less appealing histories of violence against women and present a society of equality, opportunity and vibrancy, the reality remains that women are still underrepresented with the political, arts, media, education and corporate sectors of society. Carr's Midlands plays in the 1990s begin the difficult road to empowerment for women through vociferous confrontation. Carr says: 'Women's great defence is our ability to articulate ourselves emotionally'. Portia Coughlan is about one woman's fight to enter the world and to stay in it, where her frustration and anger articulates the greater rage of unresolved inequity that many women endure.
We need your consent to load this rte-player contentWe use rte-player to manage extra content that can set cookies on your device and collect data about your activity. Please review their details and accept them to load the content.Manage Preferences
Listen: Marina Carr at the Project, a RTÉ Arena special from 2019
The thrill of triple female auteurship in the theatre was rare and immense in 1996 – with Carr as playwright, Garry Hynes as director and Derbhle Crotty radiant in the role of Portia. Lineages flow to evoke and haunt one another. Portia Coughlan resonates with Teresa Deevy's 1936 Abbey Theatre play Katie Roche which also focuses on a woman's search for selfhood beyond the confines of marriage and domestic service. Revived in 1994 in a luminescent performance again by Crotty as Katie Roche on the Peacock stage, directed by Judy Friel, Crotty returns in this revival as Portia's tortured mother Marianne. In 2017 Caroline Byrne directed another major revival of Katie Roche on the Abbey stage, and the female protagonists' quests for self-empowerment strongly echo one another. A most profound expression of women's creativity in the history of the Abbey Theatre occurred on the main-stage in October 2021 in the world-premiere of iGirl, written by Carr - a 90-minute solo-show performed by a chimeric Olwen Fouere and directed by Caitriona McLaughlin. Such focus from women's points of view was a major moment in Irish theatre, spanning the personal, intimate and the epic histories of Carr and Fouere in a transhistoricity of women's mythology foregrounding Fouere as Ireland's leading performer. Such trajectories are important to identify as patterns emerge and histories are formed. McLaughlin directed a revival of Carr's On Raftery's Hill on the Abbey stage with devastating clarity in 2018 and iGirl consolidated a profound connectivity of women's minds, bodies and spirits on the national stage.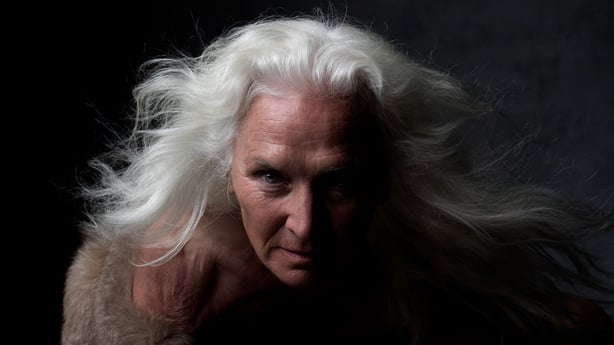 As co-Artistic Director of the Abbey Theatre, McLaughlin is central to the foundational lineage of women in Irish theatre joining previous female Artistic Directors of the Abbey Theatre Lady Gregory, Ria Mooney (resident director), Lelia Doolan and Garry Hynes. The concentric circles of women's self-expression continue to flow, like the Belmont River, with Caroline Byrne newly appointed in Spring 2022 as Associate Director, and Marina Carr as Senior Associate Writer at the Abbey Theatre. Irish theatre is traditionally haunted by the loss and absence of plays by women. Co-founder of the Abbey, Lady Gregory wrote over 40 plays which kept the theatre running in the first two decades of the 20th Century yet her absence looms large on the Abbey stage since. Carr's relationship with the Abbey Theatre spans an extraordinary three decades, with her first play Ullaloo performed there in 1991. She has written almost 30 plays, fifteen of which have been produced by the Abbey Theatre either as world premieres or revivals. Her work continues to be produced all over the world and has been translated into over 30 languages. Her next play, Girl on an Altar, will premiere in London at the Kiln Theatre in May 2022 directed by Anabelle Comyn. As we look back at Carr's earlier plays, and anticipate the new, it is clear that she has entered the world as Ireland's leading playwright and will stay in it.
Melissa Sihra is Associate Professor of Drama and Theatre Studies at Trinity College Dublin. She is author of Marina Carr: Pastures of the Unknown and editor of Women in Irish Drama: A Century of Authorship and Representation, both published by Palgrave Macmillan.
Portia Coughlan is at the Abbey Theatre, Dublin, until March 16th 2022 - find out more here.