'Arty-farty isn't part of this party...' Patrick Ryan introduces the St. Patrick's Day parade at this year's Five Lamps Arts Festival, celebrating the 15th anniversary of the much loved community-based arts festival in Dublin's North East Inner City.
---
What's the story missus?
"Yeah, well no. We're not the biggest St Patrick's Day parade. And we're not the smallest. But we're the biggest smallest parade that's closest to the biggest of all the parades, if that makes sense?"
Roisin Lonergan, founder and CEO of the Five Lamps Arts Festival based in Dublin's North East Inner City, is nodding and winking.
She knows bleedin' well yer confused. A former drama lecturer at the nearby Marino College of Further Education she also knows about how to help you make a show of yerself.
The Five Lamps Arts Festival has worked with the ASESP, Little Treasures, St Laurence O'Toole Schools, The Gardai, Dublin City Council, Swan Youth Services and the rest of the community to create a Community Festival for the North Wall/Sheriff Street Community.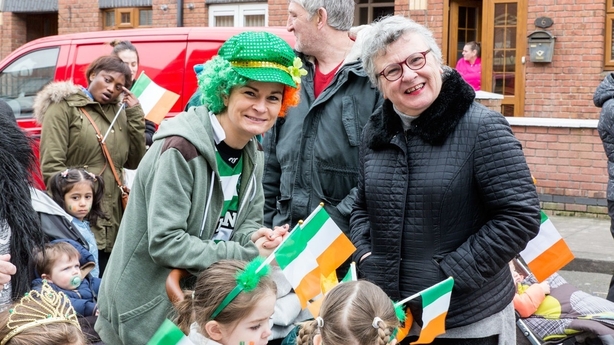 Pour out before pouring pints, people! Pour outa the gaffs! Join us for a few laughs!
Come along to see the glitterati! Come early to the come-all-ye!
Lookit, the Lord Mayor will be there, and the Garda Band. 'Twill be grand!
Every head-the-ball, one and all who's seen it all, hear and heed this call!
Naomh Pádraig himself will lead the march from Sheriff Street at 11am, one day and a half-a-mile ahead of O'Connell Street's parade. The Five Lamps Arts Festival do things differently. Launched in 2007 it's grown to become a crucial cultural conduit in the capital, but arty-farty isn't part of this party. Lonergan, and her staff who hail from Ireland, Spain, Brazil, Chile, Hungary - even Waterford! – organise cultural events throughout the year that are accessible to all. March 16th is another chance for everyone to accentuate the positive.
We need your consent to load this YouTube contentWe use YouTube to manage extra content that can set cookies on your device and collect data about your activity. Please review their details and accept them to load the content.Manage Preferences
Watch: What is the Five Lamps Arts Festival?
Scratch the surface and you find streets full of character, and characters. It's always been choc-full of natural performers, talented locals who loved making a show of themselves. Creativity, determination, and pride are not in short supply in a place which gave us Bram Stoker, Sean O'Casey, Brendan Behan, Luke Kelly, Peter and Jim Sheridan, Stephen Gately, Wes Hoolahan, Kellie Harrington, Gemma Dunleavy…
Drugs, crime and a sense of hopelessness lurk in darker corners too. Without sport, the arts and culture they might even define it.
Dozens of organisations including Little Treasures Community Crèche, North Wall Community Development Project (NWCDP), After School Education and Support Programme (ASESP), St Laurence O'Toole's schools, An Garda Síochána, Dublin City Council - all busily beaver away helping friends and neighbours, including immigrants who just like St Paddy himself arrived, and thrived, and stayed on.
All will be represented on March 16th. The reason is simple.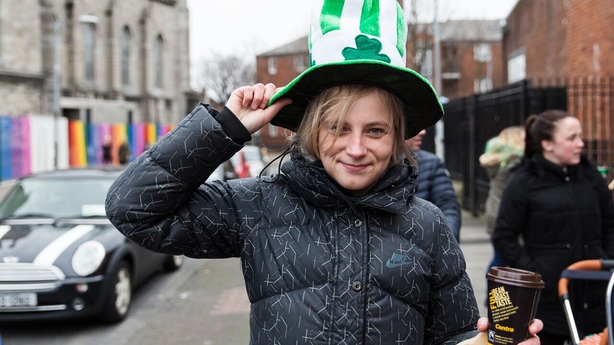 One could posit that it's a modern-day case of history repeating itself, à la the Normans – becoming, as it were - more Irish than the Irish themselves, roysh?
Relax the kaks ye loo-lah. Maybe it's just that we all love the craic.
Nod and a wink. Trust me bud, our Paddy's Day parade might not be big, but it'll be bleedin' MASSIVE.
Yer a muppet if ye miss dis deadly buzz.
Up de flats, agus beannachtaí na Féile Pádraig oraibh!
Find out more about the Five Lamps Arts Festival here.