Hannah Crowdy, Head of Curatorial for National Museums NI, introduces You Say You Love Me But You Don't Even Know Me, an illuminating new cross-border exhibition at the Little Museum of Dublin that explores different perspectives of 'Irishness' - without ignoring contested elements of our complex shared history.
Chosen by curatorial staff from across National Museums NI's network, these artefacts reveal intriguing moments in Ireland's social and cultural history, from fashion and folklore to archaeology, art and music.
---
Security Barrier, by Rita Duffy, depicts a bustling street scene in Belfast city centre. From a quick glance it seems cheerful and almost benign, with its quirky characters and bright colours. Yet a second look reveals police officers patting down individuals and searching through handbags. This is no ordinary street scene. It's certainly alien to me, and how familiar is it to you? Perhaps, like me, you are not from Northern Ireland, or you may simply be too young to remember these days.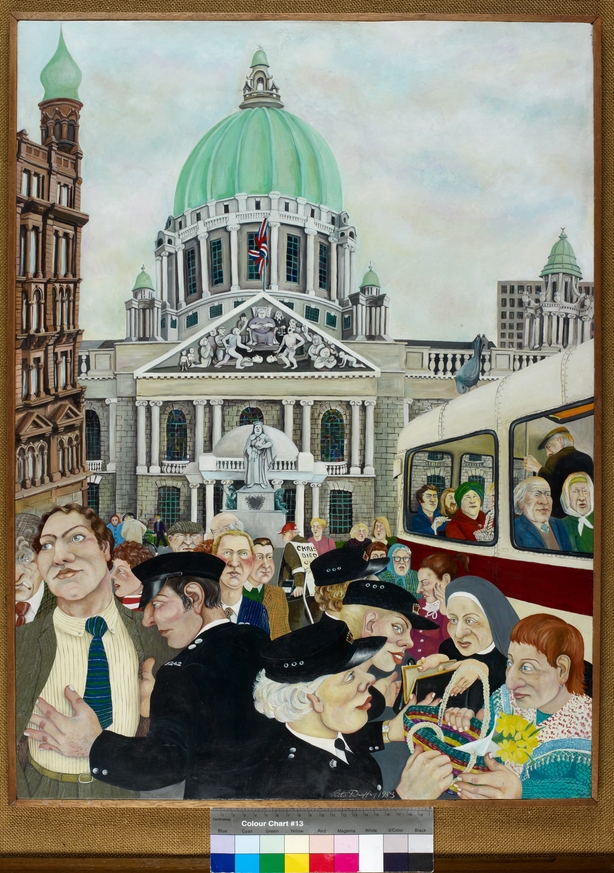 In 2019 the painting was displayed in our Troubles Art exhibition in Derry/Londonderry, with Dominic Kearney from Culture Northern Ireland commenting that 'It is a picture of a grotesque, abnormal everyday occurrence, tired citizens having to tolerate a new normal'. I certainly had no concept of such a 'normal' when I moved to Belfast twelve years ago. Was I guilty of ignorance about Northern Ireland? Most definitely. Was I guilty of stereotyping? Quite probably.
Through a new exhibition, staged at and in partnership with the Little Museum of Dublin, National Museums NI is aiming to challenge such ignorance and stereotyping, as we introduce, or reintroduce, this place and explore different views of 'Irishness' and both our shared and distinctive histories. Curators from across our four museums (Ulster Museum, Ulster Folk Museum, Ulster Transport Museum, Ulster American Folk Park) were tasked to make personal choices from our extensive collections, of objects that say something about the identity of this place, might be humorous or subversive in nature, and could provoke a range of emotions.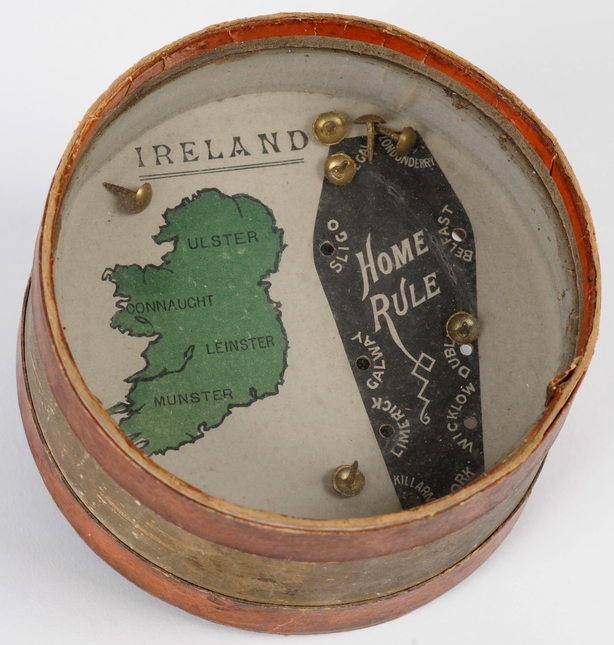 As a result the exhibition features a very eclectic mix, from a game in which players try to get nails into the coffin of Home Rule, to a Neolithic polished stone axe (c.3000 BC) which far predates any borders on this shared island. Speaking through our collections, the many stories they tell and perspectives they give, we seek to fill in the gaps in visitors' understanding of Northern Ireland, and show the realities of life here away from the more familiar media gaze.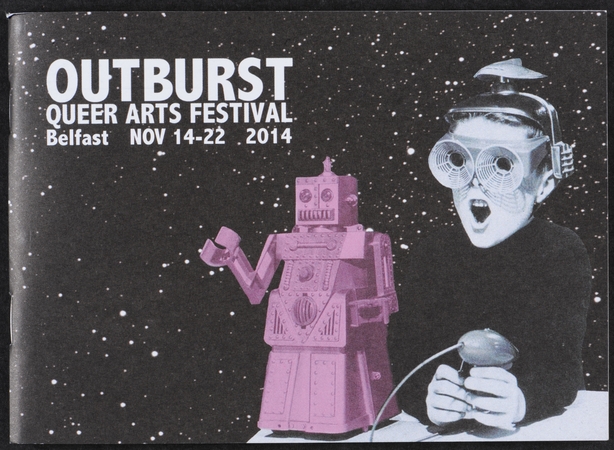 My personal choice was a programme for the Outburst Queer Arts Festival in 2014, the year we first worked with them to bring performance artist David Hoyle to the Ulster Museum. Ruth McCarthy, Creative Director, and her team are truly inspiring and exciting in the work they do, providing 'a space for a multiplicity of creativity and freedom of expression, advancing the visibility of queer art and championing its practitioners' (British Council). I am originally from Brighton, where freedom to express and celebrate sexual orientation has long been part of our civic DNA. On moving to Northern Ireland, I was shocked and saddened to discover the retrograde attitudes and actions towards those who are LGBTQ+, often from those in positions of power and authority. Organisations such as Outburst, who are important critical friends to us, represent hope, resistance and the power of creative, collaborative action. A reminder that identity in this place is much richer and more complex than reductive 'orange and green' binaries would have you believe.
You Say You Love Me But You Don't Even Know Me, is at the Little Museum of Dublin until June 6th 2022