Catherine O'Donnell, Education Officer at National Gallery of Ireland, introduces NGI's new project Your Gallery at School, aimed at primary and post-primary schools across the country.
Your Gallery at School is a holistic outreach programme, supported by SMBC Aviation Capital, designed to bring the magic of the National Gallery of Ireland directly into the classroom.
We would like to connect with every school in the country, but distance, money for transport and even gender can form barriers for some children. Your Gallery at School aims to overcome these barriers, encourage students' creativity and improve access to art.
Participating schools are paired with an artist, who creates a series of three tailored workshops, which feature practical activities, mindfulness sessions and discussions around creative careers.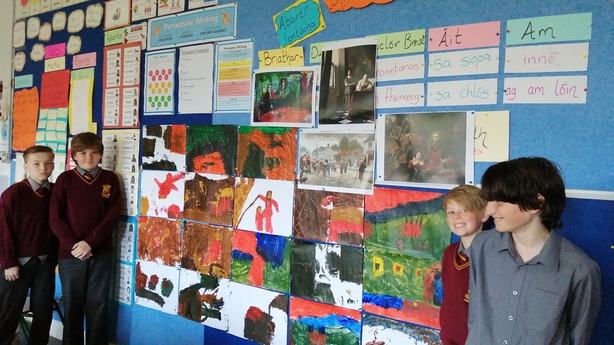 In 2021, artists Fergus Byrne, Eileen O'Sullivan and Fala Buggy worked with primary schools Scoil Chiaráin CBS in Dublin 5, Cliffoney National School in Sligo, Donagh National School in Donegal, and post-primary school Coláiste Mhichíl in Limerick, Ennistymon Vocational School in Co. Clare and Youthreach Leixlip in Kildare. These workshops ranged from sensory explorations of paint, using viewfinders to investigate the site of Richard Thomas Moynan's Military Manoeuvres, and creating sculptural trees.
As Fala noted, "[The project is] not just about art and being good at art… it can give lots of space for creativity to grow, whether it's looking at the history, the senses, the culture, celebrating difference as well – students have a way to find themselves reflected in the Gallery's collection and a way in to explore [what] is important to them."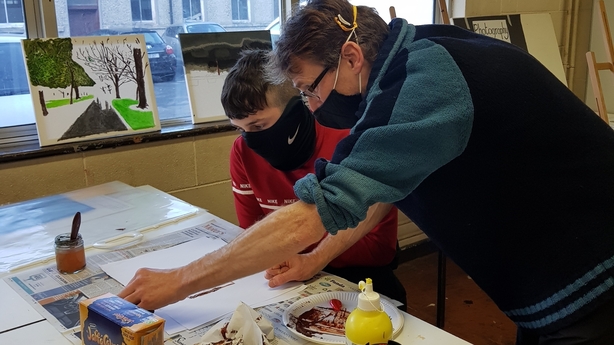 There was a real impact on the students. One child told me after the workshop: "What I learned is that everyone's art is perfect in its own way, it is unique, it is your own style and is always best for yourself." Caroline Carey, principal teacher at Donagh National School, summed up the project: "For us here in rural Donegal it was absolutely fabulous to have a facilitator come from the National Gallery, to have the Zoom meetings with artists outside the county [as well as] the curator of the National Gallery. Those were very enriching learning experiences for us."
This initiative would not be possible without the continued support of SMBC Aviation Capital. Its chief executive officer, Peter Barrett, said: "It is crucial that communities from all backgrounds are able to benefit from learning through art and we are proud to support the National Gallery of Ireland to deliver this innovative programme."
Schools across the country are invited to participate via the National Gallery of Ireland website. There will be two windows of opportunity for primary and post-primary schools to apply, (24 January – 18 February 2022 and 29 August – 15 September 2022), giving schools the option to choose what time of year suits them best to take part.
For further details on NGI and Your Gallery At School, go here.