At 1 pm on Sunday, the 5th of December artist Anthony Haughey and the Inishowen community gathered at Fort Dunree to produce an 'artist intervention', the first part of an ambitious 'social sculpture' that will involve hundreds of participants. Below, Anthony introduces the project.
Anthem is the outcome of my 2021 Artlink residency co-created with residents living near Fort Dunree, Buncrana, and Drumfries. This event marks the centenary of the signing of the Anglo-Irish Treaty on the 6th of December 1921, at that time Ireland was defined in terms of Nationalist/Unionist cultural identities. Today Ireland is a more culturally diverse society. This artwork questions what national identity means in twenty-first-century Ireland.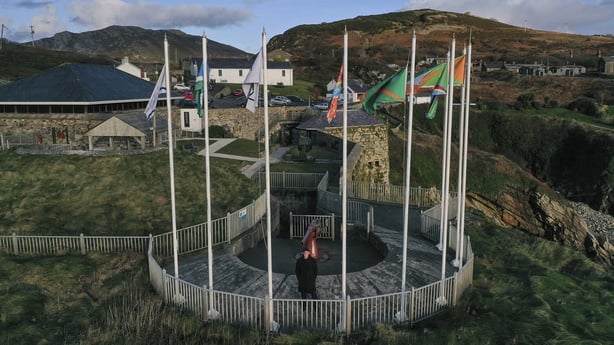 In April 1921, my grandfather, Michael Haughey, was wounded during active service in County Armagh. He was taken to a safe house where he was nursed back to health by a young woman called Sarah Clarke (my grandmother) - they married some years later. One could say I owe my existence to a serendipitous moment during the War of Independence; this is the backdrop to my Decade of Centenaries artist residency in the National Museum of Ireland and Fort Dunree.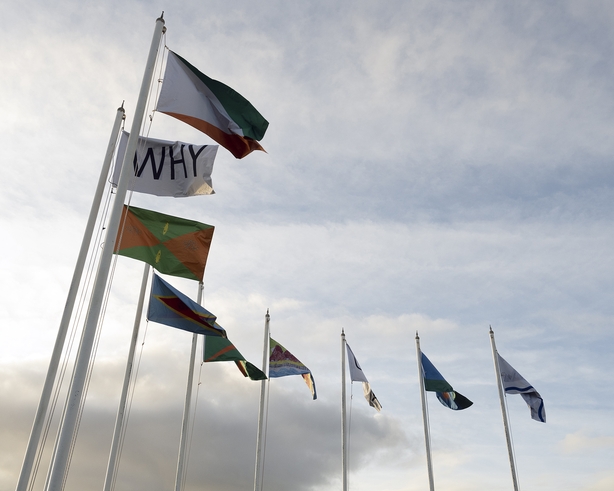 Fort Dunree was built following the 1798 rebellion and the capture of Wolfe Tone onboard the French flagship the Hoche in Lough Swilly. In the late 19th century the fort was modernised and enlarged, it protected the British Naval fleet anchored in Lough Swilly during World War One. Following the Anglo-Irish treaty negotiations, the British retained sovereignty of Fort Dunree as well as Spike Island and Berehaven until 1938 when the 'Treaty Ports' were returned to the Irish government. The handover in Fort Dunree was officiated by lowering the Union flag and raising the Irish tricolour, by a coincidence the flag bearers from the British and Irish military were also brothers-in-law.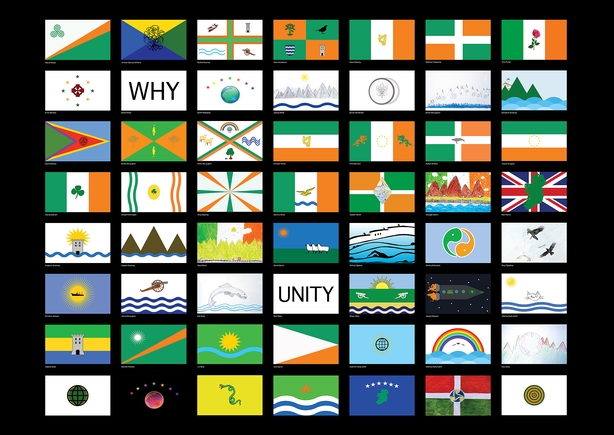 In a recent Red C poll, 60% of people surveyed in the South stated they would vote for a united Ireland. In the same poll, only 35% would be willing to change the national anthem, and even less – 27% would consider a new Irish flag to accommodate a united Ireland. Flags are an emotive issue in our divided country but it is not unprecedented to redesign a national flag. In 1994 South Africa adopted a new flag, the previous flag was considered to be a symbol of the apartheid regime, and in 2015 New Zealand held a referendum and public competition to consider a new flag - but the outcome was to maintain the current flag.
Since June 2021 I have hosted flag design workshops with residents who live near Fort Dunree. There are significant creative skills within the region; one of the participants was a pattern cutter in the Fruit of the Loom Factory in Buncrana before it closed in 2006. I am always excited to work with people who bring their own experience and skills to enrich a collaborative or participatory artwork. The project culminated in a collaborative art intervention by taking over the fort and raising flags. Historically Fort Dunree signifies colonialism and military power, I was interested in how the architecture of this site could be transformed by a citizen action – through participation and collaboration.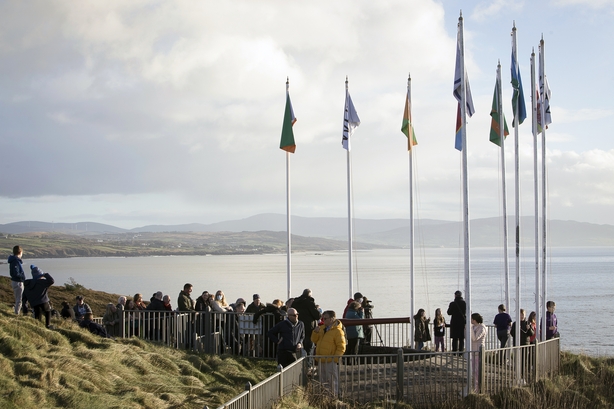 Anthem is the beginning of a journey to explore cultural identities in Ireland one hundred years after the signing of the Anglo-Irish Treaty. Over the next eighteen months during my residency in the National Museum of Ireland, I will explore how Ireland has significantly transformed into a multicultural society, this residency has enabled me to continue exploring and re-shaping acts of commemoration with participants and audiences to connect with complex historical events on an intellectual and emotional level.
Anthony Haughey is an artist and a lecturer in TU Dublin, his collaborative and solo artworks have been exhibited, collected, and published widely internationally. The National Gallery of Ireland acquired Citizen and Settlement for the collection in 2020. He is a co-editor of a forthcoming publication, Contested Narratives, Places, and Futures: Socially Engaged Art in Ireland.