We're delighted to present an extract from It's Marty, the new autobiography by Marty Morrissey, published by Sandycove.
Marty Morrissey - GAA broadcaster extraordinaire and one of the hardest-working people in show business - has been to every corner of Ireland (and a few interesting ones further afield) in his illustrious career. Everywhere he goes, he makes friends and hears terrific stories - and sometimes he becomes a character in them. Now he's sharing them with us, in a book full of his trademark warmth, wit and energy.
---
The phone rang one Monday lunchtime in 2017. I recognized it as an RTÉ number and answered, expecting someone from the news or sports departments. Instead it was a member of the Liveline team, letting me know that I was about to become the topic of conversation on the programme when they went on air.
'What? Why?'
'Because of your sermon at the Knock Solemn Novena last Wednesday.'
'My what?'
It turned out that a piece had appeared in the Catholic Voice under the headline, 'Inappropriate "Speech" at Knock Novena'. 'Have a look at it if you can,' I was told, 'and if you wish to comment, call me back.'
I had no intention of commenting, but I did turn on the radio.
Now, I don't know Anne Keeling, the journalist who wrote the piece, but I'm sure she's an excellent journalist. Her points were well made and of course I respect her view, but I don't have to agree with her criticisms. In her two-page analysis of my 'speech' in Knock the previous Wednesday she wrote:
Are RTÉ personalities now our religious guides? Or have our congregations become so feeble minded that this is the only calibre of homilist that will draw us in our thousands and entertain us, as we seem to need to be entertained not with the Higher teachings of the Church but with amateur psychology? A joke from Mr Morrissey about thinking Fr Gibbon's call was to ask him for tickets to the All-Ireland football final between Dublin and Mayo elicited a burst of laughter. From then on there were regular peals from the congregation who seemed to be delighted as a typical Friday night Late Late Show audience.
She also said:
I noticed that he had for reasons best known to himself, chosen to leave the top buttons of his shirt undone.
Now, Joe Duffy is a masterful broadcaster as we all know. He dealt with the matter fairly and objectively, eliciting opinions both in my favour and against.
I think Tom Shiel, writing in the Irish Times the day after I spoke, understood what I was about better than Anne Keel- ing. He said:
Gaelic games broadcaster Marty Morrissey received a standing ovation in Knock Basilica yesterday when he outlined his advice for living a happy and fulfilled life. Addressing several thousand pilgrims at the annual novena, he spoke for almost 30 minutes on the theme of living life to the full. His 3 p.m. address was interrupted by several outbreaks of applause.
Tom also went to the bother of talking to a native of Knock, Joe Rattigan, who said, 'It was a great idea for Fr Richard to ask Marty to speak at the novena. We need more lay speakers like him if the popularity of the nine-day novena is to be continued.'
The whole thing started a few weeks earlier when I got a phone call from Fr Richard Gibbons, the parish priest in Knock. When he introduced himself, my first thought was that he was looking for tickets for the All-Ireland. My second was that it was one of the lads from home – Butcher or Rabbit or Moose – pulling my leg (that happens a lot). This guy had a more distinguished accent, however, so I heard him out. But when he asked me to speak at Knock novena, I was gobsmacked.
'Are you joking me?'
He wasn't. He told me that my colleague Bryan Dobson had spoken at the novena in the past and that the people in Knock really wanted me to speak this year.
OK, now I was convinced this was a joke.
Right at that moment, who came around the corner only Bryan Dobson. I called him over, thinking, I have this guy now. So I handed the phone to Dobbo. The joker on the other end of the phone introduced himself, and Dobbo goes, 'Oh hello Richard, how are you?'
Good God, I thought, this Fr Richard is real. I felt I couldn't say no at that point.
When the day finally arrived and I sat on a stool behind the altar, near where the candles are lit, I suddenly experienced a strong sense of cold feet. The basilica was thronged. Jammed. Standing room only. At this point, however, there was no going back.
When Fr Richard introduced me, I walked forward with great nervousness and trepidation but pretending – of course – to be super cool. I asked the Blessed Virgin Mary not to abandon me, even if she didn't like any of my broadcast work; and if my late father was around, he would be a great help too.
I introduced myself to the crowd and told them that they were not about to hear a sermon, that I was no preacher. 'I'm one of ye, an ordinary Joe Soap trying to do his best here on Earth, trying to live life honestly and use whatever gifts God gave me. I'm certainly no holy Joe, in fact I'm no holy Marty!'
Fr Richard had asked me to speak on the topic of 'living life to the full'. In my view, love is number one. Love is the greatest power on earth. To live life to the full, we must love life to the full. Whatever we give in life is what we receive in return. I genuinely find that if you give positivity, you receive positivity. Feelings of enthusiasm, excitement and passion come from love, and when we feel any of them consistently, they give us a life filled with exciting and passionate things. And love can be many things, not just romantic love. It might also be your love of set dancing at the Willie Clancy week in Miltown Malbay, or the jazz festival in Cork, or One Direction or U2. It might be watching Aidan O'Shea catching a high ball in the middle of Croke Park. It might even be watching The Sunday Game. It's that feeling of love and passion that excites and thrills you.
Speaking in Knock that day was without doubt one of the greatest honours of my life, and I was especially humbled by the standing ovation I received when I finished – and it happened twice! I spoke in the afternoon and again at the evening session. As I stood there looking down on the sea of beaming faces, I thanked the Blessed Virgin Mary and my dad at least ten times. I couldn't believe it, and every time I think of it now, it sends shivers down my spine.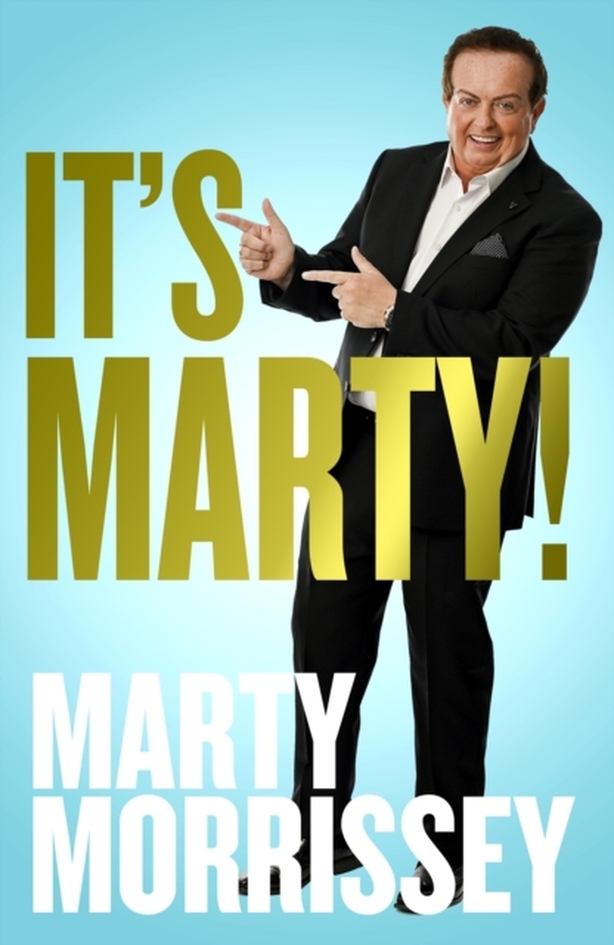 It's Marty by Marty Morrissey (published by Sandycove) and is available now in book shops and online.