We're delighted to present an extract from The Pawnbroker's Reward, the debut novel by acclaimed singer-songwriter Declan O'Rourke, published by Gill Books.
Declan O'Rourke's award-winning album, Chronicles of the Great Irish Famine, was released to critical acclaim in 2017. It illuminated an extraordinary series of eye-witness accounts, including the story of Pádraig and Cáit ua Buachalla. Four years on, in Declan's meticulously researched literary debut, the story of the ua Buachalla family is woven into a powerful, multilayered work showing us the famine as it happened through the lens of a single town – Macroom, Co. Cork – and its environs.
---
EVERY SINEW
A wheeze was followed by a gasping suck for air. With legs trembling he felt himself lurch forward, and stumble. Recovering … gasping again … in pitch-black emptiness, an arm reached out, blind, grabbing at the air but found nothing.
Every sinew and every fibre of his body burned from the ground up. Each step was now a gargantuan effort. The cold and damp air of the night, blowing infrequently, was the only balm to the fire in his skin. Exhausted – his mind teetering on the edge of consciousness – heart bursting under the strain, each part of him had pushed the limits of endurance and might give way at any moment. A raging fever was consuming him.
The choked pulse throbbed in his ears, the wheezing of his lungs, his tongue, panting like a spent horse, the intermittent coughs and groans from within. Blood and vomit stained the taste of his cut mouth. One at a time, the effort to lift each foot up and over the grass tussocks. The strain of his eyes to perceive the ground in absolute darkness. An overwhelming urge to lie down. His body begged for rest.
But he could sense the hill. It was just before him somewhere. He tried to focus on that. Not the pain. But how? To climb it seemed impossible. If he stopped now, he would never get there. Oblivious as a fallen roof leaning on him, to the unbearable burden, a dead weight pressed into his back.
We need your consent to load this rte-player contentWe use rte-player to manage extra content that can set cookies on your device and collect data about your activity. Please review their details and accept them to load the content.Manage Preferences
Somewhere, in the depths of a dream, a voice chanted: 'Gurranenagappul … Doire Liath …' The mirthful laughter of a little girl.
'Síle!' he called out.
He saw the open pit below him and felt himself crash into it, pulled into the earth, then battered beneath the sprawling mass of black muck that pummelled and smothered him from above. But he was still walking. Unrecognisable voices swirled in his brain as his lungs heaved, ripping at his throat. And he was soaked. From sweat or rain, he could not remember.
Where are we? Who is crying? Is that me? Waves of sorrow and anguish were tearing him apart from the inside, rolling in a tidal surge of emotional flood. Outside, his limbs felt stiff … his neck was frozen and jammed. He moaned and struggled to free himself of the arms hung around it, dangling over his shoulders. Whose? Hers?
'Cáit! Poor Cáit.'
How far had they walked like this? Where were they coming from? Six miles. That terrible place. Bodies. Twisted piles of knotted limbs. The children. Horror and sorrow.
He stopped, dry retching, awake, choking on spit as thick as molasses, the heaviness of nausea deep down but everywhere, drooling, shuddering violence to clear his mouth of the dangling phlegm that refused to leave. And shivering … he fought desperately to steady his balance against the merciless pull of gravity, but ignorant will was stronger.
Muscle spasms. Tingling. Hair. Heat. Seized, unable to bend lower, or lift the burden higher, he stood stuck to the spot.
Fall here … or walk now. A voice within spoke.
And suddenly he felt it. The ground began to rise. One foot, drunk with emptiness. Struggling for breath he sucked and wheezed and moved forward again, steadying, breathing hard. Everything he had ever known … everything they had ever been … all experience: joy; pain; anger; even love were collapsing in on themselves. He just had to get to the top … one step at a time … without falling.
Up there, at the top of the hill … the cabin, the only place – once – they had felt hope, all four of them together. He just had to get her there. Then it would stop.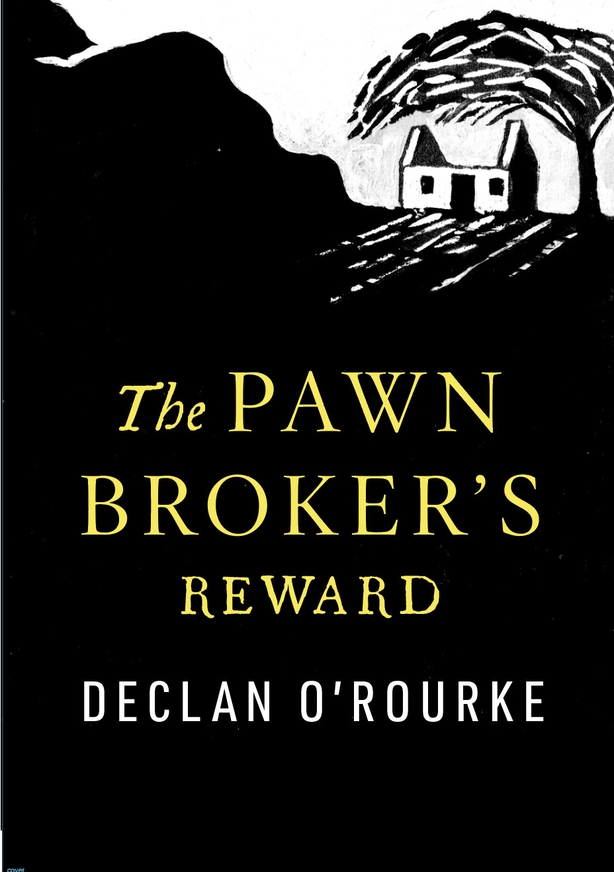 The Pawnbroker's Reward, the debut novel by acclaimed singer-songwriter Declan O'Rourke, published by Gill Books.