We're delighted to present an extract from Stories from the Sea, the new book by Jo Kerrigan, featuring pictures by Richard Mills, and published by the O'Brien Press.
Ireland is an island nation, inextricably linked with and dependent upon the sea which surrounds us. Let Jo Kerrigan's tales and Richard Mills' evocative photographs transport you to the coast to rediscover the stories and legends gathered over the centuries by its communities.
---
Making a Living From the Sea
In earlier times, to make a living, or indeed to survive at all, in a coastal community here meant making the most of every single opportunity and source. Whether it was fishing or collecting cockles, gathering seaweed or searching for useful things tossed up on the shore, every little thing counted.
On our offshore islands, this was even more the case, since they could depend only on the sea, not having a hinterland on which to call when times became desperate. Children learned the all-important skills of casting a line or a net as soon as they could walk, while elderly men and women collected scraps of wood thrown on the shore by the waves, to use in making a warm fire. Many a home or the furniture in it was built from larger pieces of timber washed up by the sea. Nothing was ignored, nothing was wasted. The commonest Irish surname, Murphy, is said to stem from Mur-chú or 'Hound of the Sea', indicating someone whose skill and knowledge on the open water was notable.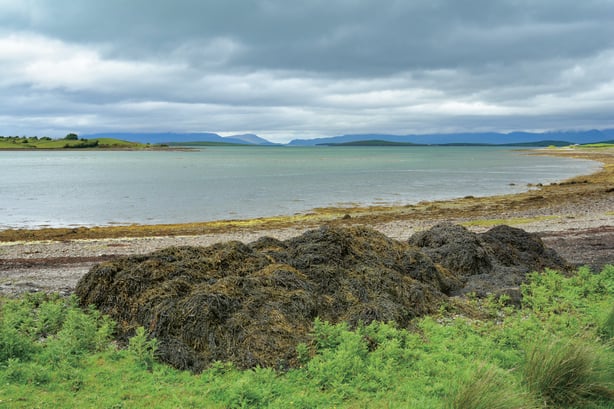 Fishing from the shore, from rocks and promontories, was a way of life. Shellfish and molluscs were also eagerly sought. Indeed, these natural resources saved many a coastal community from starvation during the Great Famine – so much so that there was an antipathy to touching such food afterwards, because of the memories it held. It took until the late twentieth century for seafood to become a top item on a fashionable menu, rather than being dismissed as 'famine food'.
Going further out required the possession of a boat, and those who could make their own currachs would have no problem in finding an eager team to help them cast nets and haul catch in. The herring industry kept generations busy, but before that it was pilchards, which were so plentiful around our coast in the sixteenth and seventeenth centuries that men of means set up fish 'palaces' (the origin of the word is unclear, but may come from the term used in Devon and Cornwall for cellars where fish was stored) in key locations. Local people would be employed to gut, salt and pack these in barrels for shipment to France, Portugal and Spain, where they were much in demand for Catholic fast days. It was probably Ireland's most profitable export at that time, and provided plentiful local employment, both in the catching and the subsequent processing.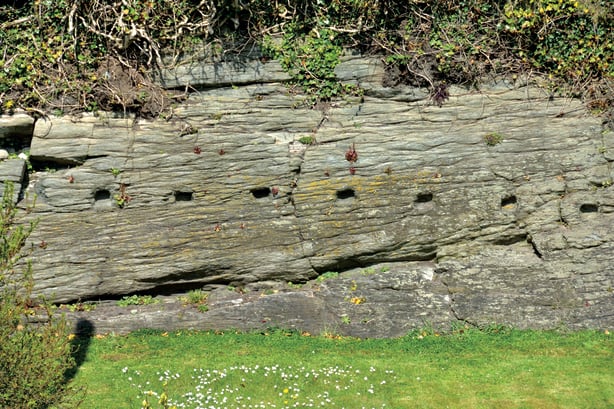 Associated industries like cooperage – making barrels to hold the salted fish – and making and mending nets should not be forgotten either, nor indeed the sourcing of the materials to make these. Salt had always been a valuable and vital product, brought in from the coasts of France and Spain, and they must have used plenty of it in the pilchard industry.
The actual catching of the fish required a 'huer' or caller, situated on a high vantage point above the sea, where the shoals could be seen more clearly. There were cases of local farmers objecting to the 'huer' trespassing on their land, and trying to drive them off, but this was strongly discouraged by the landlords who did not want to have their income damaged by a loss in pilchard catches.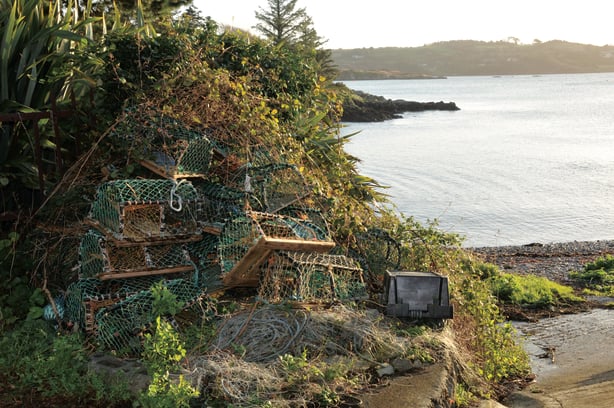 There were pilchard palaces all around the southwest coast, from Waterford to Kerry, and occasionally on other parts of the coast, where shoals would turn up for a year or two before moving on. However, by the mid-eighteenth century, the fish were not coming in the same numbers anywhere, and the industry gradually fell into decline. You can still find ruins of old palaces though, if you know where to look. They are found near the shoreline, where the catch would have been landed, old stone buildings on flat ground.
The most distinctive feature that may remain is the 'pressing wall', with a horizontal line of square holes that held beams. The other ends of these beams were weighted, to press down on the fish to extract the oil. This was very valuable, with a multitude of uses, from lighting lamps to treating leather.
Other fishermen made their living from catching lobsters to sell in harbour markets. The inhabitants of the southwest coast of Cork, around Roaringwater Bay, specialised in this type of fishing, using specially designed boats in which they could live for weeks on end. This catch would always sell well in the garrison towns around the southwest coast, where officers and ladies enjoyed such luxuries. It was hard work though, often involving staying away from home for long periods, in all kinds of weather.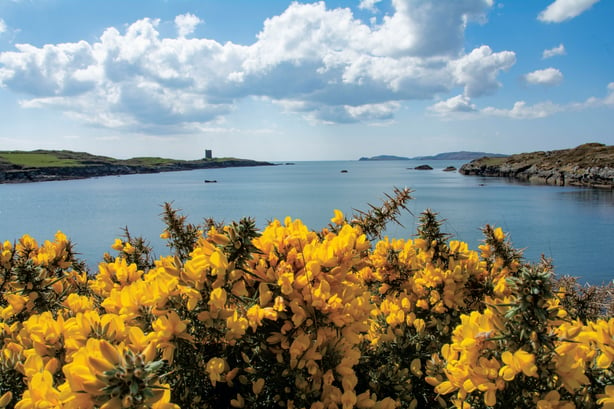 One opportunity for adventurous young men living within reach of a port was to join English fleets sailing to the Grand Banks of Newfoundland for the fishing season.
Fishermen from the Basque region knew of these rich fishing waters from as far back as the fifteenth century, when it was called Bacalao, 'the land of the codfish'. In Irish, tellingly, Newfoundland is known as Talamh an Iasc, or 'the Land of the Fish'. Boats from Italy, Spain, Portugal and France were first to make the testing voyage into this inhospitable region, but English ships soon followed. Waterford, a busy international port, was a favoured last stopping point for these fishing fleets, an opportunity not only to stock up on long-lasting food supplies such as salted beef and pork, but also to recruit local help to work with them for the season in the far north.
Research has shown that the majority of these raw recruits came not only from the environs of Waterford, but also from upriver, from along either the Barrow, the Nore or the Suir, the three sister rivers that meet at the harbour. Many a farmer's son, seeing little opportunity for a living on the meagre family holding, would have signed up at a small recruiting agent's office in a place like Graiguenamanagh, Kilkenny, Clonmel or Carrick-on-Suir. Packing his bundle and saying his goodbyes to those staying behind, he would tramp his way down to the quays of Waterford.
Many such young men might not ever even have seen the sea before, much less had any experience of dealing with vast catches of fish in an icy climate. But they learned, probably brutally, on the job.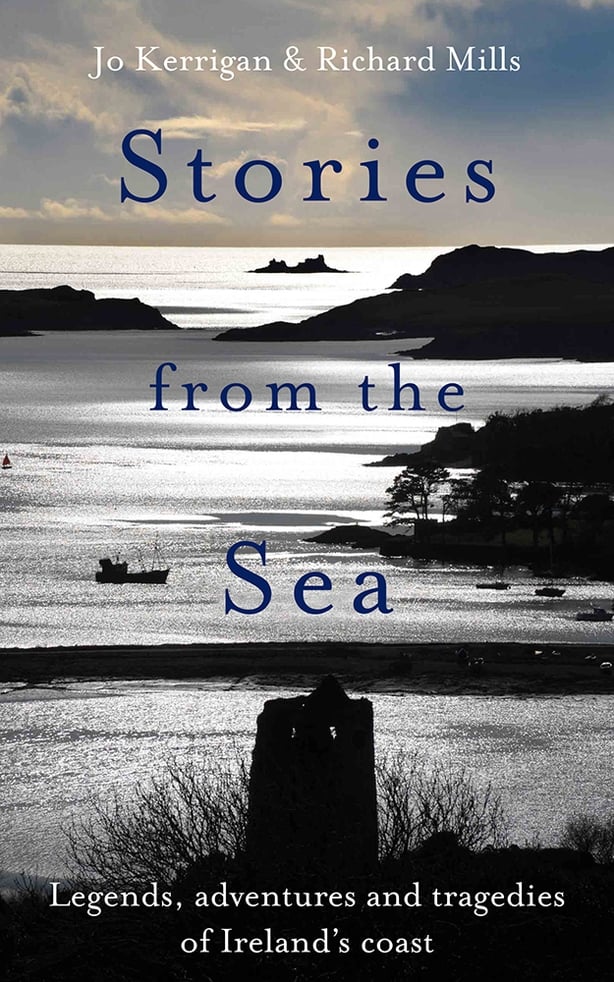 Stories from the Sea by Jo Kerrigan & Richard Mills, published by The O'Brien Press, is in bookshops now.