Catherine Young of Catherine Young Dance writes about her new work, Floating on a Dead Sea, which will premiere at Longford's Backstage Theatre on Friday 26th and Saturday 27th November, revealing a rare and immersive glimpse into life amidst conflict in Palestine. A Dublin Dance Festival commission in association with Backstage Theatre, presented in partnership with the Abbey Theatre, this is the first time in the history of the DDF that one of its events will take place outside of Dublin.
I was invited to Palestine in 2017 with my dance company to open the Ramallah Contemporary Dance Festival with Welcoming the Stranger - a piece I had made in response to the refugee crisis working with people in direct provision in Kerry.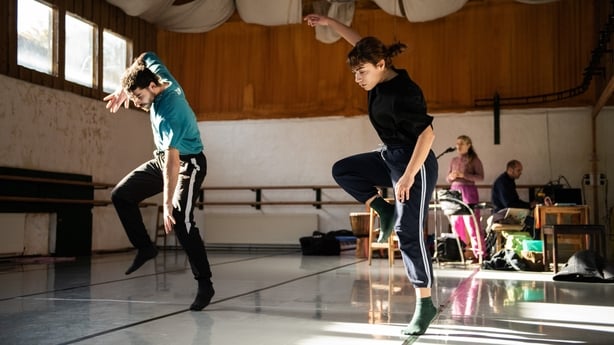 As I could not take refugees with me from Ireland, I took a stripped-down cast of 12 professional dancers/musicians from Ireland and restaged the work in collaboration with Palestinian dancers and musicians from Sareyyet Ramallah Dance Company.
On arriving in Ramallah, I was surprised at how 'normal' things were. Everyday people going about their business, going to school, college, work, drinking coffee, sharing food, but it's not easy under occupation. It's always in the background. That trip changed all of us. Until then I realised I had taken my basic rights for granted - the freedom to move, to express yourself, to be protected, to pursue your dreams.
The experience has stayed with me since and on returning to Ireland, it partially fuelled my 2018 work State of Exception, about Ireland's Direct Provision system. Floating on a Dead Sea is the obvious sequel.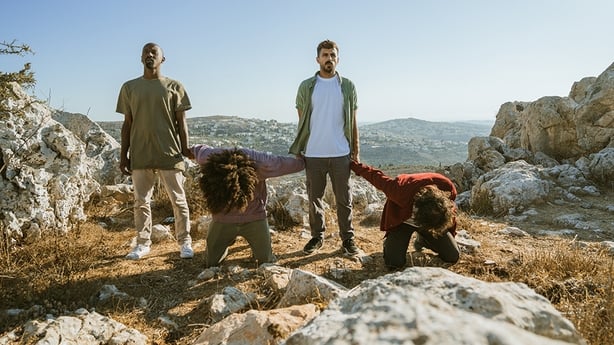 It's not easy to make a piece about Palestine, perhaps not even advisable to try. Each Palestinian has their own different experience of the place - West Bank, Gaza, 48, the diaspora, those displaced who can never go home, those have never been home, the older generations who experienced the intifadas (uprisings), the younger generation who feel that burden, the Palestinians who experience the occupation directly every day, those who have a less direct experience of it.
It's equally not easy to make a piece like this during a global pandemic where we could not bring the Palestinian dancers and musicians to Ireland to work with us. We have worked remotely through zoom but for a work like this it's challenging as you want to be in the room with bodies to sense how the material is impacting them and to be able to take care of people whilst dealing with difficult subject matters. I am making the work from my own experience as I cannot speak directly for the Palestinians, but it's important for me that they share their thoughts, feelings, observations, and that together we find a way of honouring everyone.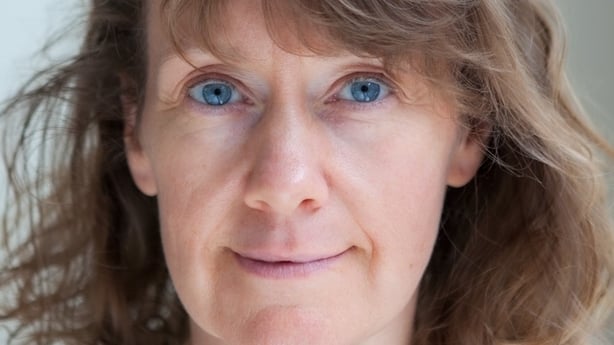 The pandemic also changed how I was going to approach the piece. We now understand a little about being on lockdown, not being able to travel, not being able to see your family and being under threat of something bigger than you – so that particular experience wasn't something I now necessarily needed to take an audience through.
The cancellation of the live show in 2020 and being on lockdown without access to dancers or a rehearsal room, compelled myself and my collaborator filmmaker Luca Truffarelli to create a documentary from the footage we had shot out there. The documentary will be presented separately.
We need your consent to load this YouTube contentWe use YouTube to manage extra content that can set cookies on your device and collect data about your activity. Please review their details and accept them to load the content.Manage Preferences
Watch: Floating On A Dead Sea in rehearsal
These last two years of creating bridges and connections with the Palestinian dancers during lockdown have been extraordinary; auditions on rooftops over zoom, rehearsing remotely. In their world, disruption, cancellations and not knowing are part of their everyday experience - but they keep going. There is an infectious positivity in their resilience, every hurdle we hit is turned into an opportunity to 'fuel the piece' – it's a good way to look at on-going and sometimes seemingly unsurmountable challenges.
The Palestinian dancers find their freedom in their dancing. We dance in solidarity with them and hope one day they will enjoy the same freedom we do.
We suffer from an incurable malady: Hope. (Mahmoud Darwish)
Floating on a Dead Sea is at Backstage Theatre, Longford on Friday 26th & Saturday 27th November at 8 pm