We're delighted to present an extract from Tea for One, the new book by celebrated author Alice Taylor, published by The O'Brien Press.
Some people are home alone by choice, while others, like Alice Taylor, journeyed into it through a change of circumstances. In Tea for One, Alice discovers the challenges and pleasures of living alone...
---
Learning from the Elders
My early years in Innishannon were a whirlwind. Surrounded by small children, running a guesthouse, post office and a busy shop, sometimes with much-loved elderly relatives on board, the days were a stampede of non-stop activity. My wonderful husband Gabriel began work at 6am and often balanced the books in the small hours, while at the same time being part of every parish organisation. He kept so many balls in the air that one got dizzy just looking on. We also seemed to be endlessly building and extending the business, and the bank manager was forever threatening to pull the mat from under us so we were constantly over-stretched and stressed.
Sometimes, back then, I would dream of a day away from it all on a desert island … a waiter would magically appear bearing a tray laden with the most gorgeous food, and whip out a starched white linen tablecloth and arrange everything on a low table beside me, and then disappear into the mist. Later, sipping a Gaelic coffee, I would watch the moon rise.
Or I might dream of a day child-free and money-rich when I would drift through exclusive shops, spoilt for choice, and at midday take time out to dine in a top-class restaurant and enjoy the most delicious lunch, finishing up (again) with a Gaelic coffee (I had just mastered the art of making these, following a recipe on a tea-towel bought in a little shop down our street; Gaelic coffee signified real luxury for me back then). I wonder had GB Shaw the likes of me in mind when he wrote: 'Youth is wasted on the young.'
During those frantic times an older lady came to stay with us – or, rather, moved into a tiny upstairs apartment which we had ironically christened the 'West Wing'. She was very elderly (at least to me at the time) and so very posh that we never got to first-name terms; such a thing would be akin to calling the Queen of England 'Lizzy', and such familiarity could not be condoned. Anyway, her name was unpronounceable to me, so she became Mrs C, though it might more appropriately have been Lady C as she had originated in an aristocratic rookery in the West of Ireland. Having lived a varied and interesting life all over the world, she was a wise old owl and I learned a lot from her, though at first I wondered how she came to be slumming it with the likes of us. 'The old should surround themselves with the young,' she informed me, which explained why she had landed herself in our midst.
One day I was running up the stairs dragging a basket of laundry with me while she waited at the top, leaning on her black ebony walking stick before beginning her painfully slow descent. On my arrival at the top she imperiously instructed, in her impeccable Anglo-Irish accent, 'Alice, my dear, don't ever grow old. It's an appalling condition!' To me at the time her conditions didn't look half bad! She had successfully mastered the art of making the most of her life, which undoubtedly was now very different to what she had been accustomed to. Choice pieces of her family's heirlooms had accompanied her into the West Wing, and a Jack Yeats masterpiece, gifted by the artist himself, graced her wall. She regularly wined, dined and played bridge with like-minded friends, while a whiff of cigar smoke and brandy wafted along the corridor and downstairs to us below. At Christmas she went to Harrods to do her shopping. Not a bad life in any man's language. Certainly not to me at that time.
But now when I wake up in the morning, checking if all my parts are still functioning and capable of getting me onto the floor, and then how fast they will get me to my required destination, at the same time steadying myself in case I go headfirst into that destination – then I remember her. On top of the same stairs when I grasp the handrail and steady my pace to carefully make my way down
in the hope of a safe landing – then I remember, and agree with her. And now in the garden when attempting to lift a heavy pot and my back tells my head that that I have stooped too low – then I remember and salute her. Despite her opinion that old age was appalling, she nevertheless had nurtured the art of coping admirably with it. And though unaware of it at the time, I learned a lot from her.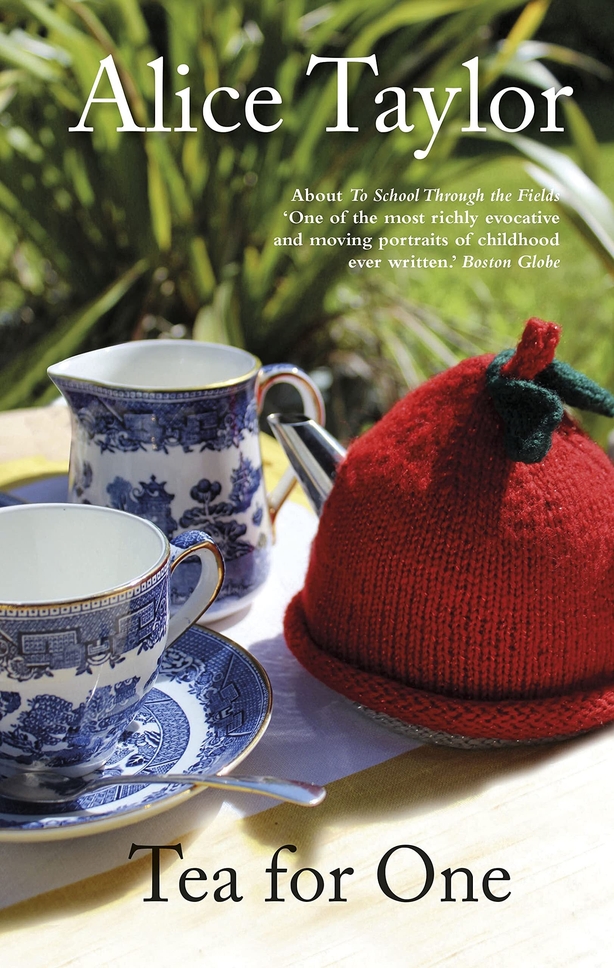 At that time, Gabriel and I loved to dance and, on hearing a favourite tune on the radio, would take off in an energising quick-step around the kitchen table. Now I grasp the brush handle and do a graceful glide into a slow waltz. My pace has certainly slowed down as life changed over the years, from being part of a large family, to half of a couple, and now a solo player.
Some people are home alone by choice, while others, like myself, evolved into it through a change of circumstances. But no matter how it comes about, living alone has its minuses and its pluses, and as the years go by you strive to get the balance right. You slowly grow accustomed to being on your own and you adjust to enjoying your own company and keeping yourself pleasantly occupied.
What I began to learn was that the strategies needed to cope with the isolation of Covid-19 and those needed to cope with living alone and growing older are often fairly similar – being absorbed in doing: painting, reading, creating, gardening and so on. When you no longer run a family or a business or go out to work, these enjoyable pursuits can become your focus. And isn't it great to have the time to savour them?
Tea for One by Alice Taylor (published by The O'Brien Press) is out now.