RTÉ News reporter and presenter Carole Coleman introduces her new book News from Under a Coat Stand, a poignant, serious, yet often hilarious account of Covid's first 100 days, taken from her own diaries.
"Who on earth keeps diaries anymore?" someone recently asked.
"Me!" I replied, explaining that I like to be surprised or amused by revisiting what I was doing ten years ago – or even ten weeks ago.
You rarely forget big events. But small details get lost in the fog of time, and much of life is about those small details.
In March 2020, with Covid-19 assaulting Ireland, I began to write it all down. We journalists thrive on the adrenaline of a big story, but Covid was upending and curtailing every aspect of our lives with breathtaking speed. My way to stay abreast of developments was to keep a good record.
Covid-19 took so much from us, but lockdown also gave time to think and just be.
As an RTÉ reporter and radio presenter, I had access to the army of medical experts that helped explain it all. I had a chance to interview the decision-makers who gave us the 2 km travel limit, essential shopping, cocooning and wet pubs. Substantial meal anyone?
From mid-March 2020, I co-presented RTÉ's This Week programme live on Sundays from my Leitrim home in Carrick-on-Shannon.
Unlike with other big stories, I was not a mere observer but a participant – and so it was a rare opportunity to merge the national and global story with my personal and family experience.
Over those first 100 days, I chronicled Covid's effect on grandparents, businesses, health workers, bishops, bus drivers and students, among others. I documented the happenings (or lack of them) in my own town and home. Virtual exercise boot camps, home schooling, sanitizing groceries and virtual piano exams all made it into my March-June 2020 diary News from Under a Coat Stand.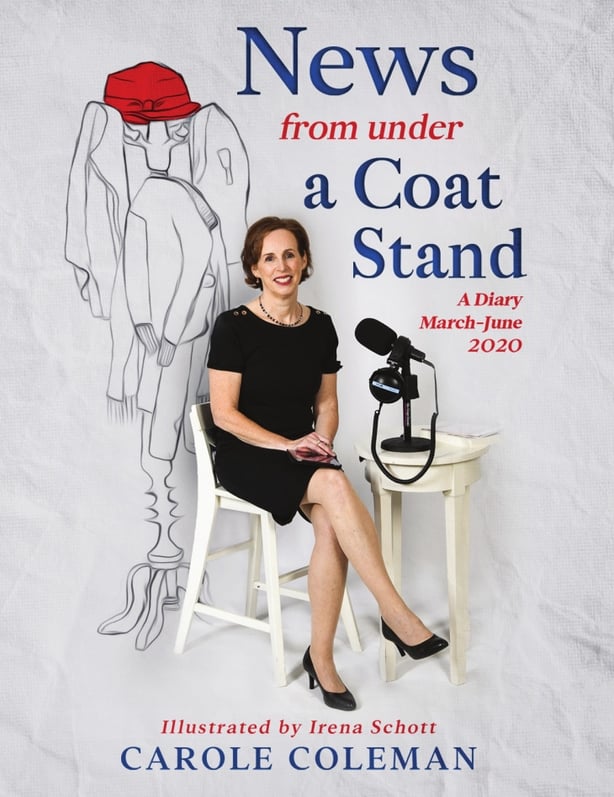 Covid-19 took so much from us, but lockdown also gave time to think and just be. As roads and streets grew quieter, bird songs sounded louder. We embraced new hobbies and revisited old ones. We rediscovered our neighbourhoods and, for a while, forgot about aeroplanes and suitcases.
In late April 2020, I phoned Christiaan Monden, Professor of Sociology at the University of Oxford. At the university's Jenner Institute, where scientists frantically developed the Oxford-AstraZeneca vaccine, Monden had volunteered to receive either a vaccine or a control injection.
"Why did you take this risk?" I asked him. "I think it's important to participate. We all need to pitch in and do our bit." Professor Monden replied.
What would I say if, in years to come, my own grandchildren were to ask, "What did you when the global pandemic hit in 2020?"
Thanks to the diary, I know what I'd say. "I wrote it all down!"
Carole Coleman is a co-presenter on RTÉ Radio One's This Week and World Report programmes - News from Under a Coat Stand is in bookshops now.