We're delighted to present an extract from News from Under a Coat Stand, the new book from RTÉ News reporter and presenter Carole Coleman.
The first six months of 2020 were the strangest of times. An unknown virus was spreading globally that brought social distancing, incredible uncertainty and sadly death. It also brought cocooning, the 2 km travel limit - and delicious banana bread. Working from home in Carrick-on-Shannon, County Leitrim, RTÉ Journalist Carole Coleman kept a detailed diary of Covid's first 100 days - News from Under a Coat Stand provides a poignant, serious, yet often hilarious account of a time Ireland and the world will never forget.
---
Thursday 12 March
Our girls headed out this morning amid raging speculation that schools would close. Italian children have been sent home, and experts are popping up every hour to warn that Britain and Ireland are just two weeks behind Italy. Covid-19 has cut a deadly path from Wuhan to Lombardy, and is coming our way. Tom Hanks and his wife Rita Wilson both have the disease. They tested positive while filming in Australia. Via Twitter, Hanks reports that their symptoms aren't pleasant – body aches, nausea, fever – but they believe they're over the worst.
I race through assignments with a sense that the sickening virus is bearing down on us. As a part-timer, I generally start my RTÉ workweek on Thursday – meeting with the team and setting up interviews for Sunday's This Week or World Report programmes. This weekend, I'm investigating how older people and those living alone will cope if the country abruptly shuts down.
Dial Tommy Moran in Ballinamore. Tommy, a former teacher and a local Master of Ceremonies with a devastating wit, tells me to meet him tomorrow at the Ballinamore Men's Shed (one of hundreds of such community-based organizations throughout Ireland). He'll round up a few men for a quick chat.
Drive to GP's office to pick Mum up from appointment, and drop blood sample to outpatient unit at St Patrick's Hospital on Summerhill. Grab a pair of latex gloves from box under utility room sink. Tight. Uncomfortable. Hands feel sweaty in them.
RTÉ Radio is on in Dr Fallon's office. Leo Varadkar is speaking from Washington DC – where he's dropped off this year's shamrocks to Donald Trump – preserving the bond between Erin's green isle and America's rather orange leader. Now Varadkar is outside Blair House announcing, "All schools to close for two weeks until March 29." My first instinct is to dash off to the schools, but Mum is still talking to Dr Padraic Fallon about her twisted knee. Receptionist Carol Ward has battened down her hatches (literally) and closed the glass windows around her desk. Carol, a primary school classmate, waves out to me and rolls her eyes. The waiting room's other occupants – an elderly man and a young mother and toddler – sit in gloomy silence. No one talks to anyone. Foreign Affairs Minister Simon Coveney comes on the radio to repeat Leo Varadkar's announcement about schools. More silence. Disbelief. Resignation.
Carrick is weirdly quiet. Fear has driven the usual noise away. Familiar faces don't stop to chat but walk briskly on with a curt nod and a sure-you-know-yourself look. Some are crossing the street to avoid one another. In the space of a few days, we've slid from unconscious normality into conscious abnormality. We've become physically distanced, our schools are closing, and St Patrick's Day has been cancelled. There's wariness and nervous expectation as we wait to see which shoe is going to drop next.
BOOM! There it goes. At the greengrocers near my house, it's bedlam. From nowhere, hoards of shoppers have converged for a boisterous session of panic buying. Should have shopped yesterday when things were relatively normal. Cars are now
bumper to bumper on the road through Carrick, and people are hauling out sacks of spuds on their backs. In the narrow aisles, shoppers are scooping packets off shelves. There go the sliced pans, bags of flour, packets of toilet roll and insane quantities of pot noodles and crisps. The bemused lad at the checkout counter can hardly keep up with the ferocious pace of business.
I grab two milks from the fridge and the last battered loaf of bread from the bottom shelf. No six-grain spelt and honey. Give me anything that'll make enough sandwiches to last a couple of days. Damn, no grocery bag. Milk and bread is all I can manage. I look a right eejit in my white latex gloves. Who cares? This is it.
At noon I scoot over to St Mary's primary school to help LT carry her bags. Teachers said to bring everything home. With a larger load than usual, our youngest is lumbering towards me up the path.
"Got everything?" I ask.
"Yep, everything," LT and friend N chorus loudly.
That will soon prove to be fake news!
North of the border, schools remain open, fuelling anxiety on this side. Why bother to close schools on just one side of an invisible line, while teachers and workers continue over and back to schools and jobs?
That is a question that will never find a satisfactory answer. Brexit, the Good Friday Agreement, and Article Sixteen have all been flung at the problem. But during the height of the pandemic, nothing took hold.
We're told that the virus doesn't recognise borders, yet Northern Ireland and the rest of the UK are on a vastly different track than the Republic of Ireland. Ten Britons have died with Covid, but so far Boris Johnson's response is to advise against going on foreign cruises or school trips to Italy.
"At all stages we're being guided by the science and will do the right thing at the right time," Boris announces from his Downing Street podium. "Schools will only close if that is the specific advice from the experts," he continues. I roll my eyes at the British PM.
"We will get through this just as we have got through much tougher," Boris says. But behind the scenes, he's preparing to pour billions into the Treasury. In post-Brexit Britain, saving business will have to be carefully balanced with saving lives.
Sir Patrick Vallance, Johnson's chief scientific advisor, believes the UK is still four weeks behind Italy. Figures show 590 people have tested positive in Britain, and twenty are in ICU. But Vallance estimates that at many as 10,000 may already have Covid-19. Yes, we're now talking thousands. Sir Patrick launches a presentation to show the curve that will need to be flattened, but his PowerPoint breaks down and nobody understands what he's trying to say.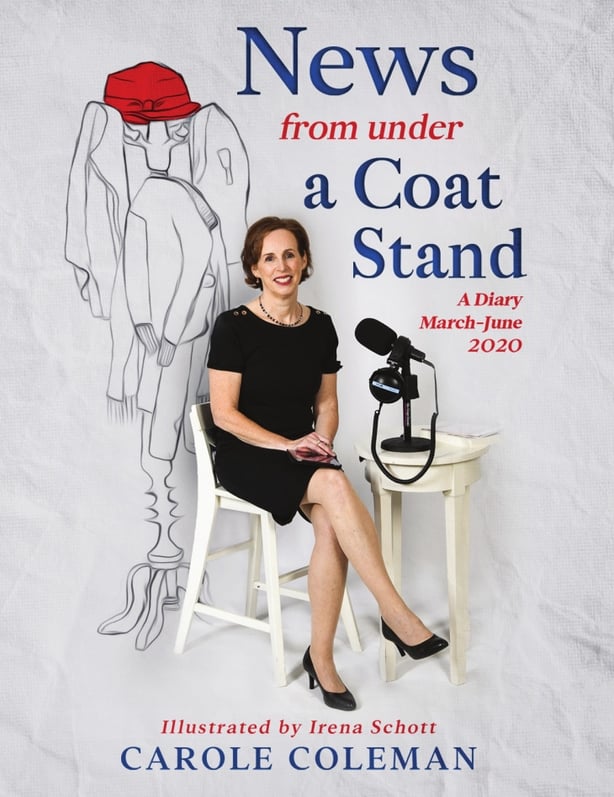 News from Under a Coat Stand by Carole Coleman is out now.