Ireland's Historic Gardens is a new two-part documentary written and presented by author and historian Robert O'Byrne, examining the history of Ireland's country house gardens over the last 400 years - during which time garden design has reflected political and social changes taking place within the country.
The documentary is accompanied by an art exhibition at Dublin's City Assembly House. Watch Ireland's Historic Gardens here, via RTÉ Player.
Below, Robert explores the 'outstanding legacy' of the nation's walled gardens...
Anyone travelling about the countryside will be familiar with the sight of stone walls, indicating the boundaries of Big House estates that once covered much of Ireland. But if you're able to look over the walls - riding in a double-decker bus helps - you'll usually see a second set of walls, often lined in brick: these would have contained one of the walled gardens that for many centuries were also a feature of our landscape.
Walled gardens have a long history going back millennia. Garden historian Terence Reeves-Smith estimates that in total there are some 8,000 walled gardens in Ireland, in varying states of repair, not all of them still active.
We need your consent to load this rte-player contentWe use rte-player to manage extra content that can set cookies on your device and collect data about your activity. Please review their details and accept them to load the content.Manage Preferences
Listen: Robert O'Byrne talks Ireland's Historic Gardens on RTÉ Arena
One of the earliest survivors is the upper garden at Lismore Castle, County Waterford, created at the start of the 17th century within what had originally been constructed as defensive walls protecting the castle from attack. Today these mellow stones display little evidence of their former purpose. As the assaults to which Lismore Castle, and many other similar properties, were subject died away and more settled conditions prevailed, houses began to replace castles as a landowner's preferred choice of residence and walled gardens grew increasingly fashionable. Typically the walls enclosed an area in the vicinity of the house, within which were different compartments or, as they might now be called, 'garden rooms.'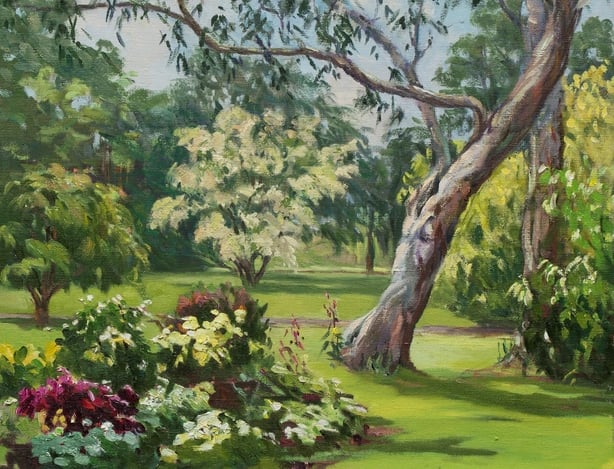 Another garden historian Vandra Costello has noted how, especially in earlier examples, 'it is impossible to separate the productive garden from the decorative garden…Both were inextricably linked, and each intervention on the landscape had a practical purpose.' A pond or canal might be added, for example, and while looking attractive it could also be used for breeding fish for consumption by the house owners.
The typical walled garden is surrounded by walls that rise three or four metres, although they can be even higher: those of the Ashtown demesne in Dublin's Phoenix Park are almost 4.88 metres high. Walls serve a number of purposes, one being to exclude the wind (breaks of trees were often planted in the vicinity for the same reason). Exclusion of cold wind helps to create a microclimate in which plants can better thrive, and brick retains heat from the sun longer than stone, hence the walls were frequently lined with this material. But walls also kept out wildlife that might otherwise help itself what was being grown within, as well as human predators tempted to sample various choice delights.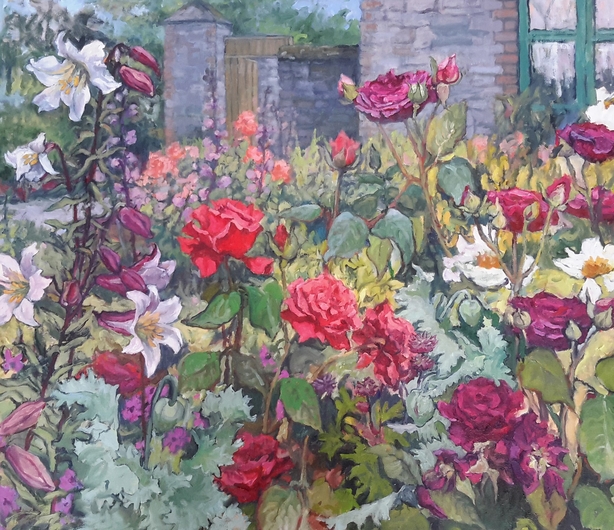 Walled gardens vary considerably in size, one factor being the number of persons for whom they were expected to provide food: the bigger the Big House, the bigger the walled garden. The now-restored walled gardens of Woodstock, County Kilkenny run to 1.9 acres, but others could be larger, those at Ballyfin, County Laois extend to almost seven acres. It is thought the largest walled garden in Ireland is that at Shane's Castle, County Antrim which extends to ten acres and was once famed for its opulence.
Greenhouses are another important feature of walled gardens. In the late 18th century Bellevue, County Wicklow, a property owned by Dublin banker Peter La Touche and his wife Elizabeth featured a sequence of interconnecting conservatories and greenhouses that ran some 500 feet from the back of the house. When Edmund Burke visited the couple and were shown these buildings filled with exotic fruit and flowers, he exclaimed to his hostess, 'Oh, ma'am, this is absolutely the Arabian Nights Entertainments!'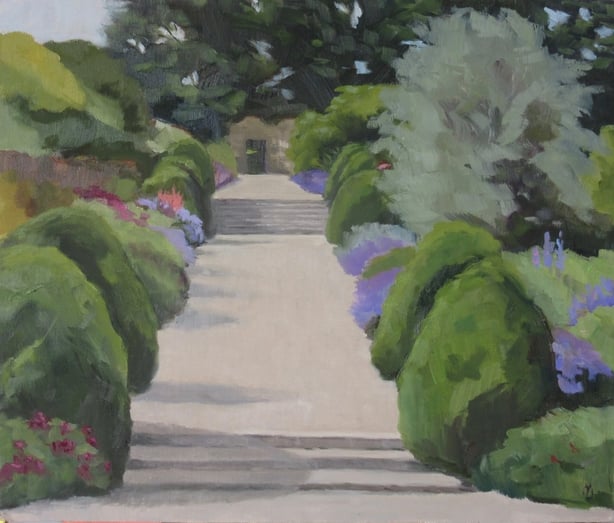 The golden age of walled gardens was probably the second half of the 19th century, when relatively cheap labour allowed the employment of sufficient gardeners, up to 40 of them, needed to maintain these ever-more elaborate sites. But they continue to be created, even if on a more modest scale: a few years ago, my sister constructed her own miniature walled garden in County Westmeath, in which she grows all the fruit and vegetables needed for family and friends. And thankfully there has been an interest in restoring older sites. In the 1990s, the Benedictine nuns of Kylemore embarked on an ambitious rehabilitation programme for their six-acre walled garden, which had become completely overgrown: opened to the public in 2000, Kylemore's garden won a Europa Nostra Award the following year. Similarly, in 2011, the Royal Horticultural Society of Ireland came to a 25-year agreement to regenerate the old walled garden at Russborough, County Wicklow which had suffered from a long period of neglect.
An exhibition of paintings of walled gardens at the Irish Georgian Society's headquarters, the City Assembly House in Dublin, reflects a revitalised interest in this ancient and worthwhile branch of gardening. The four participating artists are all active gardeners, as will be apparent to anyone who looks at their work; these are people who really understand plants. Alison Rosse and her husband have inherited responsibility for one of Ireland's finest demesnes at Birr Castle which includes superlative walled gardens laid out by his late parents. Lesley Fennell can take credit for creating a truly lovely garden at Burtown, County Kildare, now the responsibility of her son and daughter-in-law who have further enhanced the family home with the establishment of a popular venue, the Green Barn, where the vegetables and fruit comes from Burtown's own fecund gardens. Together with her two sisters, at Tourin, County Waterford Andrea Jameson ensures that the walled garden remains as productive as ever, while Maria Levinge, having moved house a few years ago, embarked on establishing a new garden for herself and her family in County Wexford. Rightly each of the quartet has included images of her own home patch, but they have also ventured further afield to show both the shared and different characteristics of walled gardens elsewhere in Ireland.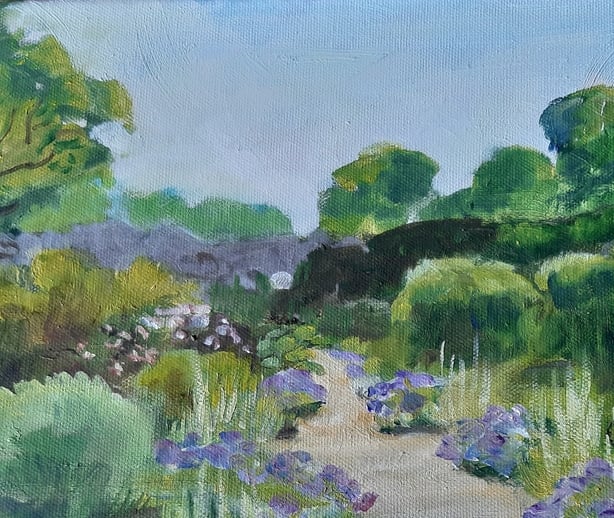 Like Russborough, some of these benefit from the engagement of industrious volunteers, the Colclough Walled Garden at Tintern Abbey, County Wexford being an admirable example of what can be achieved with sufficient enthusiasm and energy. Others, attached to country house hotels such as Ballymaloe, County Cork are in active use, just like that at Burtown, providing fresh produce for anyone dining on the premises. A number of the walled gardens included in the exhibition are what might be described as works in progress as their owners continue, year by year, to bring another section back to life and purpose, as is the case at Barmeath, County Louth. Others, like the old walled garden at Crom Castle, County Fermanagh, await resurgence. But whatever their condition, they remain an important part of our collective heritage. As environmental awareness grows and more of us better appreciate the benefits of fresh, and locally grown, produce, now is the time to celebrate Ireland's outstanding legacy of walled gardens.
Ireland's Historic Gardens, RTÉ One, Sunday 26th September & Sunday 3rd October at 6.30 pm. Stepping through the Gate: Inside Ireland's Walled Gardens: Paintings by Lesley Fennell, Andrea Jameson, Maria Levinge and Alison Rosse, opens at the City Assembly House, Dublin 2 on September 23rd.