Cristin Leach explores Abigail O'Brien's new exhibition Justice - Never Enough, currently showing at Highlanes Gallery, Drogheda.
The work of Abigail O'Brien has always felt, to me, heavy with silence. When I was in my twenties, it made me uncomfortable. It was weighty with things left unsaid. There was portent in the still, emotionless images of women sewing, cooking, working together and yet seeming so alone; in domestic settings, enacting daily rituals, taking part in religious celebrations. Her Seven Sacraments series showed women, the invisible engine, as the true cast behind public displays in which men are the traditional conductors and hosts, events that ultimately foreground the glory of men: The Last Supper, Baptism, Marriage, even The Immaculate Conception.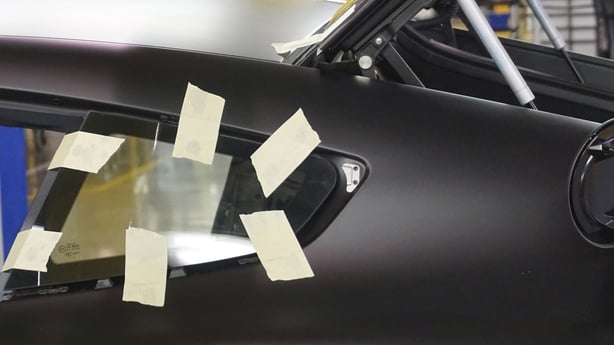 O'Brien made art about the attributes these women displayed: purity, domesticity, virtue, maternity, modesty, simplicity. The world of women and the world of men were portrayed as separate. But they are not. We all live in the world together. And it felt as though her work was avoiding talking about that. Her Seven Sacraments show at the Royal Hibernian Academy in Dublin in 2005 represented an almost ten-year project concluded, and I didn't really get it. I mean, I understood the nature of the punch, but I couldn't feel the hit. The work was too weighty with silence for me, too carefully staged. I wanted this art to say something more. Something more what? Something less careful? Something more explicit.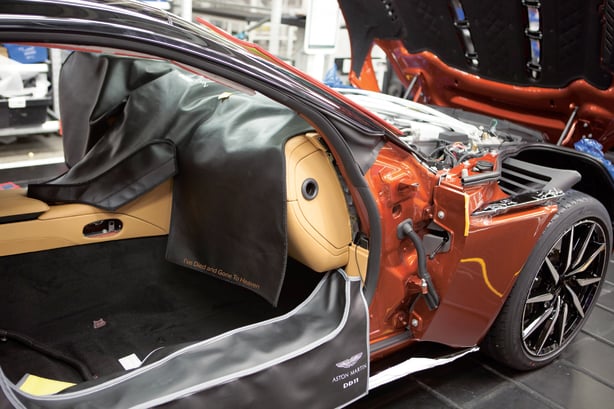 The women in O'Brien's work appeared to be silently shouldering the burden of being female. They were nurturing, caring, timeless, mute. I loved her 2003 Rag Tree series because these silent images spoke to me clearly of sacred places, Irish places, ancient places: rural childhood places that I knew in the pads of my bare, female feet. Here, silence in nature is a form of knowledge and wisdom. What happened next?
From 1995 to 2004 O'Brien made her Seven Sacraments series. Installations, photographs, sculptures, objects trouvés, craftworks, assemblages, soundworks. The work contained a lot that was unspoken. You had to dig in to feel the message. It seemed she was very deliberately making no noises that would impart explicit meaning, saying nothing definitively overt. These days, I read it differently: O'Brien is so certain about what she means, and always has been, that she feels no need to spell it out. Some of the meaning is usefully carried in the weight of the silence. But silence has to break sometime.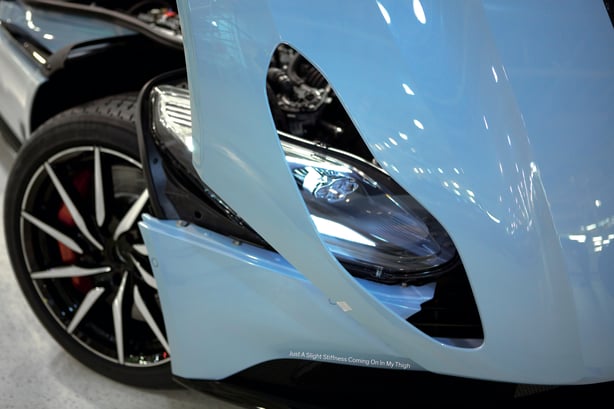 In October 2017, it did, with the voices of women accusing US movie producer Harvey Weinstein of sexual misconduct and serious sexual assault. In March 2020, he went to prison for it. O'Brien was working on another series by then, and almost at the end. This series is called The Temporal (Cardinal) Virtues, and Justice is the final piece.
The work began with photographs, shot in the Aston Martin production factory in the Cotswolds, UK. Hidden in these cool, clean, shiny images are lines of text, phrases that sound as though they may have come from the mouth of one of the most notoriously macho-sexist fictional men in popular cultural history: James Bond. O'Brien has added them, almost indiscernibly, to a series of beautiful images of one of the most potent symbols of male success: the Aston Martin car, in production. This is a show about power.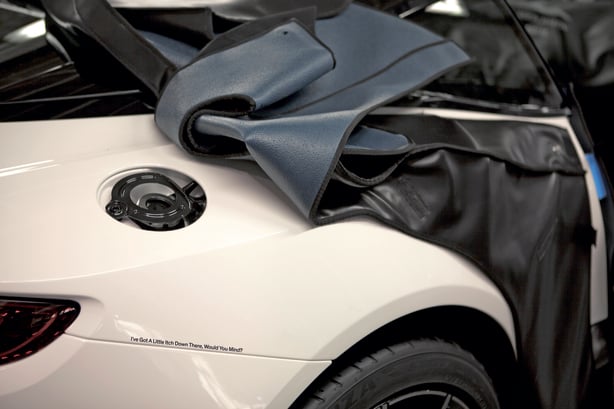 The work is still carefully staged and detached but it can no longer be described as understated. I'm not even sure the photographs are silent. With every step you take closer, they begin to scream louder. You look closely, and then you see it:
Now put your clothes back on, and I'll buy you a lollypop.
I'll do anything for a woman in charge.
Slowly, slowly.
Keep your hands to yourself.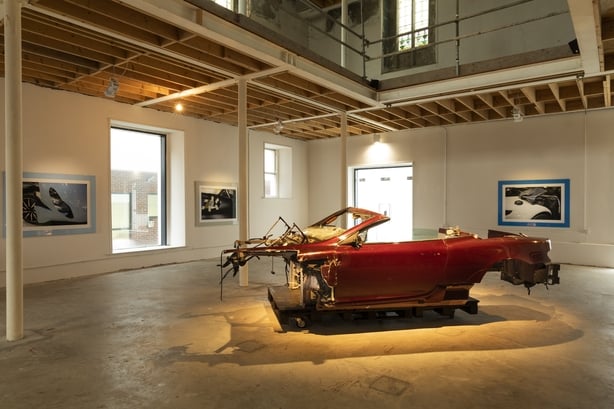 The show is called Justice, Never Enough. The centrepiece is a real Aston Martin car, partially cannibalised for parts, previously written-off in a crash. Around it, these subtly inscribed photographs congregate. On installation, the wrecked car sits, dramatically lit, as though part of a theatrical set, in the centre of the exhibition space. A selection of images, also individually lit, surround it like an accusatory audience, bringing to bear a different take on the male gaze.
I didn't know who you were, with your clothes on.
One of O'Brien's bumper-positioned texts feels explicit, exploitative, as though the rear of the car has been exposed, disrespected. The words read like a pat on the bum, a "good girl" after a sexual encounter in which the balance of power is off; more than off. It echoes the descriptions of women who spoke about encounters with Weinstein.
We need your consent to load this YouTube contentWe use YouTube to manage extra content that can set cookies on your device and collect data about your activity. Please review their details and accept them to load the content.Manage Preferences
Watch: Abigail O'Brien on Justice - Never Enough
The world went into lockdown due to a global pandemic as the first iteration of this exhibition was planned. I Googled a tabloid report on Weinstein. He had caught Coronavirus and recovered. He was out of prison hospital and on security watch. Further charges are pending.
Does it look Like I need the money?
I've got a bit of an itch down there. Can you be of help?
O'Brien has been making this body of work for fifteen years. This show was preceded by Fortitude, The Collector (2005); Temperance, Oatfield Sweet Factory (2009); and Prudence and the Game of Golf (2017). The four Cardinal Virtues are fortitude, temperance, prudence, and justice. The act of considering them in a world that seems to have abandoned the final three while hero-worshipping the first remains a radical one.
For Justice, Never Enough, O'Brien worked with her son James to produce a song featuring the words of Weinstein's accusers. This feels like part of the vital, generational labour required to shift repeating patterns of control and abuse. It enacts solidarity with the generation of women who decided not to shut up and put up, the generation who spoke out eventually, instead of smiling while cringing inside, instead of putting on an acceptable face for the photographer as they got felt up from behind, instead of muting themselves post-attack, instead of burying the words that would make this behaviour and its effects explicit; saying the words out loud, instead.
We need your consent to load this rte-player contentWe use rte-player to manage extra content that can set cookies on your device and collect data about your activity. Please review their details and accept them to load the content.Manage Preferences
Listen: Artist Abigail O'Brien talks to RTÉ Arena
It is generational work. O'Brien has eight grandchildren now. "I have a Me Too story," she tells me. "Every woman you know has a Me Too." The culture of silence, the conditioning of not making a fuss and putting on an outwardly acceptable face, the virtues women have been required to hold up, while a patriarchal structure ensures the rules do not apply to men who choose to disregard them, is falling asunder. As it happens, slowly, carefully, bravely, dangerously, and with uncertain risk, O'Brien is making strong, intelligent, increasingly loud work. "I've always been a bit nervous about being a political artist," she says. "Maybe the feminist part has become stronger as I've gotten older."
When I ask her about Aston Martin cars she talks about "their sexiness". "The men who drive them think the sound of them is part of their maleness." She is explicit about this: "I decided what I really needed was a wrecked Aston Martin which was Harvey, which would represent that, and what happened to him in his life."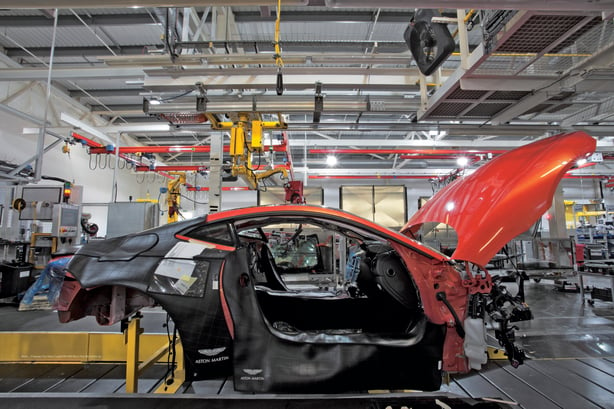 Aston Martin cars are made-to-order, and there is an exclusive theatricality to how they are made. "If you've ordered your car and it's about ready to have the marriage of the engine and the body, you're invited along to see that marriage," says O'Brien. What a weighty word: marriage. "You can walk along a certain track, which anyone who has bought a car is allowed to walk along, to see how the factory works. It's a very busy place, and it's quite big; it's absolutely immaculate," she says. Immaculate, just like chauvinism's ideal woman. "They are objects of desire, these cars."
"There is also the fact that for some nothing is enough. It's a power thing, and that's also interesting, as well as the male thing of the car and what it represents," O'Brien says.
Mmm… it appears that you've caught me with more than my hands up.
Just a slight stiffness coming on.... in my thigh.
Standard stuff - boys with toys.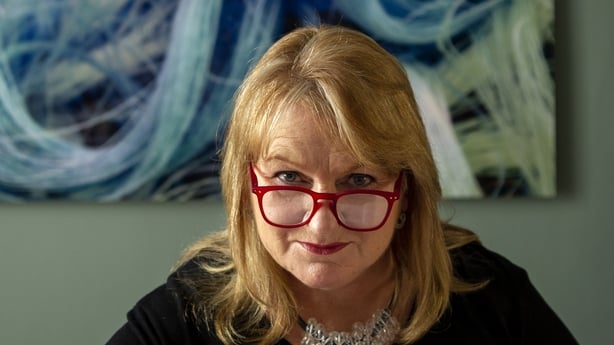 In this work, O'Brien flips the words, and the power dynamic, to make an explicit statement. She is unpicking the nuances to impart not only meaning but feeling, to unravel some of the pain and the hurt, and to remake the world, because she's got the power to do that, through art.
I don't like to be taken for a ride
This time, I've got the toys and I know how I'm going to use them.
It is some kind of justice, although perhaps never enough.
Justice - Never Enough is at Highlanes Gallery, Drogheda until October 16th - find out more here.