It's the story of a life in theatre, told in words and music - and what a life! Composer and pianist Conor Linehan previews Backwards Up A Rainbow, a unique collaboration with his mum, theatre legend Rosaleen Linehan...
This week saw myself and my Mum, Rosaleen Linehan, begin rehearsals for our new show, Backwards Up a Rainbow. In the show, Mum will look back over her life and career in theatre, revue, musicals and film. I will attempt to keep with up her on the piano…
As far back as I can remember I have been hanging around in theatres watching my parents' shows. My late father, Fergus Linehan, wrote most of the material for the wildly popular revues performed by Mum and her great partner in comedy Des Keogh. He also wrote many musicals, plays and novels, all while being Arts Editor of the Irish Times. We feel his presence very strongly as we get to work.
We need your consent to load this rte-player contentWe use rte-player to manage extra content that can set cookies on your device and collect data about your activity. Please review their details and accept them to load the content.Manage Preferences
Listen: Brendan O'Connor talks to Rosaleen Linehan
When my parents had a show on, every weekend after school I would go into the theatre to watch. I must have seen Mary Makebelieve at the Abbey, around eight times! It's no wonder, then, that as well as being a pianist, I have written a great deal of music for the theatre. Mum and I have already collaborated on a couple of shows – The Dead at the Abbey in 2012 and Woyzeck in Winter for the Galway International Arts Festival in 2017. On the latter show, it was only after a month that our sound designer realised that we were related. I think he was under the impression that I called any woman over the age of seventy 'Mum'.
Backwards Up a Rainbow is the brainchild of Anne Clarke of Landmark Productions. Anne produced Woyzeck in 2017 and must have seen that Mum and I could work together without killing each other. Shortly after the pandemic began, someone posted up a clip of Mum performing what, for some, is her signature song – a touching ballad called Soap Your Arse and Slide Backwards Up a Rainbow.
Thanks to all for your kind words today about my Ma. She has been socially isolating for the last two weeks but I'm glad to confirm she's still soaping her arse. With vigour. https://t.co/38efgKb6d0 pic.twitter.com/9Q3e9mxsYc

— Hugh Linehan (@hlinehan) March 28, 2020
It seemed to strike a chord with the general mood at the time and now, eighteen months later, here we are!
It is a great privilege to be able to perform for a live, albeit restricted audience in The Pavilion this September. It will be very strange for us to step out in public after such a long period. Anecdotal evidence suggests that performers are feeling quite tentative after such a long period out. Then again. performing in public is always a little bit terrifying, Covid or not! Add to those factors the fact that my Mum is now in her eighties and you get the idea of just how resilient she is. One of the great motivations of this project is that it will be filmed by Landmark for later streaming and, as such, will be a great document of my parents' intertwined lives and careers.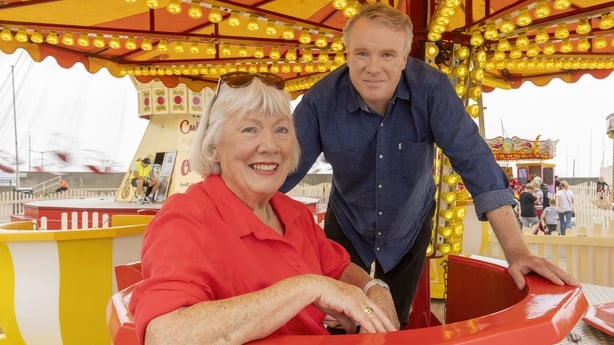 As for me, my biggest challenge is to bring some of the spirit of the late Peter O'Brien's playing, to the songs. Peter was like the 'Fifth Beatle' in the revues, the skill and wit of his playing being matched only by his warm, hilarious and occasionally eccentric personality. Big gloves to fill…
We are both looking forward to sharing this fun, relaxed and informal evening with friends old and new. See you there!
Rosaleen Linehan and Conor Linehan star in Backwards Up A Rainbow at the Pavilion Theatre, Dún Laoghaire live from 15th – 26th September, live streaming (with an audience) from 24th - 26th September and on demand from 27th September – 10th October - find out more here.