In Ireland's Changing Nature, a new three-part series starting this Sunday on the Lyric Feature on RTÉ lyric fm, Anja Murray explores how culture has shaped our relationship with nature. She introduces the series below - listen to the first part of Ireland's Changing Nature above.
In this three-part series, I have been exploring Ireland's changing landscapes and in particular, how culture has shaped our beliefs and attitudes around the natural world. The story begins with the melting of massive glaciers and the arrival of woolly mammoths who lived on the tundra at the edge of the ice. It's a story that we are still actively reconstructing as evidenced by the recent discovery of prehistoric brown bear bones that have given us a new understanding of how our ancient ancestors lived in a truly wild landscape. I meet with archaeologist Graeme Warren of UCD to get some insight into the hunter gatherers who lived here for thousands of years, who had surprisingly elaborate skills, beliefs and ways of shaping the habitats around them to meet their needs.
I explore the massive cultural and ecological transformation of Ireland that followed the arrival from Europe of the first farmers, and after this, the discovery of metal. These gigantic leaps in technological ability had profound impacts not only on the landscape, but on the mind-set of the people. Some of these insights are shared with us by Eamonn P. Kelly the former keeper of Irish antiquities at the National Museum of Ireland, who reveals some surprising findings about Bronze Age Ireland, gleaned from ancient bodies found preserved in bogs. From these we discover complex customs practised by our ancient ancestors in order to keep harmony between the people and the goddess of the land.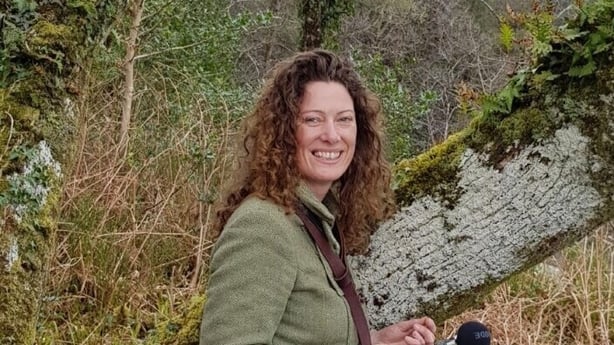 Through making this series, I have come to understand that we in Ireland have always maintained a deep respect for the natural world, a connection that is reflected in our culture right through history. Yet taking stock of the state of nature in Ireland today, it becomes clear that the connections we had are fraying, we are losing diversity, beauty and bounty at an alarming rate.
Seeking to better understand how we are letting this happen, I talk to an ecologist, Padraig Fogarty, a farmer, Gerard Walshe, a psychotherapist, Joanne Hanrahan, and a poet, Jane Clarke, who each in their own way identify a culture of disconnection as a root cause of the crisis. With each contributor, we query how we might be able to heal the divide and rethink our relationship with the natural world. I explore how we could turn things around, to witness restoration instead of destruction, and find hope for the future of nature in Ireland.
Cellist Kevin Murphy of Slow Moving Clouds has composed and performed an evocative original soundtrack for the series, keeping the pace and supporting the adventure with a blend of cello, piano and vocal melodies.
The Lyric Feature: Ireland's Changing Nature, RTÉ lyric fm, Sunday September 12th 19th & 26th at 6 pm - listen to more from The Lyric Feature here.