For too long relegated to a footnote in the story of Samuel Beckett, this week's Lyric Feature, Green White Enamel (to be broadcast on Sunday 5th September at 6 pm on RTÉ lyric fm) tells the story of the life and poetry of linguist, doctor and poet Ethna MacCarthy - listen to Green White Enamel above.
Below, poet Gerald Dawe, co-editor with Eoin O'Brien of Ethna MacCarthy Poems (published by Lilliput Press), describes how her work was re-discovered.
It all started because of blood pressure. I was seeing the distinguished cardiovascular consultant Professor Eoin O'Brien in 2000 and we started talking books. I knew his wonderful and ground-breaking study The Beckett Country and we took it from there. Twenty-one years later and we are still nattering.
But on one of these occasions Eoin mentioned a box file of archival material which had been entrusted to him by Marion Leigh, the partner of A J Leventhal ('Con'), and a close and long-lasting friend of Samuel Beckett. Stored within the box was a modest notebook which contained handwritten drafts, newspaper clippings of poems and other material belonging to Con's second wife (and Beckett contemporary), Ethna MacCarthy. At an earlier stage, Eoin had transcribed many of the poems, a handful of which I was familiar with from their inclusion in the US-published New Irish Poets anthology of 1948. Here indeed was a treasure trove – translations, drafts, overwrites, finished versions - and running throughout the somewhat worse-for-wear notebook a quiet but consistent shaping by Ethna of her own self as a poet. It was heart-breaking to know that as she was amending a poem with a date sometime in the late 1940s her own life would be tragically cut short by throat cancer in 1959 at the age of 56.
The style and self-possession of the poems raised telling questions about who was influencing whom in her lifelong relationship with Beckett...
As these poems had been appearing in the Irish Times, or were being broadcast on RTÉ, her friend Samuel Beckett was producing the fiction and storing up the drama in which she would play a critical part. But it was McCarthy's own poems which drew us closer into her own impressive orbit. Gathering together the often frail scripts and comparing with Eoin's robust transcriptions took months and months of poring over possibilities as we wrestled with the handwriting's fade. Such obstacles paled as the poems came back to life again – erudite, sophisticated, emotionally charged, urbane - and their landscapes resurfaced, too – coastal Sandymount in Dublin, where she lived, Trinity College (where she had been a stellar student, graduate, and lecturer in languages), Spanish villages, hospital wards...
And the style and self-possession of the poems raised telling questions about who was influencing whom in her lifelong relationship with Beckett, to say nothing of her buoyant translations and the cross-over of medical language which Eoin could clearly see in many of the poems based upon her parallel life as a medical doctor in inner city Dublin and London. It was all neatly framed by her one-act play The Uninvited and the odd postcard or note from a fellow poet praising her reading of poems on the national airwaves. This collection was gold dust, a real poetic presence whose life, though shortened by ill-health, had found expression in poems of the first order.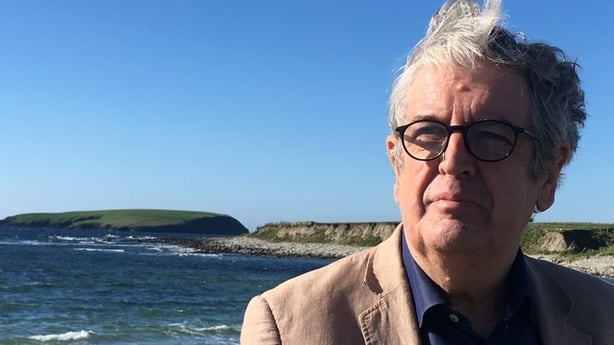 So, after our stealthy magnifying glass was put away, a manuscript of the poems and play went off to Lilliput Press, and in 2019 - just as Storm Lorenzo clattered across the Irish skies - and with generous support from Trinity College Alumni office and TCD School of Medicine, and the Woolfson family, Ethna MacCarthy Poems, in a fine hardback edition, was published. At the launch, through the immaculately tender reading by actor Cathy Belton, Ethna MacCarthy's poems re-entered the world in the glorious setting of the Long Room Library in Trinity College. Justice at last for a near-forgotten voice.
The Lyric Feature: Green White Enamel, RTÉ lyric fm, Sunday September 5th at 6pm