What is the general perception of people living with Autism? Ian Lynam is autistic, and he has written his first solo comedy show for this year's Dublin Fringe Festival called Autistic License, to explore that very question...
In 1944 Dr. Hans Asperger remarked of the children who would go on to form the basis of his eponymous syndrome "an essential characteristic of these children is their humourlessness." While this is hardly the worst review I've ever received, Asperger set the tone for a stereotype that has lasted for decades: Autistic people don't 'get' humour. Granted, this may not seem like the worst thing said about people like me. Our personhood, bodily autonomy and capacity for empathy is still up for discussion to many. But I think the idea of humour hits something deeper. I certainly had problems understanding irony and sarcasm as a child, but I always noticed the power of laughter, and I always noticed what a powerful social force it was. It didn't matter how awkward or different you were: if you could make people laugh, the slate gets wiped clean, if only for a moment.
While pursuing stand up comedy to prove you're emotionally and socially well-adjusted is a questionable strategy, I gave it a go. I'd been trying to forge a path as a comedian for a number of years, but had kept my diagnosis closely guarded. I had some decent observational jokes but I was finding it increasingly unfulfilling. Comedy has a long tradition of eccentrics but I found I was using jokes as a way to shield myself in a failed attempt to cultivate a 'one of the lads' persona.
It didn't matter how awkward or different you were: if you could make people laugh, the slate gets wiped clean, if only for a moment.
I found myself increasingly drawn to personal stand up shows exploring identity and decided to give it a go myself. While I'm not the first person to talk about autism on stage and by no means the first autistic comedian, I felt a huge weight on my shoulders. I was concerned I wouldn't be able to do jokes about autism that could both make people laugh and avoid further marginalizing my community. The first time I did a comedy set about being autistic was nothing short of terrifying. The jokes failed to land spectacularly and I considered quitting on the night.
Luckily, I persevered.
In hindsight, I don't think I even continued because I thought my thoughts were particularly funny. In the words of Jon Ronson, "There is no evidence that we've been placed on this planet to be especially happy or especially normal. And in fact our unhappiness and our strangeness, our anxieties and compulsions, those least fashionable aspects of our personalities, are quite often what lead us to do rather interesting things." This isn't without its merits. We are after all content creators, not contented creators. But I found joking about being autistic allowed me to connect with my community on a far stronger level.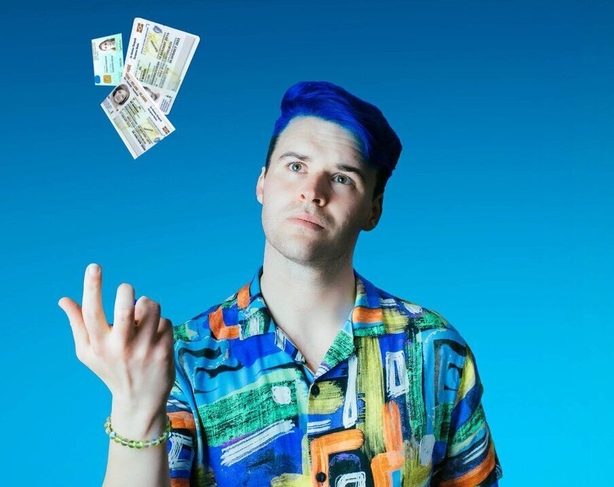 Humour, after all, can be very cathartic. People will often quote Asperger's words above, but they neglect to add the second half "only in one sense they are often competent, inventive even: in wordplay." I'll allow you to take a moment to digest that Hans set out an entire school of thought based on his dislike of puns. Recent studies have shown that autistic people prefer surreal and esoteric forms of comedy: I don't think it's a coincidence that my biggest comedy influences growing up were alternative comedy hits like Red Dwarf, Blackadder and The Young Ones.
I built up a solo show based on my new material, tentatively named Portrait of the Autist as a Young Man. After trialing this in Smock Alley, I went back to the drawing board for a more ambitious show. I was overjoyed to be accepted to perform in the Edinburgh Fringe, but the pandemic made this prospect more than a little daunting. Without indoor performances and performances (a necessary restriction), testing material has required a lot of creative thinking.
That the show's composition without audiences relies on anticipating interactions through social imagination is not an irony lost on me. Nevertheless, I'm proud of what I've managed to build these last few years and can't wait to show you all what I've come up with.
Ian Lynam's Autistic License runs at Bewley's Café Theatre as part of Dublin Fringe Festival 2021: Superflux edition from 20 – 25 September – find out more here.