'This has been a life lesson in resilience and creation in the face of unprecedented times...' Producer Kelly Phelan previews this year's National Youth Theatre show, Aftertaste - watch it above.
We began work on NYT 2021 in July 2020 and we never imagined the current restrictions would still be in place. In August, things had actually loosened up a bit and we got to do a lot of our auditions in person in Wicklow, Sligo and Cork, as only Dublin was in lockdown.
If you had told us at that point that the next time we'd all be in a physical room together would be a year later, then maybe we would have hidden under our beds for the remainder of 2020.
We need your consent to load this YouTube contentWe use YouTube to manage extra content that can set cookies on your device and collect data about your activity. Please review their details and accept them to load the content.Manage Preferences
The mantra that we have lived by is that we won't cancel and we won't postpone. Everything else was up for grabs. Instead of the normal residential weeks that would happen with all of the ensemble in Dublin, writer Ciara Elizabeth Smyth and director Veronica Coburn worked with the entire ensemble on Zoom to create Aftertaste. The play played with the notion of 'things that can't be said', asking what are we afraid to talk about? And what are we ashamed to discuss?
It was written specifically for the 16 young actors involved and explores power and chaos. The plot follows a left-leaning Governments' implementation of the health and wellness act. What exactly does it look and feel like when we restrict people, even if it's for their own good?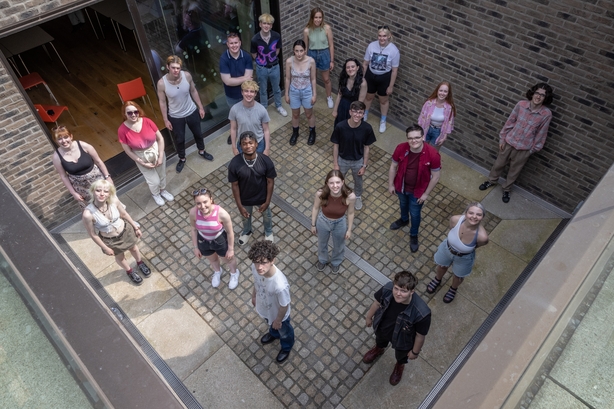 We realised that, with 16 actors on stage in the Peacock, having a live audience would not be achievable, so we've set out to create a theatre/film hybrid. It was really important to us that this was created as a piece of theatre, but also that the filming wasn't secondary to it. The design team have been exceptional in collaborating with the film company Big O, and we've all been on a steep learning curve of how to best serve the production. We all understand theatre and how to connect with an audience. Film is an utterly different animal. The jigsaw is completed by the fact that our young ensemble come from all over Ireland.
We've been filming in the Peacock Theatre in groups over the past few weeks; none of our young actors can be within two metres of each other unmasked, so we're using as many camera tricks as we can to tell the story without ever showing that we are still in the midst of a pandemic. The schedule has been punishing at times.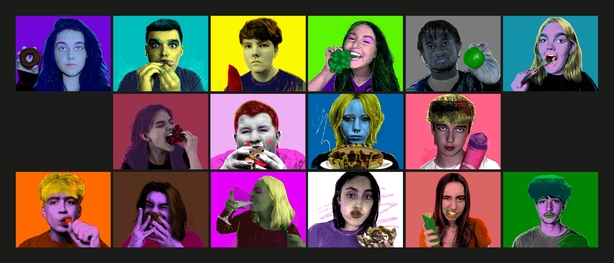 This has been a life lesson in resilience and creation in the face of unprecedented times. We're showing this to all our cast, crew and creatives on Sunday in the Savoy cinema and no matter what actually ends up on screen, I'll be exceptionally proud to sit with that group of people and watch our creation together.
Aftertaste will be available on demand from 7.30pm on Sunday 8 August through 15 August - find out more here.