We're delighted to present an extract from The Bride Collector, the new thriller by Siobhan MacDonald, published by Constable.
Winter brings more than fierce Atlantic storms to the thriving tourist town of Kylebeggan in County Kerry. On a cold January night, a woman is murdered and laid out in her wedding dress on her bed. And then another woman is discovered murdered in her flat, laid out in the same way. Weeks later, taxi driver Ellie Gillespie collects a bride-to-be on her hen night and drops her home. Ellie is horrified when this woman too is later discovered dead in her gown. The gardaí, mayor, and tourist board are desperate to end the negative publicity of a town that relies on the holiday trade; they cannot afford to have a rumour spread that a serial killer is at large. Ellie also has her own suspicions about the killer. She is persuaded to share her thoughts with investigative journalist Cormac Scully; digging into past secrets of the town, can they figure out who it is before the Bride Collector strikes again?
---
7 March
'I'm not imagining things!'
'I think you are, Marina. Admit it. You've been looking over your shoulder all night long checking for weirdos.'
'You would too . . . if you were m-me,' the woman slurred. 'I'm telling you that guy was gawping straight at me. OK, I've had some cocktails but I'm not stupid, I'm not totally paranoid. It's fine for you two – neither of you is getting married.'
Marina's friend stuck out her lip. 'Three times a bridesmaid, never a bride.' In her long black gloves and a bunny-girl headband, she clutched on to a pink, inflatable willy. Ellie itched to burst it.
She'd deliberated about picking the women up outside McSweeny's in the dank, dark night. Learner Bride had been tottering about in stiletto heels and wasn't exactly the blushing bride, despite the 'Learner' plate around her neck. Her two friends were equally intoxicated. Ellie was determined to drop them off before any of them threw up. She didn't fancy cleaning vomit from the inside of her new black Škoda.
Ellie loathed hen parties with a passion. She couldn't see the point. Gaggles of vodka-fuelled women dressed up as tarts (although it was getting harder to tell these days), traipsing around the town with their stupid, blow-up willies.
We need your consent to load this rte-player contentWe use rte-player to manage extra content that can set cookies on your device and collect data about your activity. Please review their details and accept them to load the content.Manage Preferences
Listen: Siobhan MacDonald talks The Bride Collector with Oliver Callan
The council frowned on hens and stags. Not the image they wanted for the heritage town of Kylebeggan, they said. And proper order too. Not that Ellie had one scintilla of fondness for the council. Not after all the hassle they gave her in applying for her taxi licence. That said, hens and stags were the devil's work. Worse than New Year's Eve. Tacky, crass and unnecessary. But she couldn't afford to be too sniffy. This was her new life now.
'We get that you're freaked, Marina,' slurred the friend with flashing willy earrings. 'I didn't notice anyone in McSweeny's pub gawking at you. I swear—'
'Of course you didn't, Rose. You were busy making doe eyes at those Neanderthals. I thought you were supposed to be looking out for me.'
'I am,' she protested. 'We are.'
'Oh, please come, Marina. Pleeease...' Three-Times-a- Bridesmaid rowed in. 'Everyone will be at Godiva's. It's only eleven. The night's just started. It's way too early to go home, on your hen night too.
'Jen's right,' Willy Ears agreed. 'You can show off all your Strictly moves.'
'No.' Learner Bride was firm. 'I didn't want to go out in the first place. I'm feeling a tad too old for all this lark. And now I'm going home.'
Ellie glanced in the rear-view mirror. Learner Bride was gnawing at the side of a thumbnail.
'That weirdo played it twice. "I can't take my eyes off of you." Twice on the jukebox. All the while he's looking at me, all drool and crazy-eyed.'
With a giggle, Three-Times-a-Bridesmaid broke into a rendition of the offending song.
'Not funny,' snapped Learner Bride. 'I don't want to end up like that poor woman over in Myrtle Crescent back in January, or like Imelda Gannon, laid out like an altar above in her bed. I knew Imelda. We used to be in the same German class in school.'
'We know that, Marina,' soothed Three-Times-a-Bridesmaid. 'Why not try to forget all that for just one night?'
'A tall order with that lot out there, trawling around for stories.'
As they drove past Brosnan's pub, a guy poked a microphone into a party of women sucking on cigarettes, hugging themselves and shivering. Another wild-haired man hoisted a camera on to his shoulder.
'It's hard for me as well, remember.' Three-Times-a-Bridesmaid was subdued. 'I was to be Imelda's bridesmaid too.'
For the first time since she'd picked the women up, all three of Ellie's passengers fell mercifully silent. The taxi stopped at a red light, and the only sound was the clicking of the indicator. Checking the mirror, Ellie observed Marina look over her shoulder to the rear windscreen.
'Maybe . . . maybe what happened was a freaky coincidence,' Willy Ears piped up.
'Two women found dead in their homes within two months, laid out on their beds in their bridal gowns?' Learner Bride was scathing. 'Coincidence? I don't think so. And neither does the state pathologist.'
'How do you know?' Three-Times-a-Bridesmaid said sharply. Ellie's ears pricked up. 'Some buddies in the force, down at the district court last week.' 'My brother's pal is a detective in Coleman Street,' Willy Ears joined in. 'He told Dara at football training that he couldn't go into any d-details like' – she hiccupped – 'but according to the detective, there were similarities between the two cases. Big similarities.'
'You don't say?' Learner Bride was quick. 'Two women laid out in their wedding dresses and a detective says that there are similarities? No shit, Sherlock.'
Unperturbed, Willy Ears continued. 'I think the similarities go beyond the dresses. The big guns are down all the way from Dublin to help the gardaí in Kylebeggan. The Dublin guys are calling the killer "The Bride Collector".'
'And that's supposed to make me feel any better?' wailed Learner Bride.
'Right. Sorry, Mar. But listen, the guy is bound to be gone by now. They suspect it could have been a tourist. You know, maybe someone passing through. They're going through the guest list at Shanaglish, and all the other hotels and guesthouses too.'
This was news to Ellie. Shanaglish Mountain Lodge was a resort hotel built adjacent to monastic ruins, with a golf course designed around a spring-fed lake. According to guests she'd dropped there, the course was considered one of the more challenging ones in Kerry, with its narrow fairways, long grass and tricky greens.
Marina snorted. 'You're telling me the geniuses at Coleman Street reckon some tourist played a snappy nine holes, then nipped out to kill a bride or two while he was passing through? I hardly think so.'
Ellie cut in. 'I take it you're giving Godiva's a miss tonight, ladies?' she asked over her shoulder.
'Yes.' Marina was firm. 'Straight to Arbutus Road, please. Number nine.'
'Right you are.'
Wise girl, heading home.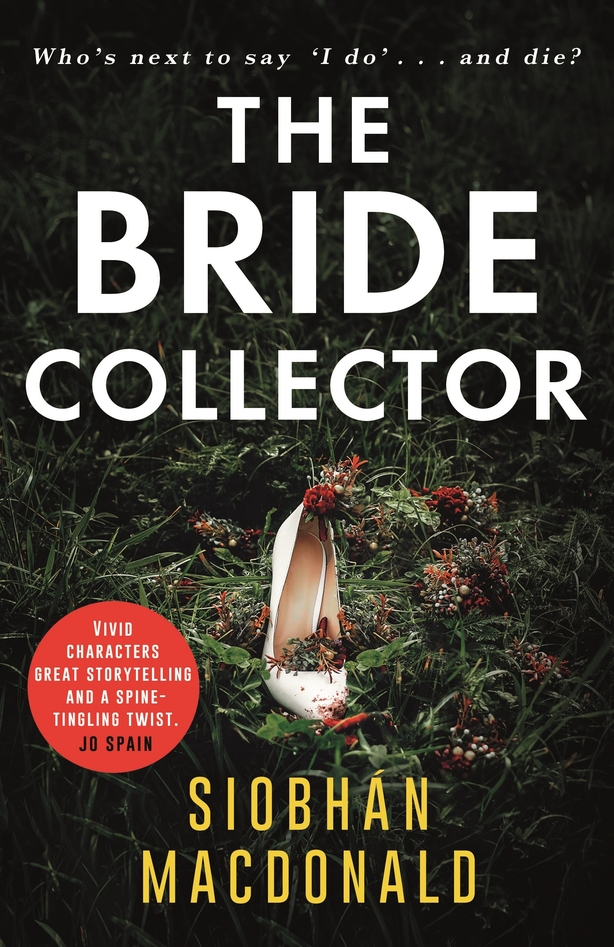 The Bride Collector by Siobhan MacDonald (published by Constable) is out now.