Jan Brierton's pandemic poem What Day Is It? Who Gives A F*ck went viral during lockdown - now, she's published her first poetry collection. Below, she revisits the hazy homeschooling days...
I'm Jan and I am a home-school dropout. I haven't always been. In fact, I started off top of the class. Keeping up weekly, no, daily, communication with the real-life teachers via email.
"Thank you so much for all of your care, Willow and I have been working through all of the English grammar work that you set." "Theo particularly enjoys the online maths games. Can you suggest any other sites to keep his interest piqued?" "We did our own version of that art project you assigned it was great fun!"
The kids had to bat me away from the weekly zoom check-ins they had with their teachers, because I now felt like Miss Seale and Miss Cole were my colleagues. I couldn't help peering into the top left-hand corner of the screen, waving furiously to my new teacher friends. I was just like them now, wasn't I? A teacher!
We need your consent to load this rte-player contentWe use rte-player to manage extra content that can set cookies on your device and collect data about your activity. Please review their details and accept them to load the content.Manage Preferences
Listen: Jan Brierton talks to Jennifer Zamparelli on RTÉ 2FM
But as the weeks went on, my enthusiasm and attention to the home school curriculum slipped. There were cartoons and breakfast in the living room, before we started Irish in the kitchen in our pyjamas. We watched my saved music and art documentaries on TV, and I told the kids this was a culture class. It was vital to their education that they knew about David Bowie and Keith Haring, I thought. The laptop was balanced on laps in the sitting room, to fill out a maths worksheet on Seesaw, while the TV blared in the background, and simultaneously the iPad was on the floor showing a YouTube video on the Titanic for a project.
The teacher sat on the sofa with a cup of tea and chocolate digestives scrolling through her Instagram feed.
One morning we brought the laptop to bed. David Attenborough's A Life On Our Planet ticked geography and nature. Plus, it allowed me to have a sneaky snooze while the kids learnt about the monumental scale of humanity's impact on nature. All in the comfort of their onesies.
What did this home-school dropout learn from those classes in the kitchen, projects on the sofa and spelling tests in bed?
That I'm no teacher but, the 'classroom' can be anywhere, and everything can be a lesson.
---
Homeschool Sofa
Today I homeschooled on the sofa,
They say you should do it on chairs.
You cannot take phone calls, no distractions at all,
They can tell by the work if you care.
English reading was highly successful,
History class went remarkably well.
In slippers and big fleecy PJs,
We took part in the class show-and-tell.
I do not get the fractions in Busy at Maths.
And Irish: COMPLETE wreck the head.
Today I homeschooled from the sofa.
Tomorrow I'll homeschool from bed.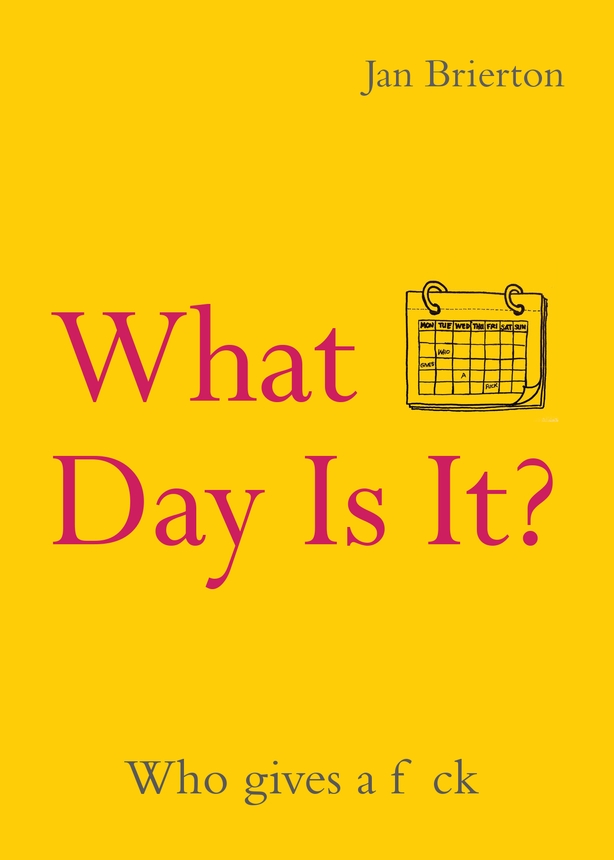 What Day Is It? Who Gives A F*ck by Jan Brierton (published by New Island Books) is out now.