Screenwriter and author Trevor J. Colgan introduces his new novel Children of the Revolution, an Irish fantasy epic born in the most unlikely of places...
It was the third of June, 2019. Two days after Liverpool had brought home Number Six and my celebratory hangover had finally abated. I packed my new pens, A4 notepad, two bottles of Pepsi Max Cherry and my menthol cigarettes into my blue Fred Perry holdall and left the house.
Howth Junction train station lay a two minute walk from my house in Donaghmede. It was pouring down with windy and miserable summer rain on the short walk over there. I slid in my earphones and put on my motivational music – Wish You Were Here by Pink Floyd.
We need your consent to load this YouTube contentWe use YouTube to manage extra content that can set cookies on your device and collect data about your activity. Please review their details and accept them to load the content.Manage Preferences
I'm still not sure how or why that particular track provoked a desire in me to start work on a fantasy novel. Especially one about two terminally ill teenagers who hear a voice inside their heads and have a vision of a mysterious island in the North Atlantic Ocean that compels them to set sail and find the cure to their illness on this strange and forgotten shore. The muses are elusive creatures at the best of times – when in doubt about such things, just go with the flow.
I set out on this journey with a single thought in mind – I'm gonna write down in book form the summer movie I have playing in my head.
After I arrived at the station and took out my debit card to buy my ticket at the automated machine, the "resistance" (a termed coined by Steven Pressfield in his wonderful book The War of Art) reared its ugly head. One day ticket, it cajoled me, just test out the waters instead of diving in head first. In that precise moment I knew defeat was staring me in the face. The plan to write my first new novel in almost fifteen years had been devised and predicated on the need to go back to basics. I had taken three months away from my regular bill and mortgage paying work (writing for the telly) to start and 'break the back' of this first draft. The purchase – nay investment – in a monthly DART ticket was essential as a statement of intent. I shook off the resistance and went all in with my debit card details.
And so the first battle had been won.
In my former life as the young turk novelist of The Stretford Enders trilogy and creator of the TV show The Big Bow Wow, I had gained some notoriety in the national newsprint media for my eccentric work practices. This involved me spending five hours a day on the DART – in-between the rush hours of morning and early evening, moving back and forth between Howth Junction and Bray (Greystones and Malahide weren't operating as stops back then), writing long hand with pen and paper before returning home to input the day's scribblings into Microsoft Word on my laptop. I guess there was something quaint and endearing about my process. But writing long hand, out of the house and away from the crippling distractions of technology and the irresistible lure of a dishwasher in need of unloading, had always served me well.
Children of the Revolution first came to life onboard the DART in the summer of 2019. There were many battles fought, lost and won since then, but the bridgehead secured with the purchase of that monthly ticket will always remain significant in my mind. Along, of course, with the timeless inspiration of Dave Gilmore singing in my ear hole about the dangers of exchanging a walk on part in the war for a lead role in a cage.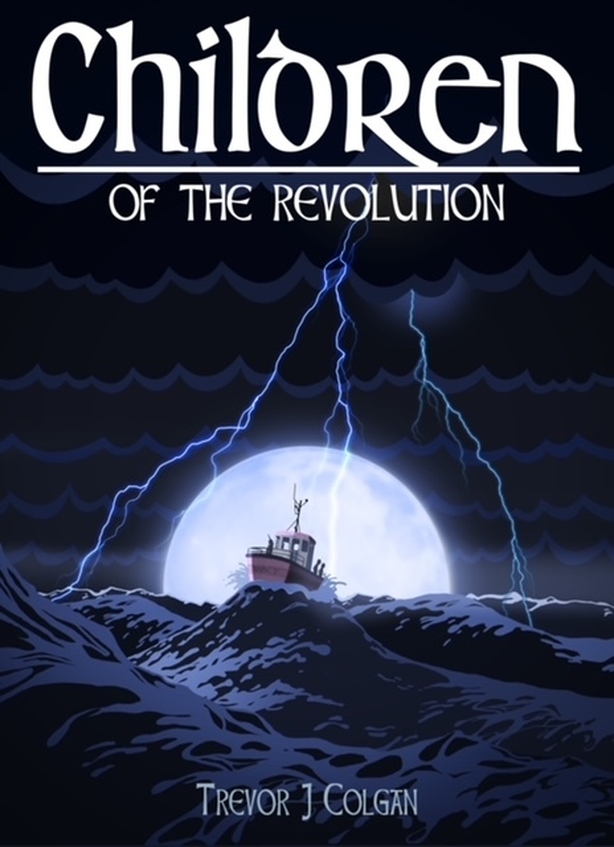 What was finally released to the world this month is a shamelessly old fashioned adventure story with slices of fantasy and Irish mythology thrown in for a good measure. I set out on this journey with a single thought in mind – I'm gonna write down in book form the summer movie I have playing in my head. I guess only time will tell if I succeeded or failed in that endeavour.
But the only way for you good people to find out for sure is by buying a copy of the book and sailing out to the island to see for yourself. At the highly competitive sale price of €2.99 – what have you got to lose by trying?
Children of the Revolution by Trevor J. Colgan is now available on Amazon Kindle and Apple Books.