Paul Herriott presents from the National Concert Hall where the musicians of the RTÉ National Symphony Orchestra and a host of Irish soloists will present a season of LIVE concert programmes - watch above, and download your digital programme here.
Rising star conductor Killian Farrell takes to the podium for two glorious displays of stunning orchestral colour, as the RTÉ National Symphony Orchestra wears its heart on its sleeve in Wagner's hypnotic Siegfried Idyll, and throws caution to the wind in the boisterous brio of Bizet's First Symphony.
Composed in 1870 as a birthday gift for his wife, Cosima, and originally titled Tribschener Idyll, after the house overlooking Switzerland's Lake Lucerne where the couple were then living, the Siegfried Idyll is as heartfelt and moving as anything Wagner wrote: by turns serene and ecstatic in its irresistible celebration of marital love.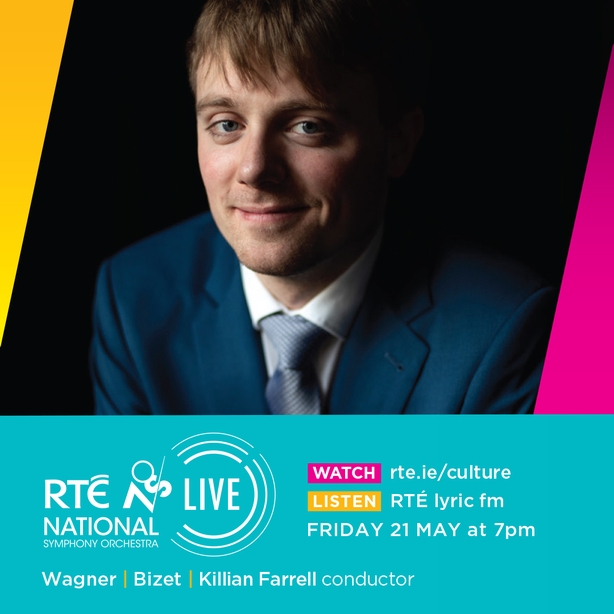 Incorporating material from Wagner's recently completed opera Siegfried (part of his mighty Ring Cycle), melodies from an unfinished string quartet and a previously written lullaby, it is a glorious expression of devotion that is both richly romantic and radiantly tender.
While still a student in 1855, the 17-year-old Bizet wrote his First Symphony over the course of just four weeks. Youthful energy, urgency and passion are everywhere to be found in a work that was never performed in the composer's lifetime, not heard until 1935 and has since become Bizet's most popular work in concert halls around the world.
Paying homage to the First Symphony of his teacher, Charles Gounod, there's more than a hint of that other great prodigy, Felix Mendelssohn, in its fleetness, vitality, beautiful melodies and charming elegance, all gathered together in the richest and most irresistible of orchestrations.