Seán Ó Riada Gold Medals for Louth & Carlow musicians Louth harper Fionnuala Donlon and Carlow piper Colm Broderick were each presented with the Seán Ó Riada Gold Medal at the final of the prestigious traditional music competition, which was broadcast live on RTÉ Raidió na Gaeltachta - listen above.
The annual competition, organised by broadcaster and musician Peadar Ó Riada on his Cuireadh Chun Ceoil radio programme, is focused on a different instrument each year. This year it was harp and pipes, with the winner in each instrumental category receiving a Seán Ó Riada Medal and €2500.
Ba é Peadar Ó Riada a chuir tús leis an gcomórtas seo siar sa bhliain 2010, agus béim faoi leith aige ar cheolmhaireacht agus ar chruthaitheacht sa cheol, seachas ar chruinneas teicniúil amháin, mar a bhíonn i gceist go minic le comórtais eile.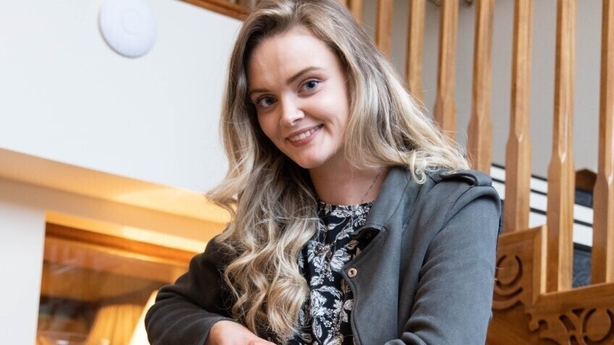 This competition was conceived by Peadar in 2010 as an antidote to other traditional music competitions, where, he felt, there was often too music emphasis on technical proficiency. The Bonn Óir Seán Ó Riada competition recognises and rewards creativity, spirit and musicality as having equal importance. This year's judges, all esteemed musicians, were Mick O'Brien, Laoise Kelly and Michelle Mulcahy.
Winner on harp, Dundalk musician Fionnuala Donlon, 22, started playing at nine years of age and has won numerous All-Ireland medals as well as the senior harp title at Fleadh Cheoil na hÉireann in 2019. She said that being in the final helped keep her motivated during lockdown. "Being in the final was a great motivation to keep me playing music for myself over these last few months, it kept me focused. Winning this is such a great boost after a difficult year, I'm really delighted. I'm looking forward now to getting back playing music with people in the coming months."
Comhghairdeas le Fionnuala Donlon buaiteoir Bhonn Óir Seán Ó Riada ar an gcruit #BonnSOR @Peadaroriada pic.twitter.com/xtYiHIlq0L

— Raidió na Gaeltachta (@RTERnaG) May 7, 2021
Tá obair mhór déanta ag Peadar Ó Riada chun comórtas a fhorbairt atá taitneamhach agus tacúil do cheoltóirí. Is léir go bhfuil ag éirí leis, mar gur luaigh Colm Broderick go sonrach é tar éis a bhua. Dúirt sé nach maith leis comórtais go hiondúil, ach gur chuala sé ó cheoltóirí eile go raibh an Bonn Óir difriúil, agus mar sin gur chinn sé go gcuirfeadh sé isteach air.
Winner in the pipes category, Colm Broderick, also 22, comes from Graiguecullen in Carlow and is an All-Ireland winning uilleann piper. Colm has recently been given possession of a historic set of uilleann pipes by Na Píobairí Uilleann. The set was originally made by Leo Rowsome in 1936 for Clare musician Seán Reid, and subsequently passed through the hands of legendary musicians Willie Clancy, and more recently Liam O'Flynn, who died in 2018. For Colm, winning on those pipes was a particular honour.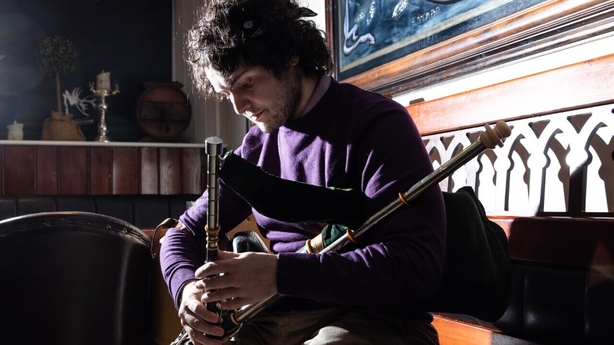 "I had to push myself outside my comfort zone for this, because I don't generally enjoy competitions but Peadar Ó Riada has done a great job developing a competition which is friendly and supportive, and I had heard good things about it from other musicians. It's an honour to be in possession of these pipes, and this award will keep me motivated to keep playing them as best as I can. To win the Seán Ó Riada medal on them was really special."
Comhghairdeas le @BroderickColm buaiteoir an Bhoinn Óir ar na píobaí anocht #BonnSOR @Peadaroriada @Napiobairi pic.twitter.com/oeZj3eiY44

— Raidió na Gaeltachta (@RTERnaG) May 7, 2021
The medal was designed by the late Cashel gold and silversmith Pádraig Ó Mathúna, and features a portrait of musician and composer Seán Ó Riada on it. The medal is created in solid silver, and once the winners have been chosen each year, their names are then engraved on the bespoke medal, which is then coated in gold.
Tá comórtas na bliana seo oscailte anois, agus beidh sé dírithe ar an mbosca ceoil, ar an gconsairtín, ar an orgán béil, agus ar an mhileoidean. Is féidir cur isteach air ar shuíomh idirlín Chuireadh chun Ceoil.
Listen to more from Cuireadh Chun Ceoil here.