We've all become well acquainted lately with the tedium and hopelessness of waiting. Spare a thought then for the inhabitants of 'The Line' in Niall Bourke's high-concept dystopia.
The Line is essentially a long and winding queue that traverses the globe. The Line has existed for generations. There is no known record of when it started and why. 'The Line has existed longer than anyone knows', we're told. What awaits at the end is uncertain, but it's believed to be 'bountiful' - the ultimate reward for patience and endurance. The perimeter of The Line is rumoured to be stalked by vicious 'rock bears', and beyond the beasts lies barren wasteland unsupportive of life. There are various commandments to abide by in The Line but most important is number 11; 'Thou Shalt Not Skip the Line'. The punishment for doing so is to be skinned alive. Defectors, understandably, are rare.
We need your consent to load this rte-player contentWe use rte-player to manage extra content that can set cookies on your device and collect data about your activity. Please review their details and accept them to load the content.Manage Preferences
Listen: Inside Line - Niall Bourke talks to RTÉ Arena
Couple Myla and Willard are residents of the shanty town that's been erected alongside The Line. Willard's father disappeared when he was young. His mother is an 'elder', part of the group who oversees the smooth running The Line, maintaining order and compliance, and doling out punishment. When she dies, Willard discovers a book in her possession that seems to indicate that there is more to life than The Line, but is he willing to risk everything to find out what it is? And what if it's actually something far, far worse?
To say much more about the plot would be to do a disservice to the tremendous imagination that has gone into creating the worlds within worlds of this novel. The latter half is actually even more creative than the first, weaving in aspects of fantasy and sci-fi.
I found myself reminded of J.G. Ballard's 1974 novel Concrete, in which a man crashes his car into the 'median strip' between several intersecting motorways and can't escape. He eventually finds a way to survive there, along with the other inhabitants of 'the island'. Bourke's 'Line' and Ballard's 'Island' are not so dissimilar, both becoming a microcosm and representative in their own way of wider society. The writer has clearly given a lot of thought to how the practicalities of life in The Line would work, from the functionality of the latrines to the distribution of rations, and even the religious beliefs that have been developed by the people to explain and cope with their purgatorial existence.
In an Orwellian move, he's also created a distinctive vocabulary for them, because of course language would have evolved in line with everyday life. A glossary to explain their lingo - words like Bindles, Scroggins, Chits and Pap - might have been fun to peruse at the end of the book.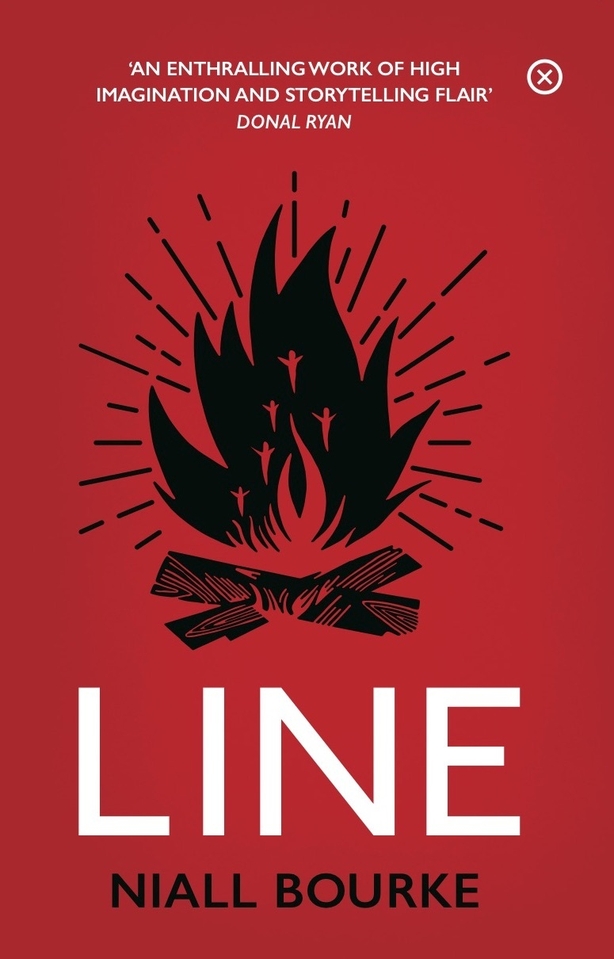 As the 'leviathan truth' of The Line is revealed, Bourke introduces diagrams and sketches to illustrate how it all works. A re-worked essay of his, 'A Case Study in Tapping Primordial Fear', which comes near the end is disturbing but sublime - likely to enrage anyone who has ever heard the robotic words 'Unexpected item in the bagging area' uttered.
So is Line a commentary on mass-migration? Economic Division? Mortality? Or is it simply an exploration of the complexity of our human psychology - the strange co-existence of our need to explain everything and to know how it all ends with our willingness to wait without knowing why and just because we're told to. The fact that are so many possible readings here, makes this an even more impressive debut from Bourke.
Line by Niall Bourke (published by Tramp Press) is out now - read an extract here.