Writer and performer Michelle Read introduces her new work On A House Like A Fire, which premieres online from 21st – 25th May, as part of this year's Bealtaine Festival.
On A House Like A Fire is a theatre piece, but unlike most of my other work it's not a play. Part memoir, part elegy and part meditation on the nature of memory itself, I wasn't sure if it was something to be performed at all.
The process started some years ago, after my mother Margaret died. There had been a lot of physical sorting and organising; her effects, her house, but later I found myself wanting to sort through my own memories in the same systematic way. I wanted to try and remember back to the recent and the more distant past and to take time with some of the objects I'd brought from mum's house.
I rented a studio space and spent a summer looking through family albums - seeing new information in old pictures; my mother's hair changing from an ornate beehive to a short chop when her kids came along – remembering things I hadn't thought about in years.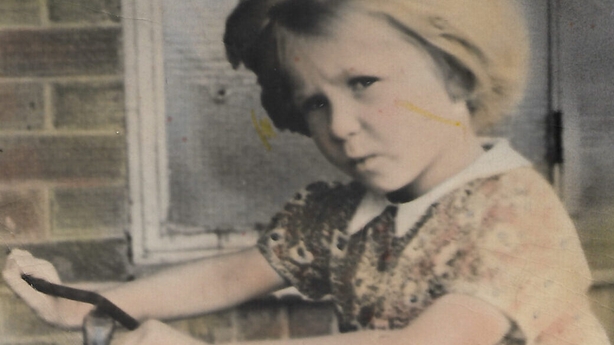 I also sat with the objects. Among them a pair of scissors, her clothes horse, the last surviving plate from a sixties crockery service, and recorded myself talking about them. I was actively trying to recapture the ephemeral – the memories those things brought back - to keep alongside the tangible.
And I listened to two conversations I had recorded with Margaret. I wish now I had made more recordings, but it was still a comforting and familiar experience to hear her voice as she sipped tea and tried to remember all the things I was asking her.
From these disparate elements I did start to see the possibility of a performance – something about the act of remembering a loved one - but I wasn't sure exactly how to write it. I wanted to try and capture the fragmentary nature of my own experience of memory, alongside the facts that I knew about my mother, but I struggled with the form until I showed the evolving script to the composer, Brian Keegan. He liked what I was writing, but we both agreed that memories often feel like glimpses, which was what I wanted to try and capture, rather than anything too clear or coherent.
Part memoir, part elegy and part meditation on the nature of memory itself, I wasn't sure if it was something to be performed at all.
He suggested I include music – something I hadn't thought of - and offered to create a score to accompany my writing. This was revelatory. The introduction of the music, based on repetitions and echoes, was the key that helped me to write with more freedom and less structure. This in turn allowed the piece to become what I had imagined it to be - a performance about the experience of remembering someone that reflected both the challenge and the reward of memory.
Margaret lived with Alzheimer's at the end of her life. On A House Like A Fire isn't directly about that or about her loss, but it does touch on both those things. I am pleased to have finally made the performance, in no small part due to the collaboration with composer Brian Keegan. Despite the loss of Margaret the show for me is a celebration of the value of positive memories and the importance of personal storytelling. I hope an audience of all ages will find it uplifting and make connections to their own important fragments and glimpses of memory.
Michelle Read's On A House Like A Fire will premiere online as part of the Bealtaine At Home Festival, from 21st – 25th May - find out more here.