We're delighted to present an extract from The Perfect Lie, the new crime thriller by best-selling author Jo Spain, published by Quercus.
He jumped to his death in front of witnesses. Now his wife is charged with murder. Five years ago, Erin Kennedy moved to New York following a family tragedy. She now lives happily with her detective husband in the scenic seaside town of Newport, Long Island. When Erin answers the door to Danny's police colleagues one morning, it's the start of an ordinary day. But behind her, Danny walks to the window of their fourth-floor apartment and jumps to his death. Eighteen months later, Erin is in court, charged with her husband's murder.
Over that year and a half, Erin has learned things about Danny she could never have imagined. She thought he was perfect. She thought their life was perfect. But it was all built on the perfect lie.
---
The day your life changes can begin in the most ordinary way.
Danny's arm is draped across my body and I wake to the feel of him stirring.
His hand cups my face. I sense he's actually been awake a while;
that he might, in fact, have been watching me.
'You had a nightmare,' he says.
I crawl into the space of his body and inhale him. I had a nightmare, again.
I never have to pretend with Danny.
My husband knows my history, all the things that haunt me. The bad dreams are frequent, even after all this time. The feeling of being suffocated, of screaming but no sound coming out. The feeling that there's nobody there to help.
Danny, too, has seen evil. I guess it's what drew me to him.
My parents might struggle to forgive me for emigrating to this side of the pond but I made a decent dent in hostilities when I married a cop.
Danny kisses away the residue of the dream and then we make love, slowly, at his insistence.
He's intense, quiet; there's meaning in all his movements and his eyes never leave mine. Danny's had a lot on his mind recently. Work, long hours, late nights. There's ongoing trouble in his job but we don't talk about it. Our promise to each other is to keep his work and our home life separate. But I've barely seen him these last few weeks and last night we exchanged only a few words. I guess both of us are due a reminder that it's us against the world, even if the world keeps intruding.
When we're done, he rests up on one arm and tickles my nose with his. His forehead is damp; his eyelashes long enough to make any woman jealous.
I laugh – a giddy release.
'Hey!' he says.
'I'm laughing with you, not at you, Detective,' I say.
'Mm-hm. How do you want your eggs?' He jumps up, an athlete's recovery time, asking for my breakfast order but, I can tell, already distracted by the day ahead.
'From a chicken,' I say.
'Duck, you sucker,' he shoots back. Then, hesitantly, 'Sorry.'
'For not giving me an orgasm?'
He smiles, but his eyes don't play ball. Danny is drowning. He needs time off; I know he does.
'For having to leave you,' he says. 'I love you.'
'The bed's not the same without you, but I'll forgive you if you get the coffee going.'
Danny heads for the kitchen and I lie there, listening to him tinkering with the temperamental coffee pot, then padding towards the bathroom down the hall. I hear the sound of the shower being turned on. It needs a full three minutes before it reaches any tem- perature above freezing.
The bedroom is already awash with sunlight, even though it's barely 7 a.m. I ordered the drapes online and their blackout ability was oversold. It bothers Danny more than me; he's a light, restless sleeper. I love waking to sun, I love waking to rain. Let it all in. Be happy to be alive.
It feels like a good day. Hell, I might go on that run I keep threat- ening. On the beach, before the tourists hit. Then I'll read through some manuscript submissions and check in with the office – the joy of working from home and making my own hours. When we first moved here, I commuted daily to the city and the publishing house I work for. Three hours a day on a train to and from paradise. I'd planned to go freelance but my boss offered option C and I've never looked back.
I force myself to sit up and search the floor for clothing, find Danny's T-shirt and a pair of leggings.
In the large, open-plan area that comprises the main living space of our top-floor apartment in Newport, Suffolk County, I'm faced with the detritus of last night's takeout. White cartons and plates congealed with chow mein and egg fried rice. I glance at the sink, already overflowing with crockery, and then at our faulty dish- washer and sigh.
Part of the lease's selling point was all mod cons included.
I turn the dial on our old-fashioned radio to listen to the local morning news programme, then make a start.
What our apartment lacks in efficiency, it makes up for in location. Our pretty white-painted building, with its black Georgian-esque ornamental window shutters, has an unimpeded view of Bellport Bay, right over to Fire Island. We're a minute's walk from the beach, its miles of grassy dunes and white sand; two minutes away from McNally's, our regular bar; and we've a host of restaurants and stores at our disposal.
This town is a picture-perfect diorama of a Long Island seaside port and our apartment is slap bang in the middle of it.
I open the floor-to-ceiling French windows to admit some of the already hot summer's day and let the salty sea air hit my lungs.
The news programme is hosting a panel discussion and I listen as a contributor, who's also running for office, gets stuck into New- port PD. They discuss the latest hot controversy – the failure of the local PD to deal with an increase in drug dealing, a problem that's spilled over from Nassau County. The locals in these parts get quite agitated about tourism-impacting headlines and this issue is definitely a vote-getter. Another of the panellists is shrieking about ineptitude and corruption in law enforcement when I turn off the radio.
Danny works in homicide, not drugs, so the latest furore doesn't have direct relevance for him. But attacks such as these put a dent in the morale of every police department. It's hard enough doing an often thankless, frequently dangerous job on low pay without enduring unfounded and ignorant accusations about competence.
I've done a decent surface clean by the time the coffee is in the cups and the shower has stopped running. I wonder if I can talk Danny out of a quick scrambled eggs and into stopping by the new diner on Maple Street before he leaves for work. We can discuss the long-awaited weekend we have planned. Danny has vowed to take next Saturday through Monday off. We're going to drive up to Hartford, stay somewhere quaint, eat and drink our way through New England.
And then: a cop's knock on the door. Quelle surprise.
They have a special sound, those fists the police learn to make.
I mutter under my breath. It's not even 7.15 on a Tuesday morning and already Danny's being summoned for work. Bang goes the dream of us sharing pancakes.
Another rap on the door, seconds after the first. F**kity f**k, I'm coming.
I can hand over my detective husband for the rest of the week, I remind myself, because then he's all mine for a good seventy-two hours.
I ignore my inner warning system, reminding me of all the other times in the last two years when I forgot I was with a cop and made plans.
I open the door and see Ben Mitchell, Danny's partner, standing there.
Danny told me that when they were first paired, back in homicide in Manhattan, the boys on the force used to hum 'Ebony and Ivory' every time the two of them entered the office together. Ben's blond and his skin is practically translucent. Danny is as black as night. There wasn't a whole lot of woke thinking behind that one.
The two men work well together, but Ben and I don't. I got the sense, early, that he didn't like me. I think it's down to the fact that Danny used to follow Ben around like a little puppy. In fact, Ben's the reason Danny works and lives in Suffolk County. Then I came along and inserted myself in the middle of the bromance.
There are two other uniformed officers in our hallway and Ben has a look on his face that tells me, for the love of all that is holy, something big has happened and the forthcoming weekend is now a non-runner.
I never learn.
Behind me, Danny enters the living space and I know he's seen Ben's face too. He's probably already planning how to make it up to me.
'Erin,' Ben says, his voice grave, 'I'm afraid I have bad news.' The day your life changes can begin in the most ordinary way. I've experienced it once before. Just like this, the knock on the door.
I wait for it, my stomach tight, the battle response of a war- weary soldier.
Who's dead?
Ben's expression changes – his attention is drawn over my shoulder, to Danny.
I turn, thinking Danny has caught Ben's tone, recognises it, and is probably readying himself to comfort me. I might be far from my family, but he'll get me to them, ASAP. He'll take care of everything.
But Danny's not looking at me.
He's staring at Ben, utter defeat on his face.
Then my husband walks to the French windows and out on to the small balcony.
I watch him, confused.
He turns, I catch his eye.
Danny doesn't look like Danny at all.
His expression is indescribable. A mixture of pain and apology. He opens his mouth as if to say something, but instead, just swal- lows. He looks away, like just the sight of me is causing him pain.
He lifts one leg over the balcony.
What the f**k are you doing, I think, but am too confused to say. Then he raises the other leg so he's sitting on the iron grille. He uses his hands to push himself off.
He's gone.
Sudden movement at the door as Ben and the others rush into our apartment.
I'm paralysed.
Four floors down, there's a thud. That's my husband's body.
It's all over in seconds.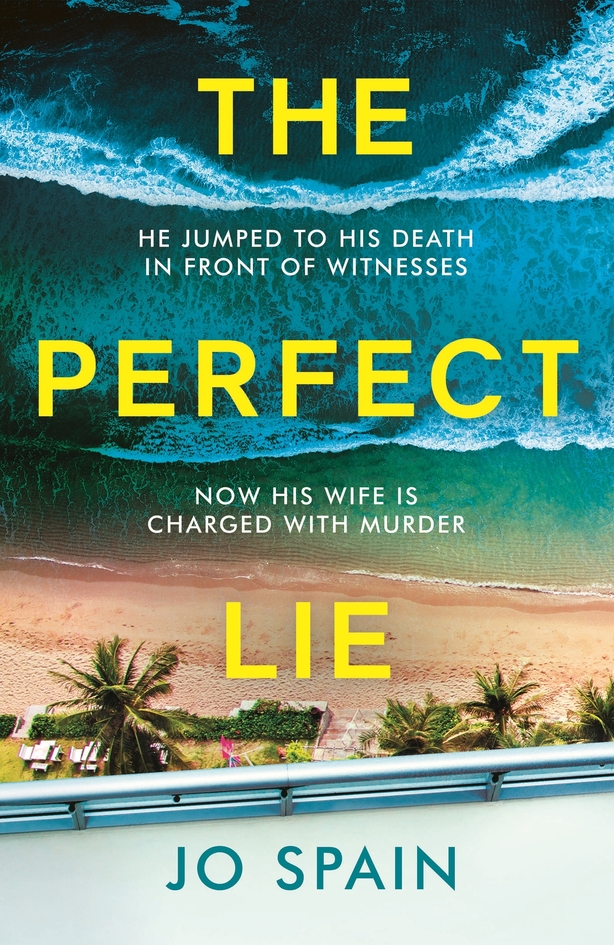 The Perfect Lie by Jo Spain (published by Quercus) is out now.