New Music Dublin is Ireland's foremost contemporary music festival, taking place in Spring each year within the National Concert Hall and other venues throughout Dublin
For this year's event, which runs from 21st - 25th April, we're delighted to host a series of New Music Dublin events on RTÉ Culture - find out more below.
---
Friday 23rd April @ 1 pm
Deirdre Gribbin - Scattered Earth
Ed Bennett - Journal Songs 2020 (for voice and harp)
With Michelle O'Rourke, soprano and Richard Allen, harpist
Grounded is a project originally inspired by soprano Juliet Fraser's commitment to travelling entirely by land and sea, eschewing air travel entirely. As the works were commissioned, and the project took shape, Grounded has widened its meaning through the pandemic to reflect the way that we are all now held on the ground until such time as we can begin to move again - physically, emotionally and metaphorically.
RTÉ NSO: O'Farrell, Buckley and Shaw
Friday 23rd April @ 7 pm
Irene Buckley - Awakening (RTÉ NSO Commission)
Caroline Shaw - Entr'acte
Anne-Marie O'Farrell - Eitilt (RTÉ NSO Commission)
The RTÉ National Symphony Orchestra with David Brophy, conductor
David Brophy conducts the world premieres of two new RTÉ NSO commissions by Anne-Marie O'Farrell and Irene Buckley. The programme will also include the Irish premiere of Caroline Shaw's Entr'acte.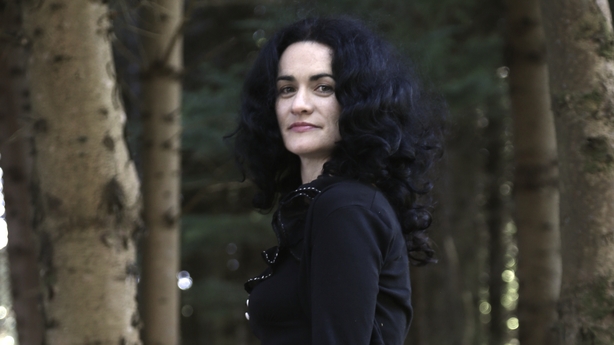 Irene Buckley's Awakening reflects the wondrous transition from the stasis of winter to the rebirth of spring. Humanity experienced a heightened sense of stasis during this past winter, where our daily lives became quite fixed and unchanging, almost suspended in time… We held our breath and waited. This work evokes the sense of transformation and unveiling using dense layered textures to convey the vast expanse of the natural world; the opening up and revealing of new growth, the springing forth of new life. Darkness emerging into light.
Pulitzer Prize-winner Caroline Shaw is one of the most approachable and exciting of young American composers. Entr'acte takes us through Alice's looking glass into what Shaw describes as 'a kind of absurd, subtle, Technicolor' world. It's an intricate, beautifully crafted piece of ever-changing contours and jewel-like colours lit up by folk music textures and orchestral splendour.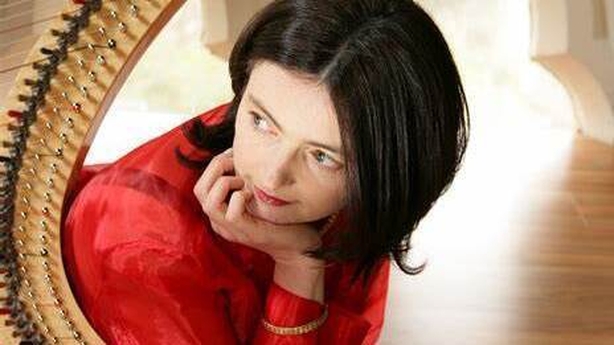 Anne-Marie O'Farrell's Eitilt was commissioned by the RTÉ National Symphony Orchestra. The title means flight or airborne, - air being the carrier of sound, and as wind, it is also a metaphor for inspiration. It is in five movements, and contains many musical elements inherited from Irish musical tradition. Some of these are newly composed, while others directly reference well-known Irish songs and anthems. There are associations with moments of national sentiment, as well as glimpses of audioscape from Ireland's national broadcaster. Universal themes of joy, grief, and the preciousness of children are mirrored in Ireland's trinity of song forms, the suantraí (lullaby), goltraí (lament) and geantraí (invigorating music), all of which are represented here. The suantraí of the fourth movement is paired with a hymn, suggesting the distortion of religion for authoritarian ends, sadly common in the Ireland of the last hundred years. The legacy of our national instrument, the harp, is glimpsed in melodic contours of the finale movement. A range of compositional techniques enables the creation of pitch and rhythmic systems, enhanced by occasional use of extended techniques to further enlarge the palette of colours. There are many instrumental solos throughout, to showcase the outstanding individual artistry of the musicians of Ireland's National Symphony Orchestra, and to reflect the soloistic origins of many of the musical ideas in the work.
RTÉ Concert Orchestra play Natasa Paulberg's Atomic Hope
Saturday 24th April @ 7 pm
Atomic Hope
I: Electron
II: Proton
III: Neutron
IV: Atomic Hope
RTÉ Concert Orchestra with Mia Cooper, leader
An orchestral piece of music exploring the component parts of the atom as a metaphor of our current human experience. The themes of the work express the variable and fluctuating nature of our existence spanning activity, connectivity, dormancy, and ultimately hope...
Recorded remotely at home, the RTÉ Concert Orchestra performs Atomic Hope by Natasa Paulberg. This is the second time the RTÉ CO has worked with Paulberg, having recorded her soundtrack to the TV documentary The Great Hunger in 2020.
Atomic Hope contains four movements which symbolically associate the structure of the atom and our current human experience. Humankind, like the atom, is composed of many unique parts that on coming together create a greater whole. The first movement describes the busyness of life and industry through interweaving lines of rhythmic complexity building into a dense texture. Progressing to the second movement the experience of community, family and the interconnectedness of people is represented. This all comes to a sudden halt in movement three where we find ourselves separated, alone in a sparseness that teeters on despair and isolation. From this sense of inertia emerge isolated parts, disjointed initially that slowly merge to again become a whole – different from before, but again as one, an atomic hope.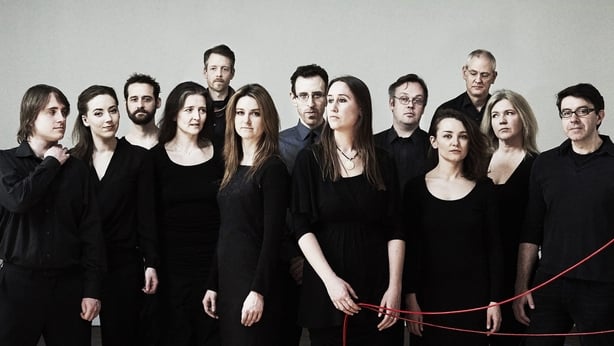 Crash Ensemble - Wingform
Saturday 24th April, 8 pm
Crash Ensemble with Ryan McAdams, conductor and Jack Phelan, visuals
The world premiere of Wingform, a new commission by Crash Ensemble from composer-in-residence and guitarist Barry O'Halpin.
Wingform (2017–2020) is an hour-length work in four movements, with solo electric guitar passages as connective tissue. It serves as the culmination of Barry O'Halpin's period as Crash Ensemble's composer-in-residence, alongside his first few years as Crash guitarist.
Wingform teems intensely with a living energy, taking full advantage of Crash's unique ability to cover a breadth of musical ground: winding melodies, mechanical rhythms, rapid lines and hypnotic drones. The work combines an experimental and highly personal approach to the electric guitar with a fascination toward the contrasts and uncanny commonalities between 'wild' sounds in nature and human-made music and machinery, juxtaposing these elements in vividly surreal ways.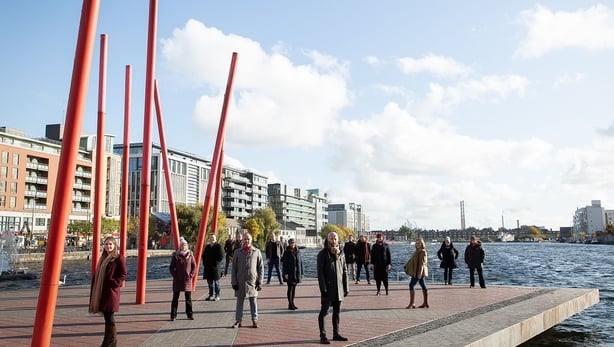 Chamber Choir Ireland
Sunday 25th April @ 7 pm
David Fennessy - chOirland
Caroline Shaw - and the swallow (Irish premiere)
Pablo Ortiz - Leaving Limerick in the Rain (EU premiere)
Rhona Clarke - A Bit of Nonsense (World Premiere)
Ed Bennett - No Noise, Nor silence (but one equal music) (World Premiere)
David Fennessy - Ne Reminiscaris (Remember Not)
Siobhán Cleary - Theophilus Thistle and the Myth of Miss Muffet
Chamber Choir Ireland with Andrew Synnott, conductor
Chamber Choir Ireland celebrate some of the best contemporary choral music from Ireland in recent years.
Headlining the programme with David Fennessy's chOirland – written for Chamber Choir Ireland in 2002, the programme is made up of everything from John Donne to nonsense text and tongue twisters.
Programmed by CCI's Artistic Director, Paul Hillier, and following on from CCI's 2021 St Patrick's Day series Celebrating Irish Composers, we revisit some of the highlights of Chamber Choir Ireland's Irish commissions with Siobhán Cleary's Theophilus Thistle and the Myth of Miss Muffet, and David Fennessy's Ne Reminiscaris from Triptych – recorded on the Naxos 2020 release Letters, and introduces the world premiere of Ed Bennett's No Noise, Nor Silence (co-commissioned with Music For Galway/Galway 2020) and Rhona Clarke's A Bit of Nonsense, as well as the Irish premiere of Caroline Shaw's and the swallow and Pablo Ortiz's Leaving Limerick in the Rain, with text from Richard Blanco's poem of the same name.
Crash Ensemble – Granulated Frequencies
Sunday 25th April @ 8.30pm
Bekah Simms - Metamold
Ellen King - Images and Sensations
David Fennessy and Anna Murray - [REACTIONS]
Crash Ensemble with Ryan McAdams, conductor and Laura Sheeran, visuals
The world premiere of Metamold by the 2019 Barlow Prize Winner, Bekah Simms and the world premiere of Images & Sensations by Irish producer and DJ Ellen King (ELLLL), a Crash Ensemble & New Music Dublin co-commission alongside [REACTIONS] - new music from David Fennessy and Anna Murray set to film by videographer Laura Sheeran.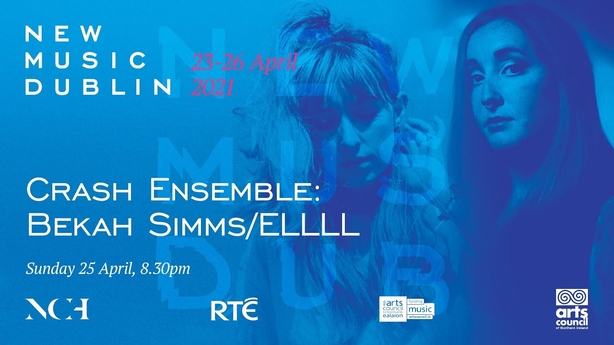 Metamold is a new work from Bekah Simms, the 2019 Barlow prize winner. Commissioned by the Barlow Endowment for Music Composition at Brigham Young University for three ensembles: Eighth Blackbird, New York New Music Ensemble and Crash Ensemble.
"The three commissioning ensembles of Metamold are embedded within the work; the electronic element is sourced almost exclusively from provided recordings of their musical performances. Both their sound and interpretive inclinations are inherent within these recordings, and this carries forward into the processed audio that make up the fixed media portion of the electronics.
The transmission and processing of audio – as it becomes further and further away from its intended purpose as a recorded performance – becomes diluted, accruing artefacts both sonic and contextual. The disembodied version of the players is further abstracted, granulated, separated from the whole. It was impossible to ignore the connections between this concept and the experience of global-pandemic-induced isolation; for now, the only way I've experienced my family and friends is abstracted, granulated, separated from the whole, transmitted through speakers and screens and disembodied." - Bekah Simms
Images & Sensations is a Crash Ensemble and New Music Dublin commission from Irish producer and DJ Ellen King (ELLLL).
"Images & Sensations is primarily an exploration through slow paced, hypnotic sounds and textures that evoke memories, dreams (good, bad, lucid), and feelings of deja vu, nostalgia, temperature (warm, icy), and tension." - Ellen King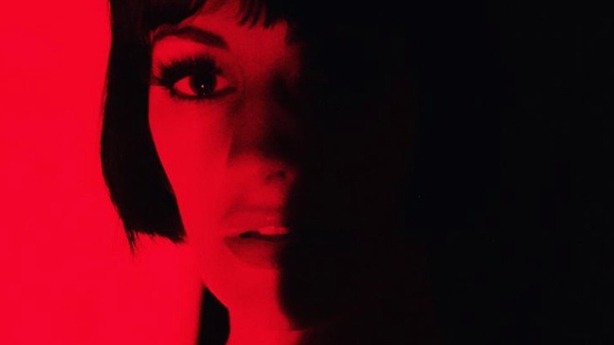 [REACTIONS] is an honest, human and emotive response for now and the future. Amidst the onset of the global pandemic, in 2020, Crash Ensemble commissioned 9 Irish composers - established, up and coming and from outside of the contemporary music sphere - to write unique new works for duos within the group. Composers were asked to create a musical response - a political or personal response to their experiences, the current state, or their thoughts for the future. Filmmaker Laura Sheeran was commissioned to make an accompanying film for each work, combining footage from the recording sessions alongside text and imagery.
Find out more about this year's New Music Dublin programme here.