Catherine Talbot writes for Culture about her acclaimed debut novel, A Good Father - read our review here, and a short extract below.
---
A Good Father is a psychological suspense novel about a man who kills his family. I wanted to explore the idea that jealousy could be the driver of such an act, through a character who has no overt mental health issues. The intention of this exploration is to unsettle the reader and make them consider how a man could do such a thing. Is there even a conclusive answer to this question?
By telling the story solely through the eyes of Des, I am trying to illuminate the fact that many female victims of domestic violence or coercive control do not have a voice. I wrote this book before COVID-19 struck. It saddens me that it now publishes in a time when cases of domestic violence and coercive control are on the rise.
At the core of my work is an exploration of the notion of love. How can we inflict hurt on the people that we love most in the world?
Living in Ballybrack, with my husband Dara and our two children, I have been writing for about eight years. I have had short fiction published in the literary journal Banshee and the anthology Still Worlds Turning.
A few years ago, when our children were getting a little older I managed to carve out the space to complete an MPhil in Creative Writing at Trinity. After graduating I had a first draft of A Good Father. I think the seed for the novel might have been there for a lot longer. Something about working in Dublin city centre in the 90s, the excitement and the energy of the place had always stuck with me. I knew that I would write about that period someday.
A Good Father was due for publication last April but was pushed back due to the pandemic. This was a difficult time for me, but I knew that it was the right decision. So many things have changed in our world. This setback was overcome quite quickly when I reflected on the hurt and pain so many people have gone through.
I am so excited that the novel is finally getting out there into the world and I hope that it will strike a chord among readers.
The novel is told in two timelines, present-day 2017 and 90s Dublin and it flips back and forth between the two. This extract is from the past: Des looks back on a date night with Jenny and it illuminates some early warning signs in their relationship.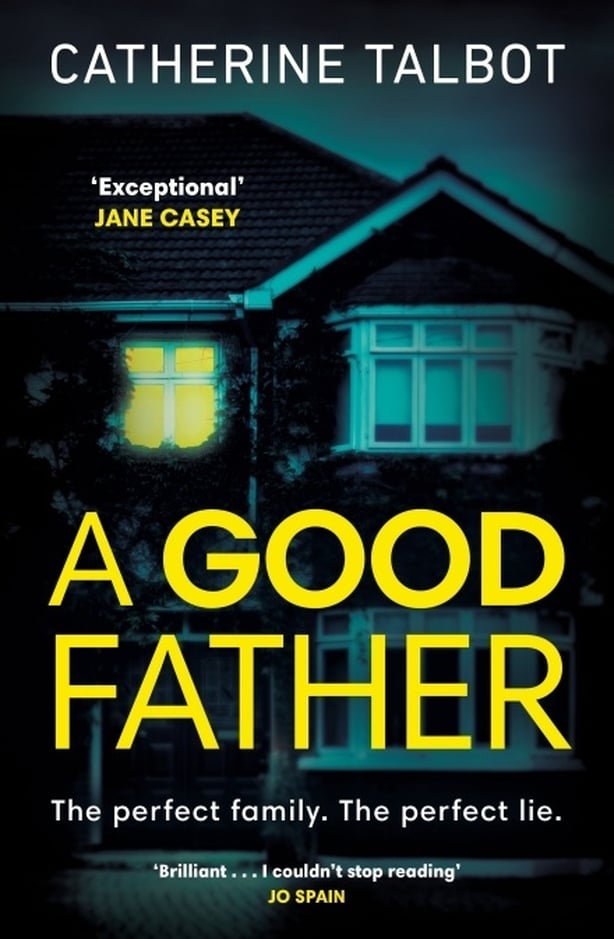 Read an extract from A Good Father below...
We needed a date night. When I called to her studio she wasn't ready. She had a couple of paint spatters on her face and she was still wearing her wrecked jeans. I asked her what she was playing at and she started laughing, of course, she was about to change. I joined in myself and I felt a bit strained laughing away like that, she had almost taken me for a fool, something made me want to twist her arm and I grabbed it and I said to her, I could twist your f**king arm.
I started to tighten my grip and then I stopped and apologized. I wasn't able for ingratitude after all I did for her. There was silence in the studio. I had brought a bottle of wine and I rinsed two small glasses that were slightly dirty and chipped. I poured the wine, a slight tremor in my hands, and I tried not to touch the chip on the rim of the glass with my lips while I sipped. I was prone to cold sores and I was afraid of them, of the scabs they turned into, the weeping, the stinging. The scab that appears well formed until you pull at it prematurely, and you remove some of the skin from your lip unintentionally and you wish you had the discipline not to do that but you are without it.
Hanging from the screen was Jenny's turquoise dress which she often wore with a belt, cinching it in, accentuating her narrow waist. Her suede jacket was on a chair. She took off her jeans. There was a bit of bad feeling in the place because of the way I had grabbed her and it made me feel uncomfortable looking at her stripped down to her knickers. She said she was sorry that she wasn't ready. It wasn't about that, the not being ready, I told her it was the way it made me feel, as if I wasn't worth getting ready for. She was becoming complacent. There was a tension between us that wasn't there before and I felt remorse for what I had done. I put my arms around her and pulled her close to me and I could feel that her flesh was cold due to the chill of the studio. After an initial resistance I felt her relax into me and then she extricated herself from my arms and sat down on the chair and she faced me.
A Good Father by Catherine Talbot (published by Penguin) is out now.