We're delighted to present an extract from Mrs Death Misses Death, the debut novel by Salena Godden, published by Canongate - read our review here.
Mrs Death has had enough. She is exhausted from spending eternity doing her job and now she seeks someone to unburden her conscience to. Wolf Willeford, a troubled young writer, is well acquainted with death, but until now hadn't met Death in person – a black, working-class woman who shape-shifts and does her work unseen.Enthralled by her stories, Wolf becomes Mrs Death's scribe, and begins to write her memoirs...
---
Disclaimer:
This book contains dead people.
This book cannot see the future. This book is dabbling in the past. This book is not about funerals although funerals are mentioned. You do not have to wear black to read this work. You do not have to bring flowers.
Caution: This work contains traces of eulogy.
Warning: This work contains violent deaths.
Spoiler alert: We will all die in the end.
This book cannot change the ending or your ending or its own ending. This book does not know how to switch on the light at the end of the tunnel. This book cannot contact the other side. This book cannot speak to the dead or for the dead. This book will not confirm if there is an afterlife or an alternative universe. This book will not improve your karma. This book will not nag you to live a healthier life. This book will not help you quit smoking. This book is not going to urge you to age gracefully. This book does not advocate the use of that funereal phrase 'he had a good innings'. This book does not contain any person or persons clapping their hands and singing kum-by-yah-mi-lord. This book may be used for mild to moderate relief from grief, fear and pain, however if symptoms persist please buy a ticket to see a live reading of this work where you will find the others.
Caution: Do not exceed death.
This work has a very high dead and death count. Take with caution. Take your time. Do your lifetime in your own life time. If you are sensitive or allergic to talk of the dead or non-living things use this work in small doses. This is not a self-help brochure. This is not a guide to avoiding dying. If you think you are about to drop dead, please seek medical advice immediately.
This work has very little to do with God, the Gods, Goddesses, Satan or the Devil. This work is not focused on a battle of good and evil or right and wrong. This is not about morality or heaven and hell or sinners and saints. This book does not judge you or your choices. This book is not connected to or promoting any religion or cult. This is not a map to the way out of here. This is not a compass. This book does not contain directions to heaven or hell – see also Elysium, Valhalla, Gan Eden, The Fields of Aaru, Vaikuntha, Ti´r na nO´g, Cockaigne, Big Rock Candy Mountain or any other world versions of otherworld.
We need your consent to load this YouTube contentWe use YouTube to manage extra content that can set cookies on your device and collect data about your activity. Please review their details and accept them to load the content.Manage Preferences
This work calls the righteous spirits of all of our mighty ancestors now and in the hour of our need. We take a breath and look back in amazement and wonder at how our ancestors survived so we may also survive. We take another deep breath, we feel our hearts beating inside our bodies, and we celebrate that the same empowerment and spirit runs in our blood now and can be found in our DNA today. We give thanks to our ancestors, thanks for giving us life, for being alive to feel alive and to share this one magnificent connection to life and all living things.
This book does not mention every person that has ever died – if you wished this book to have mentioned another death, we can only apologise now in advance, for not knowing
which death or dead celebrity you wanted mentioned and celebrated in this book at time of writing and printing. At the time of writing this book mourns for Prince, David Bowie, Leonard Cohen,Toni Morrison and Aretha Franklin. And this book sincerely hopes there aren't any more inspi- rational human beings, bold souls, brave hearts and super- heroes to add to that dead list before we go to print. Amen.
This book contains traces of ghosts. This book may contain bones and other human remains. This book has been haunting me. This book may haunt you. This book is about you and me and all of us. We will use the term 'human' or 'human being' to mean people who identify as human, that is being 'alive' and 'living', and furthermore discuss how they are now 'dead' and use the word 'dead' to mean that the heart stopped beating and the brain ceased functioning and they are not breathing any more. This work does not contain zombies but has no prejudices against those that choose to be living dead.
This book knows loss and feels your pain. This book shares your fears and anxieties. This book will explore the worst- case scenarios. This book is afraid of death, but not afraid to speak about it. This book is in mourning and trying to understand this process of grieving. This book sends you all its love. This book says it's alright to cry on its shoulder.
This book is short because life is short. The time it took for us to evolve from Homo sapiens to modern civilisation, from the first cave paintings and words and stories and songs to the first book and the first bookshop, is a wonder and also relatively short. Any book with the word Death in the title must be light enough to carry in your hand luggage. It must be short enough to be read cover to cover on a train up from London to Liverpool. It must be loud enough to read during the length of a good belter of a thunderstorm, then when the storm passes and the clouds clear and the skies open up, the train doors open, and so will your heart.
These are the collected memoirs of Mrs Death, edited and compiled by me, Wolf Willeford. I'm a poet and I live in the attic rooms of the Forest Tavern in East London. Contained here are some of Mrs Death's private diary entries, some stories, poems and pieces of conversations I have had with Mrs Death; she who is Death, the woman who is the boss at the end of all of us. I share this hoping that it is the beginning of your own conversation with yourself and with your own precious time here.
When writing this I found that when people die, we write about them differently; it is as though we can speak freely; it is as though they have left the room. When writing about Death you soon realise it isn't all about Death and that you write about Life and the living: this is what I have learned whilst creating this work for you. This is a work of both fiction and non-fiction, a work of dreams and nightmares. Some names, dates and details have been changed to protect the living and amuse the dead.
This book is a matter of Life and Death.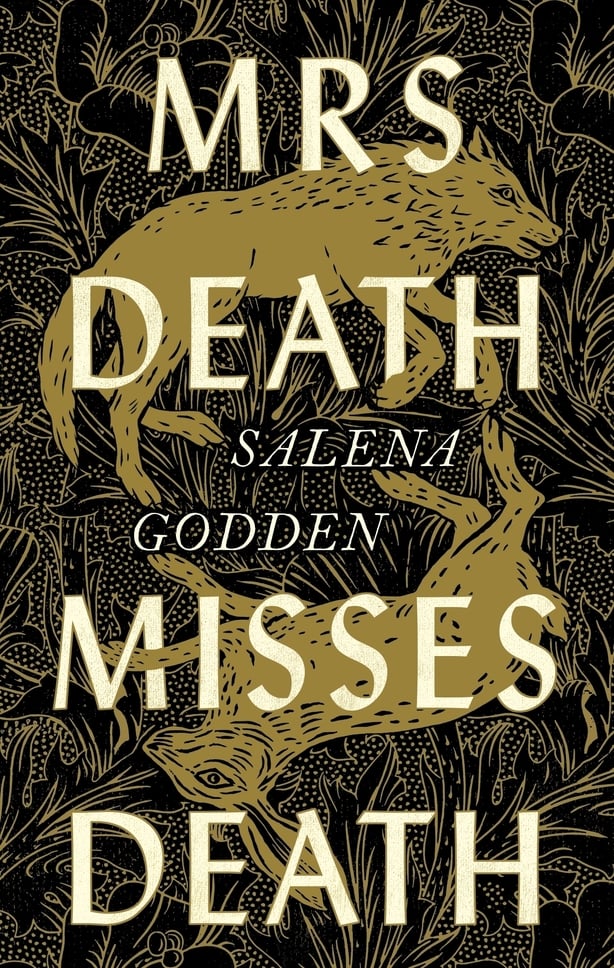 Mrs Death Misses Death by Salena Godden (published by Canongate) is out now.