We're delighted to present an extract from Irish Customs and Rituals: How Our Ancestors Celebrated Life and the Seasons by Marion McGarry, published by Orpen Press, 2020.
Irish Customs and Rituals is an exploration of common calendar customs in Irish tradition, focusing on the quarter-day festivities that marked the commencement of each season: spring: Imbolc; summer: Bealtaine; autumn: Lughnasa; and winter: Samhain. It also looks at beliefs and traditions surrounding major life events such as births, marriages and deaths, and general beliefs surrounding cures and the supernatural.
---
1st February: St Brigid's Day
Saint Brigid's Day or Lá Fhéile Bríde on 1st February occurs at the time of Imbolc or Imbolg, an ancient festival marking the beginning of spring. Imbolc is generally thought to mean 'in the belly'; it is a time of pregnancy for sheep, marking the beginning of the lambing season. In Ireland, ancient Imbolc became Christianised as the feast day of St Brigid; she is the foremost female Irish saint – on par with St Patrick – and a Christian version of the celebrated universal pagan goddess Brigid.
The early Christian 'real' St Brigid of Kildare was said to have converted an old pagan king of Ireland to Christianity on his deathbed by taking rushes from the floor and making a simple cross to explain the concept. Many other legends feature her: a notable one goes that she chose a site for her convent that belonged to the king of Leinster, whom she met to discuss. The king said he would only give her the amount of land for her convent that her cloak would cover and she agreed. Then she laid her cloak on the ground and it miraculously grew and spread for miles, thus she was allowed the land for her religious community. A formidable woman then, with the power to influence kings, the rural people looked to her to intercede on their behalf with God.
St Brigid's Eve: Oiche Fhéile Bhríde
With all major Irish Celtic/Christian festivals the big celebration happened on the eve of the feast day. St Brigid's Eve was no exception and was eagerly anticipated as a time to celebrate, just long enough after Christmas for a mini-feast to look forward to.
Like all the 'eves' of major Irish festivals, the time between sunset on the eve and dawn on the feast day is seen as liminal time, sometimes with magical connotations. On the eve of her feast day, St Brigid is said to pass over all of Ireland and bestow her blessings to the land and people as she does. To appease St Brigid on her journey, offerings are left out for her (such as bread and butter) but also items are left out for her to bless as she passes over. Dishes of water and salt was sometimes left out as offerings and afterward these were thought to have curative properties. A lovely tradition from Co. Antrim was that a place was set for her at the table inside and after she was thought to have passed over a poor person from the locality was invited in her place to enjoy a meal.
Rituals of St Brigid's Eve
On the eve of two of Ireland's major ancient festivals, Halloween and 1st February, there was the custom of placing crosses in the home. The Halloween custom involves wooden crosses and has largely been forgotten, but the St Brigid's cross remains popular. It is an emblematic simple cross made from rushes or straw, and we still see these today. The cross offered St Brigid's protection for the household, farm and land and was even believed to protect from fire and lightning. Traditionally, crosses were common in rural areas outside Leinster, where the tradition was at its weakest.
There was a type of folk religion ritual with the making of St Brigid's crosses. Usually, they were to be made on St Brigid's Eve, with the old one from the previous year to be burned beforehand. In the past, the making of crosses was accompanied by other rituals: in parts of Connaught and Ulster, a female member of the family (who may have been named Brigid), representing St Brigid and carrying a bundle of rushes, left the house and returned, knocking three times on the door and reciting 'Go down on your knees and let St Brigid enter the home'. Those inside would respond 'You are welcome, St Brigid'. On entering, she would sit at the table laid out with food and say grace before eating. Then, the rushes would be made into crosses and sprinkled with holy water.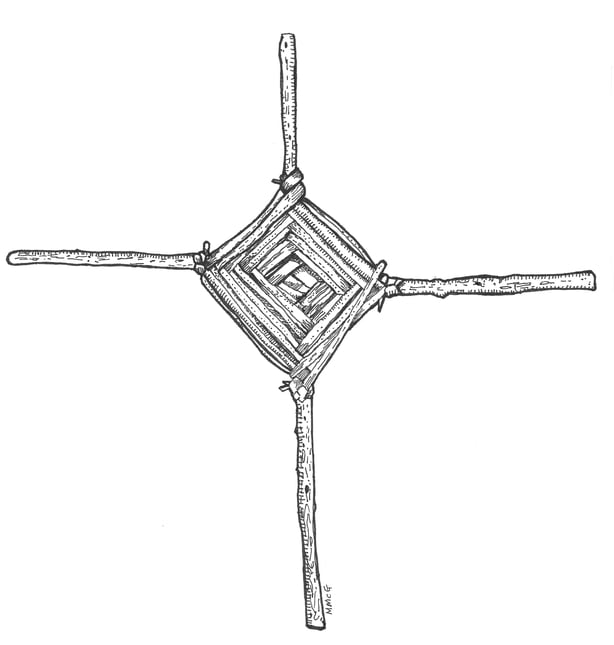 The most popular style is the four-legged cross: it is a thing of beauty, simple and fast to create, a characteristic that make them a popular project for children in Irish primary schools near St Brigid's Eve. Crosses are still hung today in Irish homes, classrooms, even cars. Design variations for crosses occurred in different regions. A type made in Sligo and Leitrim was made by interlacing several straws of reed in a crisscross pattern and tying each of the four sets to form a cross.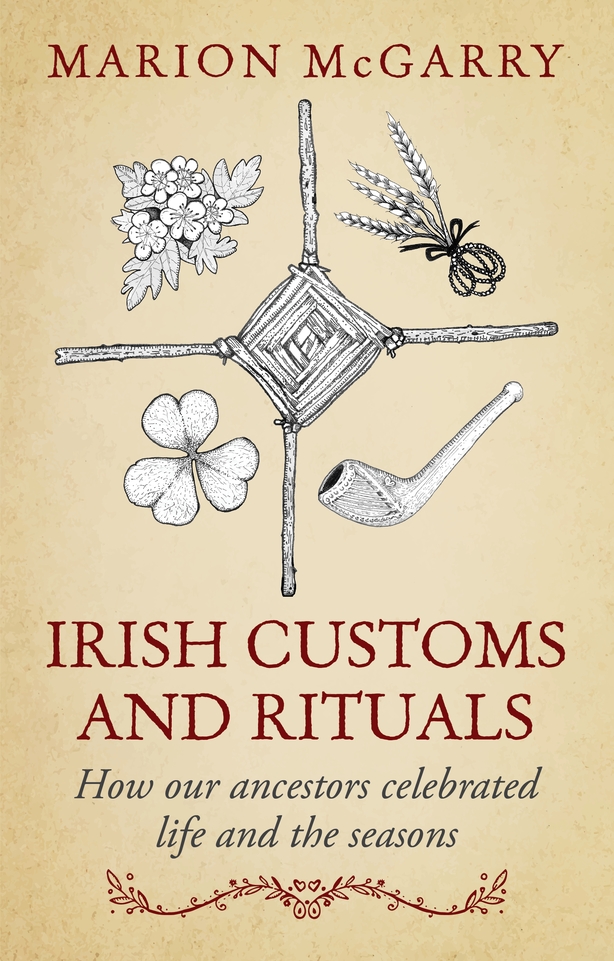 Biddy Boys and the Brideóg party
In some parts of Ireland, mainly the south and west, groups of so-called Biddy Boys went from house to house with a straw effigy of the saint, dressed in white, or in straw costumes, sometimes both. They would collect food (or money) for a party in the saint's honour. The noisy pageant would feature strange costumes and music and it was considered mean and unlucky to refuse them a donation.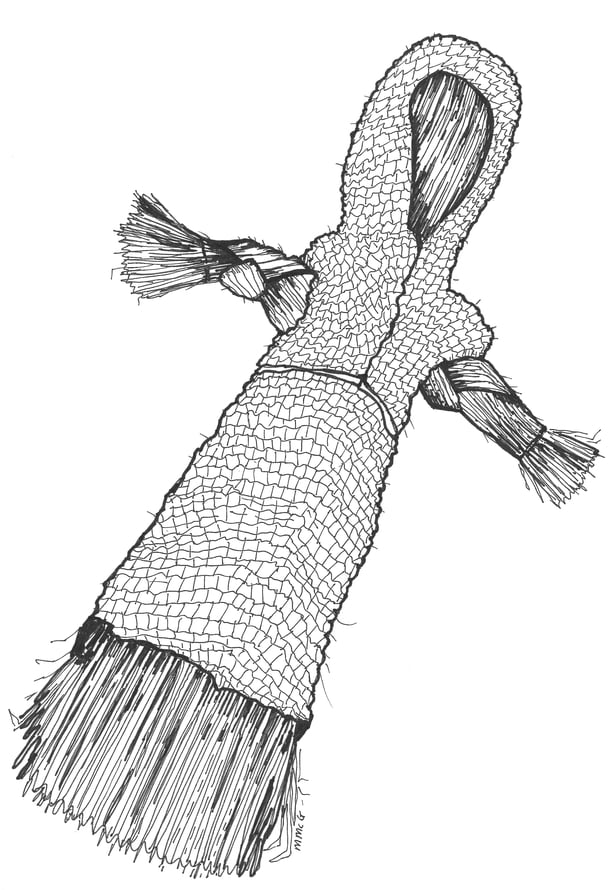 A doll known as a Brideóg (or Miss Biddy), an effigy of the saint herself, made from straw or a sheaf of straw and clothed in white, was carried in the procession. Sometimes a girl dressed as the saint accompanied them, bringing crosses with her and offering 'blessings' to houses. Emigration saw the custom being exported to other countries, where the practice was met with either bemusement or used as further evidence that the Irish were barbarous. One such riotous march by Irish emigrants in 1830s Kensington in London is wonderfully described:
[They] scandalised the local shopkeepers by marching their pagan corn dolly effigy up High St and thrusting her in through shop doorways, sending refined customers for the smelling salts. Police chose not to confront the mob but arrested the dummy and locked her in a cell until a woman turned up asking to collect her sister's dress adorning the Celtic goddess.
Irish Customs and Rituals: How Our Ancestors Celebrated Life and the Seasons by Marion McGarry (published by Orpen Press) is out now.