Kevin Reynolds, producer of Drama on One on RTÉ Radio 1, pays tribute to one of the giants of Irish radio drama, as he bids adieu after four decades on the airwaves... Listen to Drama On One's tribute to Aidan Matthews above.
Drama on One celebrates our colleague - poet, playwright, essayist, editor and producer Aidan Mathews who retired from RTÉ on Saturday, January 16th, after thirty-seven years of service.
Aidan began working in the Radio Centre in 1984, writing and producing drama and religious programmes.
In normal circumstances, like other good folk retiring from whatever occupation, we would have raised a glass and perhaps enjoyed a slice of cake with our friend.
In these times, that wasn't possible. More fitting that we share his celebration here with you and offer a curated quartet of his work. 'A Pathetic Fallacy '(2020) , 'Sound Effects in a Studio' (2005), John Boorman's Nature Diary,'One Eye, One Ear (2020) and 'Kaddish for Cohen' (2016) collectively demonstrate Aidan's gifts as a playwright, a poet, a broadcaster and an editor.
Aidan Mathews has published four collections of poetry, three books of short stories, one novel, six stage plays, several radio plays, two books on scripture, and a Festschrift for Cearbhall Ó Dálaigh.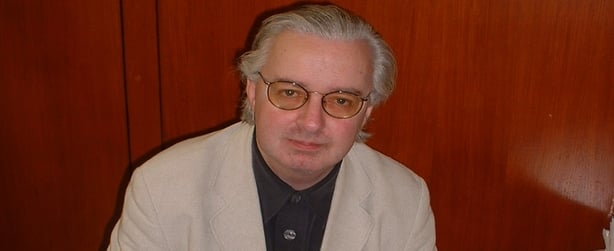 As a religious programmes producer, he wrote and broadcast two series of radio-talks: In the Poorer Quarters (2006) and Feasting and Fasting (Christmas and Passover/Easter 2003-2016). While a Mirrielees Fellow at Stanford University, Aidan studied under the literary theorist and anthropologist René Girard.
Girard's writings on mimetic crisis are resolved by the selection of a scapegoat who is ostracised, vilified and subsequently deified. I mention this because it informs a body of Aidan's work which explores the dialectic of desire and resentment as the key to human deadlock. His writing examines the scapegoat in states of both victimage and victimhood - as the Black Sheep becomes the Lamb of God.
The Diamond Body (1984), his first stage play, dwelled on the murder of a trans woman, and was written for actor Olwen Fouéré and composer Roger Doyle. It was produced for RTÉ in 1986, but never broadcast... yet. Watch this space!
Aidan will be missed as a gentle, courteous, kind and soft-spoken presence in the Radio Centre, it was his restrained vocal delivery that earned Aidan his nickname, "The Incredible Hush", abbreviated (as per the Gaelic tradition of The Ó Morchoe and The Ó Rahilly) to "The Hush".
For the past twenty years I sat beside the smartest guy in the Radio Centre. I've cogged his exercise and coveted his lunch (those perfect crust-free triangular cut sandwiches Trish lovingly prepared for him). Every day was an education filled with fun and friendship, informed by intelligence and insight and seasoned with divinity and devilment.
Go raibh maith agat, a Chara. Go gcuire Dia and t-ádh ort agus go dté tú slán - and in the words of Dave Allen, "Good night, and may your God go with you".
Listen to more from Drama On One here.