Liam Geraghty, producer of the brand new kids podcast, Spooky FM writes for Culture about the nostalgic pop culture for kids around Halloween.
---
When I was a kid I absolutely loved scary stories. Whether it was in books, TV or film there was always the feeling of fear yet fun hearing about creepy cobwebbed castles with resident ghosts and wicked witches cooking up spells with eye of newt and bat drool.
We need your consent to load this rte-player contentWe use rte-player to manage extra content that can set cookies on your device and collect data about your activity. Please review their details and accept them to load the content.Manage Preferences
Don't forget to change the baby... Listen to Spooky FM above!
This year for Halloween myself and Peter Dunne are adding to that canon of scary stories for children with our podcast Spooky FM. It's all about Uncle Vlad, a vampire from the heart of Transylvania, and Zombetty, a surprisingly chipper Zombie considering she's been dead for 100 years! They'll be inviting children from all over Ireland to see if they can scare the seasoned ghouls with their own tales of terror!
So to get in the mood, I've picked out the top 5 favourite spooky TV shows that I watched growing up...
Count Duckula

Count Duckula (voiced by Del Boy himself – David Jason) turned the vampire concept on its head. The latest resurrection in a long line of vampire Duck's accidently becomes not a blood-sucking vampire but a vegetarian one after Nanny mistakenly uses ketchup in the ceremony instead of blood! Count Duckula lusts after carrots and broccoli sandwiches instead of peoples necks and to his butler Igor's horror, Count Duckula is only obsessed with fame and fortune. Long after the show had finished and I'd grown up I was browsing a record store. They were playing what I thought was maybe a radio episode of The Goon Show with Spike Milligan and Peter Sellers. It was hilarious. I went up to the cashier to ask what was playing and it – it was actually an episode of Count Duckula! There and then I bought the complete series and reacquainted with the feathered fiend.
Trap Door

Created by animators who would eventually go on to work on Wallace and Gromit and Chicken Run, Trap Door is an 80s cult classic starring a plasticine blue ghoul, a skeleton head and a pet Spider. Each episode began with the ominous introduction: "Somewhere in the dark and nasty regions, where nobody goes, stands an ancient castle. Deep within this dank and uninviting place, lives Berk, overworked servant of "the thing upstairs". But that's nothing compared to the horrors that lurk beneath the trap door, for there is always something down there, in the dark, waiting to come out...."
Courage the Cowardly Dog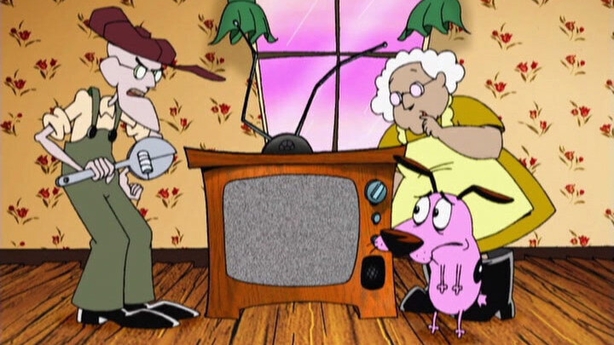 What better premise than of a kind but easily frightened dog who lives in the middle of nowhere with his owners – a elderly couple named Muriel and Eustace. As the opening titles stress – "Strange things happen in the middle of nowhere…" Each episode sees Courage tormented by everything from a puddle hiding a dark secret to a humanized troupe of eggplants who plot Muriel's downfall after she uses eggplants in her cooking. It's utterly hilarious and bizarre and takes inspiration from all sorts of classic horror films. The show was actually born out of an animated short film called The Chicken from Outer Space which was nominated for an Oscar in 1996 but lost out to Wallace and Gromit's A Close Shave. 
Eerie, Indiana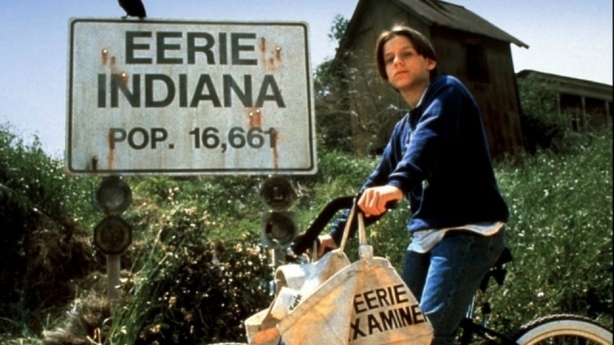 Much like the town of Nowhere that Courage the Cowardly Dog lived in, strange things seemed to happen often in Eerie, Indiana. The show followed teenager Marshall Teller and his family as they move to the desolate town of Eerie, Indiana, population of 16,661. Along with his friend Simon Holmes, Marshall contends with a sinister group of intelligent dogs that are planning on taking over the world, Bigfoot and a still-living Elvis Presley. The show had only one season but much like the other shows on this list it gained a second live through cult status.
Round the Twist
There was a period when I was growing up where TV just seemed to come out of Australia – all soap operas, dramas and kids shows. Round the Twist was particularly popular in Ireland. It was the story of three children and their widowed father – the Twist Family - who live in a lighthouse by the wild Victorian coastline in the fictional town of Port Niranda. Every week the children would have all sorts of supernatural adventures. Of all the shows on this list this one probably had the weirdest storylines from underpants with special powers to a magical pair of earrings that have the wearer attracting the town's garbage. If you remember the show then I imagine the theme tune is stuck in your head right now. You're welcome.
As for Spooky FM? It starts Friday 30th October, Halloween Eve at 19:00 on RTEjr Radio. You can subscribe to Spooky FM wherever you get your podcasts. Uncle Vlad and Zombetty will be waiting…