Ciara Hyland, director of the acclaimed documentary A War on Women - Cogadh ar Mhná writes for Culture on the making of this film, which examines the issue of sexual violence during the Irish Revolution, and receives its RTÉ One premiere on October 14th.
Back in 2015 I was watching an excellent documentary on Cumann na mBan that aired on TG4 and one line in it stopped me dead in my tracks. Historian Mary McAuliffe said, and here I'm paraphrasing, that the sexual abuse of women by all sides in the Revolution had never really been talked about. That was it – just one line – but it stuck with me. It was an aspect of the Irish Revolution that I honestly had never even thought about before, but it was like a light bulb had gone off in my brain. I had that sense that of course, it had to have happened. Wherever there are men armed with weapons and an unarmed civilian population - wherever there is that accentuated power difference – there is the potential for sexual abuse to become part of the picture. But why had we never talked about it before?
We need your consent to load this YouTube contentWe use YouTube to manage extra content that can set cookies on your device and collect data about your activity. Please review their details and accept them to load the content.Manage Preferences
The next nudge towards making this documentary came in 2018 when I read an article written by a friend of mine, journalist and historian Niall Murray. In it, he mentioned a conference that had recently been organized by sociologist Linda Connolly on the topic of gender-based violence in the Irish Revolution. Suddenly I was introduced to the work of a dynamic group of scholars who were all writing and researching on the issue.
These scholars – Linda Connolly, Mary McAuliffe, Lindsey Earner Byrne, Louise Ryan and Ann Matthews among others had uncovered many first-hand stories of women detailing in their own words what had happened to them during the Irish Revolution. I decided to make a documentary based on these first-hand accounts. RTÉ, TG4 and the BAI all saw the importance of these stories and supported the making of that documentary and the result is A War on Women?/ Cogadh ar Mhná.
This documentary is not an easy watch, but it is a truthful one, and I think it's a very important one.
One of the greatest challenges while making this documentary was to recreate some of the stories themselves. They were often quite harrowing and ranged from beatings and forced hair cuttings to sexual assault and rape. I was initially quite daunted as to how to film these stories. The challenge was to not be too explicit and make them unwatchable or possibly exploitative, but not to soft-soap them either or whitewash what happened. There was also the issue of directing actors both male and female in difficult scenes that would not be easy for them, for me or for my crew. An excellent workshop in London on directing actors in intimate scenes gave me the tools to put all the necessary safeguarding in place for these scenes, as well as a vocabulary around sexual acts that would make sense for my actors.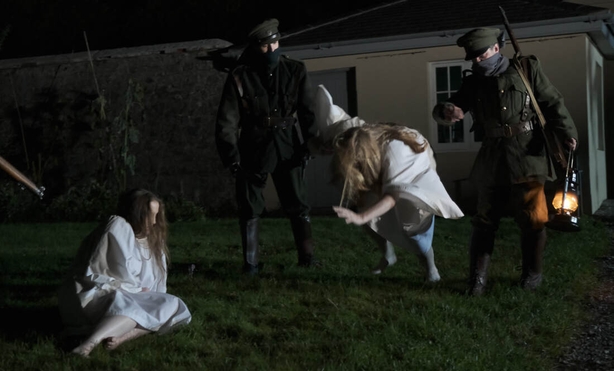 All my actors were absolutely brilliant and I am so grateful to them. They were so generous emotionally, and it really shows in their performances – so much is implied on their faces or in a look or a gesture. I'm incredibly proud of each and every one of them and the scenes we created and filmed together.
This documentary is not an easy watch, but it is a truthful one, and I think it's a very important one. The stories of the women we feature in it have been silenced in one way or another for a hundred years – it's time to hear them now. To paraphrase another contributor - the brilliant Tom Clonan, who had the guts to blow the whistle on sexual abuse within the modern Irish army – it's important that we understand the full sordid truth of conflict on this island in order that we do not go down that route again.
Watch A War on Women?/ Cogadh ar Mhná on RTÉ One on Wednesday October 14th