Tom Inglis's 182-page memoir concerning his dog Pepe combines telling detail from an intimate 18-year relationship with thought-provoking observations on how humans and dogs have interacted from ancient times up to the present.
She has learned that I am the source of all that is good in her life. In her magical world, I am the light. I am God. So wherever I go she must follow. Thus begins Tom Inglis's resonant and utterly wise account of his relationship with Pepe, his Wheaten terrier bitch.
This sometimes moving family story of love and loyalty from the renowned Irish sociologist also puts dogs into some mildly startling perspective. Take the opinion poll, cited by Inglis which reveals that 94 percent of owners saw their dogs as members of the family. No great surprise there.
But how about this? 54 percent of respondents would consider ending a relationship if they thought their pup did not like the partner they had chosen. Over half (56 percent) of those polled said that when they came home, they said hello to their dog first, before their loved ones. Just under half (47 percent) declared that they found it harder to leave their dog for a week than their human partner.
Inglis has also learned from a more reliably scientific American study that people's attachment to pet dogs was 'weaker than their attachment to their mother, father, siblings or best friend - but only very slightly weaker.'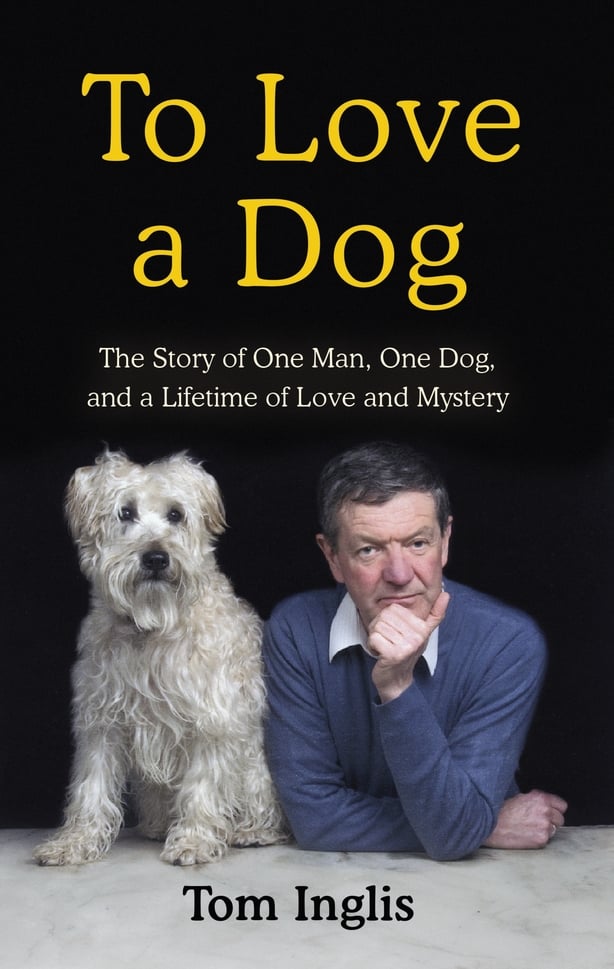 The Dublin-born author lives in a converted former schoolhouse in County Roscommon, which was once attended by John McGahern. In his latest work, he shows himself to be alert, if resigned, certainly after 18 years to the unfathomable aspects of his beloved Pepe.
The animality in her is closer to the surface than it is most human beings, writes Inglis. 'What was most frightening when she turned on other dogs. It was as if years of attempting to be civilised were dashed in a few moments and the wolf that lay deep within her bring was revealed.'
Like all the best memoirs, Inglis spreads the net with ease to incorporate more than his ostensible theme and we learn about Pepe and the interaction with children, friends and lovers. He once clipped his son Arron across the back of the head in a restaurant in Portugal for bad behaviour. His son vividly recalls the incident but has since forgiven him. It takes time and effort to control the violent streak that lies deep within us, the memoirist notes. Then he makes an observation which shows a certain evolution in parental norms, even in this parent's lifetime. Once upon a time, he observes, there was no sense of shame in hitting a child. 'Now, there is shame in hitting a dog.'
In the course of this deeply engaging, companionable saga, the author constantly unearths fascinating dog facts such as the discovery of a 14,000-year-old grave in what is now the German state. The grave contained a six-month-old puppy buried alongside a forty-year-old man and a young woman who died in her twenties.