We're delighted to present an extract from As You Were, the debut novel by Elaine Feeney, published by Harvill Secker - read our review here.
Sinéad Hynes is a tough, driven, funny young property developer with a terrifying secret. No-one knows it: not her fellow patients in a failing hospital, and certainly not her family. She has confided only in Google and a shiny magpie. But she can't go on like this, tirelessly trying to outstrip her past and in mortal fear of her future. Across the ward, Margaret Rose is running her chaotic family from her rose-gold Nokia. In the neighboring bed, Jane, rarely but piercingly lucid, is searching for a decent bra and for someone to listen. Sinéad needs them both...
---
I didn't tell a soul I was sick.
OK, I told a fat magpie.
She was the first beating heart I met after the oncology unit and she sat shiny and serious on the bonnet of the Volvo.
One for sorrow.
And I saluted her with that greeting you give when you find yourself alone and awkward with one magpie and she flew away, piercing her black arc through the sky blue.
An arrow points to You Are Here. This is OK.
Breathe.
You are just a dot. Swirly Space.
Breathe.
No one will ever find you.
Good. This is a good thing.
Thump.
onetwothreefourfivesixseveneightnineten
Thump.
After saluting Magpie, I sped at one hundred and thirtynine kilometres per hour out along the M6; stone walls hurled past and end days of August conspired with night, letting a cold dusk down. Thirty-nine. Fitting. On the car's windscreen, a fog was creeping around my eldest son's initials, traced inside a fat heart.
But I was Fine.
Father always told me I was Fine. So as the years went by I grew increasingly mistrustful of bad-news bearers. Miss Sinéad Hynes was fine. Father said so. I was Fine. I am Fine.
I will be Fine.
By Jesus when I get my hands on her, I'll f**king kill her; I'll throttle her, that little c**t. She's fine, and she pretending to be sick. Truth is, there is absolutely nothing wrong with her a'tall, but I'll tell you what, there's a lot wrong with the old ewe twisted on her back all night, and she didn't even bother to check her, just even once, throw a quick eye on her. She wouldn't mind a china cup, that one. Where is she? Under here? Here? In the cupboard? Hot-press? Come out! Come out! Wherever you are! Feefifofum. I smell blood. Where in the name of good God is she? Leaving an old ewe all the night through on her back. Reading books somewhere, and she isn't sick, she's fine. There's not a thing wrong with her. Fine. Hiding is all she's at. Afraid of work, that bitch, well, she can tell that to the dead animal, so she can, reading books. I'll give her books when I get my hands on her.
My mother told me to have a hot bath or put on a nice hat if I was having a bad day. When I'd leave home, she'd stand in the doorway and knead the hollow space between my shoulder blades with her knuckles as I slipped past. She'd dip her index finger into the little hole at the feet of Jesus and flick droplets in my wake. He hung on a loose nail by the door, pasty and lean with bright red drips on his hands and feet, loincloth and blue eyes to die for.
In the name of the Father, and of the Son, and of the Holy Spirit.
Amen.
Growing up on the farm I kept bad news to myself, for going public with fortune or misfortune brings drama. I'd hide out underneath my single bed tucking the eiderdown flaps tight around me. Father'd bellow for things he needed urgently, hammer, ladder, cup of tea, plasters, jump-leads, pair of hands, mother, phone, vet. The phone for the vet was dragged in a rush out from the kitchen and my mother'd place the cream receiver into his large hand, dial for him, he'd have a palm on his forehead. Panic. Always panic.
I loved being outside with the animals, especially in the moments after they birthed; foals are the most incredible – how fast they rise and run with their mother. But I loved it best when I was completely alone with no one looking for me.
As I grew older and hair stung my armpits, spread between my legs, pimples erupting on my face, body betraying my early deftness, I borrowed more books from the library. I was clumpy and awkward and left the animals to themselves. I also stole some books from my mother's locker. Binchy or Cookson, some Wilde with witty phrases that made me laugh and had come free with Christmas cards. Books didn't see you. Stare at you. Notice your thick thighs that rubbed together as you moved.
Father despised all learning that came from books.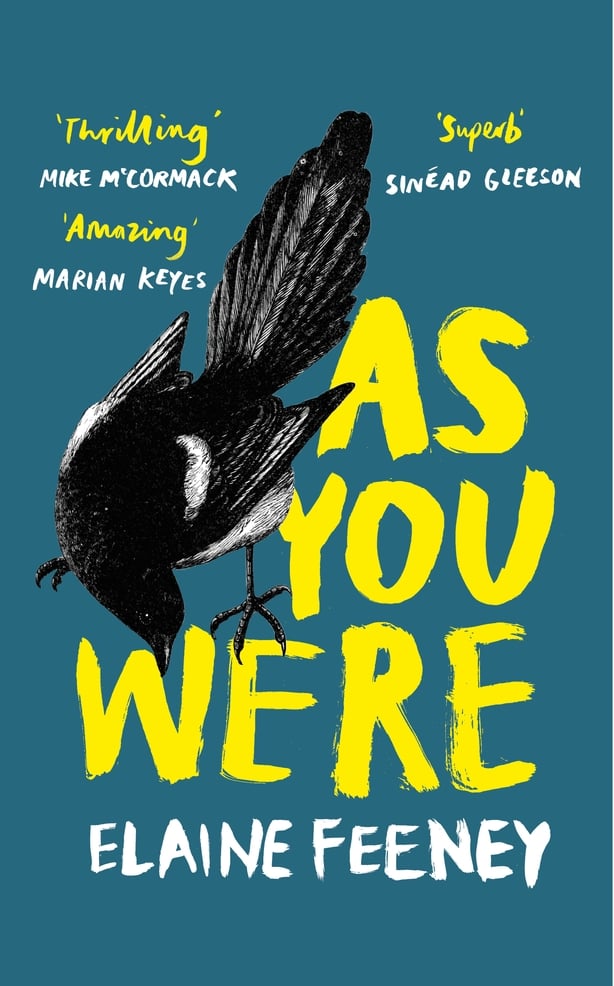 As You Were by Elaine Feeney (Published by Harvill Secker) is out now.