Dublin Fringe preview: Caitríona Ní Mhurchú writes for Culture about her new show Transmission, being on the telly in the 1990's, lighthouses, lighthouse keepers, and quantum physics…
It is such a strange and extraordinary thing to discover footage of your long-dead grandfather online. Particularly when you are not searching for it, or looking for it, or even expecting it. It's quite the jolt. To see a much-loved, but deceased relative animate in front of you. See them suddenly unfurl on your laptop screen. Past and present bleed into each other. Details - details you no longer recollect - crystalise. His hair. His clothes. His glasses. And you remember quite how much you've forgotten. Time blurs the edges. His voice came back to me. The warm timbre of his voice. Warm, yet slightly removed. At a remove. Yes. A man that had the ability to comment without becoming emotionally involved. Comes with years of training, years of being of service, in service. In the service of Irish Lights.
Listen: Caitríona Ní Mhurchú talks Transmission to RTÉ Arena
The footage in question was filmed on the last day of the Baily Lighthouse. The final lighthouse in the country to lower its flag. The last lighthouse to automate. Lighthouse lights still illuminate, optics still turn on their axes, warning of dangers submerged beneath the dark seas. But there is no-one to man them. It's all done now through a centralised computer. An unimaginable technological advancement for a man like my grandfather. A man who was taught how to use radio by the British Admiralty during World War II while stationed on Mew Island Lighthouse off the east coast of Northern Ireland. A man who fired explosives from a rickety shed eight hundred metres above sea-level on Sceilig Mhichíl to warn sailors of fog.
But then his people on both sides were in the Lights too. It was in the blood.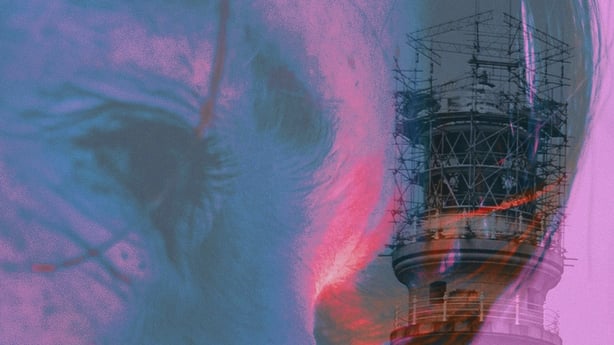 I knew I wanted to do more about this lineage, this story, but I wasn't sure how to approach it. How to extract it from the realm of archive and mould it into a theatre piece. I brought a seed of an idea, a germ of a seed of an idea, to MAKE, which is supported by Dublin Fringe Festival, Project Arts Centre, Theatre Forum and Cork Midsummer Festival. It's a very generous and exciting mentorship programme which takes place in Annaghmakerrig, and I was very lucky to be twinned with Francisco Frazao, Artistic Director of Teatro Bairro Alto in Lisbon. All I really had was 'I come from a long line of lighthouse keepers', but he didn't baulk. He poked and prodded and queried and finally, he suggested I find something else in my own life that chimed with my grandfather's life in the lighthouses. It was like pulling hen's teeth, but an idea began to emerge.
It is such a strange and extraordinary thing to discover footage of your long-dead grandfather online.
My previous incarnation as an in-vision continuity announcer seemed a possibility. When an announcer was on duty, we always referred to it as manning the station. Manning the station. Just like my grandfather manned his. It seemed an odd connection, but one that made more sense the more we investigated and so that's how we found ourselves with the show – part elegy to the lighthouse keeper, and part ode to the glitz and glamour of 90's telly.
It is very exciting to be finally putting it on - particularly in the current circumstances - where live performance has been through a very turbulent time. But there are some green shoots. Trojan work has been done by Ruth McGowan and everyone at Dublin Fringe, at the Abbey Theatre and at all the venues to ensure audiences can enjoy live performance safely. There really is nothing like a live gig and I'm hugely looking forward to sharing with an audience again.
Caitríona Ní Mhurchú and Little Wolf's Transmission premieres at Dublin Fringe Festival 2020: Pilot Light Edition on the Abbey Theatre's Peacock Stage from September 7 – 12 - find out more here.