'Once there was a boy who wished he was a bird. He wished he could just fly away and be free of all his worries...' Choreographer Emma Martin writes for Culture about Birdboy, her new children's show for this year's Dublin Fringe, performed by dancer Ke´vin Coquelard.
In 2017 my daughter Rudi was 6, and somebody gave her a CD of Carnival of the Animals for Christmas which included Ogden Nash's verses he wrote to accompany Saint Saen's music. Our favourite piece of music was The Cuckoo in the Depths of the Woods. I started thinking about making a show for Rudi and her friends, with this gorgeous piece of music in it.
Excited. but also slightly freaked out by the challenge I kept putting it off, until finally I just put my head down in 2019. The first image of a show I had in my mind was the dancer Kévin Coquelard floating in space with an astronaut helmet on. (There was also another version of something like an installation with animatronic creatures inspired by The Neverending Story, but that got too complicated).
We need your consent to load this YouTube contentWe use YouTube to manage extra content that can set cookies on your device and collect data about your activity. Please review their details and accept them to load the content.Manage Preferences
To my delight, dance artist Kévin Coquelard, visual artist and designer Orla Clogher and Composer Dunk Murphy agreed to embark on the mystery tour with me, along with my regular accomplices, lighting designer Stephen Dodd and Production man Peter Jordan. In Spring 2019 we started venturing into the unknown and creating what would become Birdboy.
We started with: There's nothing left...except for one human child floating in the vast emptiness, alone.
The process that ensued was a rabbit hole of YouTube, Shaun Tan, a dead bird incident involving my cat and Kévin, dandelion seeds, and a lot of helium. We created it in about 7 weeks over the course of 8 months at VISUAL, Carlow and invited kids in to test out the work in development at various points throughout.
We had an A- team, with stage manager Fiona Keller, Tech genie Susan Collins joining us along the way. Actor and writer Shane O'Reilly popped in at different stages, to shine a light down the rabbit hole. It was a really nice way to make a show, as the date for the first public performances hadn't been set until quite far into the making of it.
Kevin and I refreshed our memories of the process through a series of meandering WhatsApp voice messages, GIFS and questions...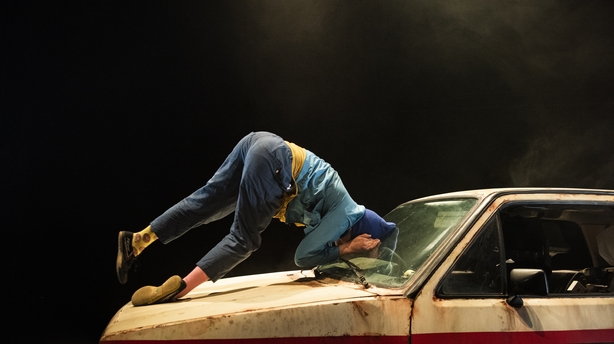 Emma: Do you remember how I proposed this show to you?
Kévin: The first idea was that it was an apocalypse and only one man survived, trying to go through his loneliness, and he's trying to send messages to reach someone? And there was also an idea of trying to create friends out of the plastic that's around him.
Kevin: What was your motivation to create this show?
Emma: My daughter Rudi. And wanting to make something that has a similar absurdity to Spongebob Squarepants and the universe of kids cartoons.
Kevin: What was the biggest challenge making this show?
Emma: The day you wrote "What is it about?" on a post-it. Making sense out of all the ideas and understanding the character we were creating and trying to think about everything from a child's perspective, without censoring ourselves too much.
Emma: What part of making this show did you enjoy the most?
Kevin: I'd say the best part was us talking a lot with each other and especially when one of us wanted to try something, even if you weren't sure. I remember wanting to try something, could have been a terrible idea and you were like ye let's try even if you weren't fully into it. It felt like we were cleaning an attic, and we weren't just taking the furniture we needed, but we wanted to go through everything in there and really empty it out, use all the ideas and thoughts. I think that's what I liked the most, we gave everything a chance. What do you hope remains in people's minds after seeing the show?
Emma: Lady Gaga's voice? Also once we knew a bit more about the character that we were creating I wanted to really dig into this idea about not fitting in, and learning to know yourself and feel ok in your skin.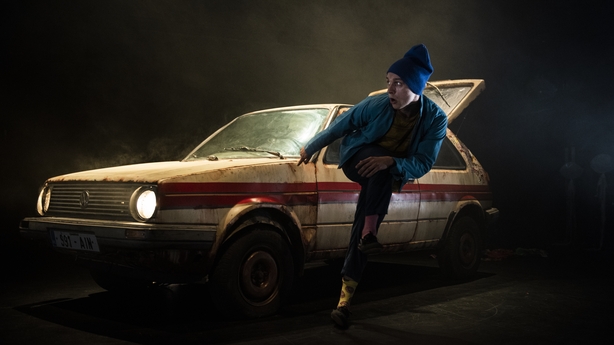 Emma: Describe what it's like performing this show in three words...
Kevin: Therapeutic… Crazy… Dream.
Emma: Does it feel different to perform for an adult audience and a child audience?
Kevin: Yes definitely! Because kids don't have this social filter that adults have… it was a big challenge, you'd probably say the same about the biggest challenge in making the show. The fact that the show is made for children, but not in a conventional way, as it's quite dark, with a lot of layers of understanding and it's not just for children, so I thought that was a really challenging thing to create and perform. When it's only an adult audience I'm not restricted in any way, but considering kids I didn't want to scare them by going too far with certain things.
Emma: What is Birdboy about?
Kevin: For me, there's lots of different layers. But the one which came out really clear for me is one of loneliness, how easy it is to retreat from others, also how exhausting it becomes by the end. I think there's something about having to work on accepting yourself before being able to reconnect with others… Is that too cheesy, Emma Martin?
United Fall/Emma Martin premiere Birdboy at Dublin Fringe Festival 2020: Pilot Light Edition at Draíocht Blanchardstown, September 19 & 20 - find out more here.
Photo: Luca Truffarelli