Dublin musician and composer Úna Keane has released two acclaimed self-recorded solo piano albums, As I Wake, Still I Dream and In The Deep, winning acclaim for their haunting, minimalist sound.
She's currently working on a new studio record, and set to release a live album, recorded earlier this year at Dublin's Pepper Canister Church, later in 2020.
Later this month, Úna's is a guest on the new series of Pantisocracy, on RTÉ Radio 1 - watch a preview below.
We asked Úna for her choice cultural picks...
FILM
At the time of writing, the legendary Ennio Morricone has just passed away. He's one of the main reasons I got into composing, and composing for film specifically. And why the connection to every movie I watch is shaped by the soundtrack that accompanies it. He was a genius, and I'm so glad I got to see him a few years ago at Royal Hospital Kilmainham. Favourites include Cinema Paradiso and The Mission.
I'm also a massive fan of old black & white movies, and especially of the speed-corrected footage available now. A fascinating thread linking us to generations gone before us.
MUSIC
I love what Ava Waves and Poppy Ackroyd are doing. Peter Broderick, too.
My music falls into that whole minimalist, ambient vibe, so it's great to be inspired by similar artists. Lots of great stuff happening domestically too: Gareth Quinn Redmond is a favourite, along with Saso, and I also love Mount Alaska's latest record.
BOOK
Constellations by Sinéad Gleeson just blew me away. The raw, visceral-ness of it. The breath of what it encompasses. A must-read for every woman in my opinion, and for everyone who seeks to understand women. I got a loan from a friend initially, but then bought my own forever hardback copy. It will be dipped into again and again.
THEATRE
Anything by Marina Carr. I saw By the Bog of Cats a few years back at The Abbey and it moved me deeply. I find her inspirational, both as a person and in terms of her body of work - she's prolific.
TV
I haven't owned a TV set since my last one quietly blew up/imploded about 12 years ago, and I decided not to replace it. Mind you, everything is online nowadays, and my favourite things to watch tend to be documentaries. Anything by David Attenborough. I also find TED Talks really inspiring. To keep my little 2 and a half-year-old Willow entertained we tend to go for stuff like Hey Duggee and Ben & Holly's Magical Kingdom. All very highbrow...
GIG
The last gig I got to go to was to my own gig at Dublin's Pepper Canister Church on March 5th - a week before lockdown! I was joined on the night by some extra special guests, which made it even more memorable. The night was recorded by gifted sound engineer and producer Adam KJ, and there's a live album in the works.
ART
It's a good while ago now, but I absolutely loved the Albrecht Dürer exhibition of a collection of over 130 woodcuts and engravings at the Chester Beatty Library. I brought my Grandad to it, which was super special, as he was an engraver and artist himself (and a massive AD fan too). There's something totally timeless about this work. And I love SUBSET's work - their murals around Dublin particularly. The one of David Attenborough on Longwood Avenue is amazing.
RADIO
Radio has been an extra powerful medium over the past few months. Serious kudos to all the DJs who kept us entertained - broadcasting from attics, basements, sheds and even from under the stairs! Favourite shows include RTE 2FM's The Alternative with Dan Hegarty, RTE Radio 1's Late Date with Fiachna Ó'Braonáin, Ellen Cranitch's Vesptertine on lyric fm, Weekend on One with Lilian Smith (also Radio 1) and Martin Bridgeman's KCLR Ceol Anocht show too. For me, John Kelly's Mystery Train has always been essential listening.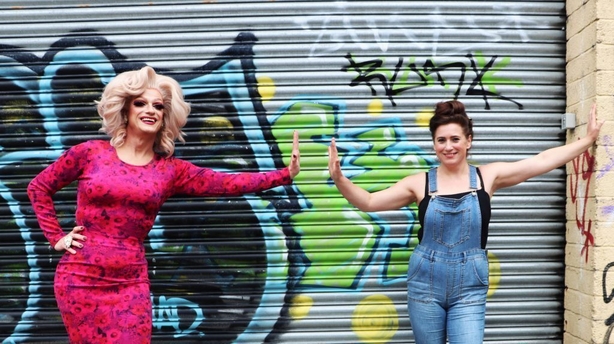 A recent highlight has been an invitation to take part in Season 5 of Pantisocracy on RTÉ Radio 1 with Panti Bliss, for their Phoenix Rising episode, going out at the end of July.
TECH
I love the Tide Times app. One of the things we missed during Lockdown were our little escapes to the sea. We live in Dublin 8, so we could only recently make the trip to our favourite beaches again. A firm favourite is Dollymount Strand... I grew up in Raheny on Dublin's Northside until I was 10, so this was my childhood stomping ground. Happy memories.
THE NEXT BIG THING...
Simpler living. One of the things I've learned of late is that we don't need as much as we think we do. I started mending clothes, fixing things. Partly out of thrift, but also as a way to give a new lease of life to something that needed the help. I like this philosophy. Hopefully, we'll all learn to slow down a little and to appreciate everything we already have.
In The Deep by Úna Keane is out now - find out more about Una and her music here. The new series of Pantisocracy starts on RTÉ Radio 1 on Thursday, July 9th - find out more here.