We're delighted to present an extract from Tilting At Windmills - A Spanish Year Chasing A Novel Dream, the new fictionalised memoir from Henry Murphy, author of the popular Dermot McNamara courtroom series.
Mark had never thought of retiring. Barristers don't retire. However, his 64th birthday was fast approaching. 'When I'm 64' and all that. Beneath the wig and gown, he always had a desire to write. Time was running out. It's now or never. He and his wife, Helen, decide to take a year out. Like their children had, but only later. They quickly ruled out the West of Ireland and the Wild Atlantic Way – for obvious reasons. Instead, they opted for a pueblo blanco in Spain. Mark could write his bestseller there. A white-washed house in a white-washed village in the mountains of Andalucía. What more could an aspiring author want?
---
Emilio is my best friend in Canillas. He owns one of the two hotels in town. Two hotels. Not bad for such a small place. It's a lovely hotel. No frills. He runs it on his own because he has difficulty holding onto staff. He also has difficulty holding onto guests but this is because he doesn't have staff. He is an award-winning chef (they say chef too but they pronounce it chef not shef like we do) with a temperament to go with it. Being such a good chef, he does not need assistance in the kitchen. But he sure needs it elsewhere. For example, in the service area. Regulars know they will get a beautiful meal but don't know what time they will get it. Better not to arrive hungry. The key: arrive looking forward to a drink or two or three, with no interest in food for the time being, and, as the drink or two or three and time pass, allow the hunger catch up. Even that doesn't always work.
Emilio is an artist, trapped in a sumo-wrestler's body, and wears a dentist's shirt which could be cleaner. What he is interested in is producing exquisite food, thereby giving his customers a memorable culinary experience. He has no interest in the business end of things and no interest in profit. And probably doesn't make any. Indeed he doesn't really want to charge at all. When it comes to bill time, he arrives at your table with a paint brush and, with a flourish, writes the bill on the paper table-cloth, in the process beating you down.
"No, no, no, you couldn't possibly have had two gin tónicas and certainly not three", he insists. "Alright, half a bottle of wine [the bottle is empty]; I won't charge you for the vegetables and the postre is on the house." If you offer a service charge, he gets offended and points out that there is no staff to receive it. Emilio is an endangered species.
For the few who have the time and are prepared to put up with his eccentricity, an amazing culinary experience is in store. Invariably, he joins you towards the end of your meal with his own glass of wine and gives an eloquent commentary on the sun going down.
The grandchildren were about to come among us. Again. I had already lost my white room and the "DO NOT DESTERB" sign, created and placed on the door by eldest grandchild at Easter, had been restored to its wrongful place. Once again, my novel was in trouble. Even if the opportunity for writing presented itself in the month ahead – unlikely – I had nowhere to go. In short, I had been evicted.
"Emilio", I said one evening when he had finished his dissertation on the sunset, "would you have a room in your hotel which I could use during August?" It wasn't quite as easy as this to get my question across as neither of us yet were fluent in the other's language. But we were coming along.
"Mi amigo", he said, putting his arm around my shoulder – the Spanish are a tactile lot – "for you, anything." I explained about the grandchildren and my white room and the fact that I had been thrown out. He knew about the book. "You must have a place to write", he said, or something like it. "As we Spanish like to say, mi hotel es tu hotel. This month I have empty rooms. The walking season is over until October and most of the people coming here are returning for the holidays to their families."
"Estupendo", I said. "You are a true friend. But, Emilio this has to be on a professional basis." My Spanish was coming along.
"Claro", he said, "but we can talk about that later. The thing importante is that you write."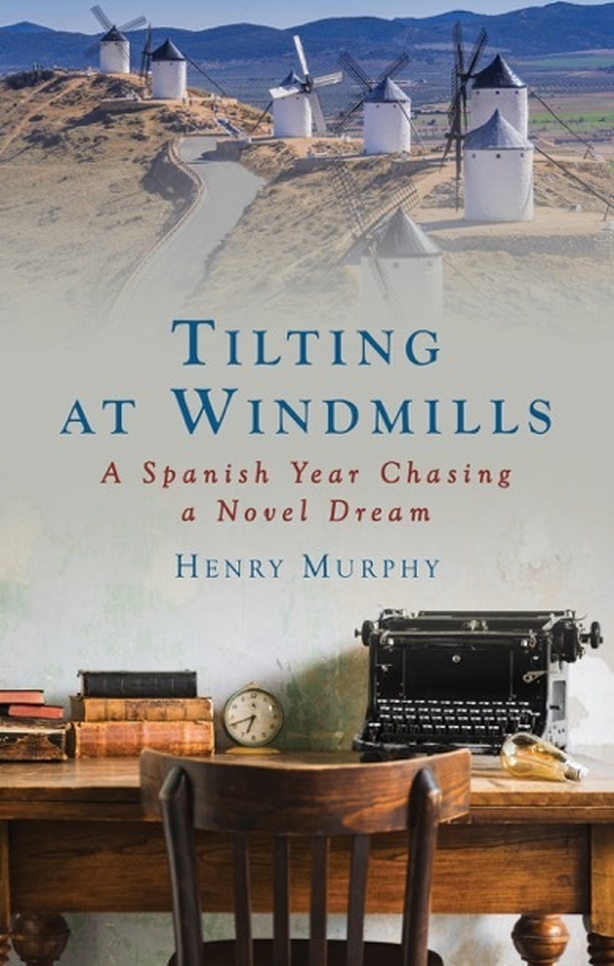 Tilting At Windmills by Henry Murphy (published by Orpen Press) is out now.